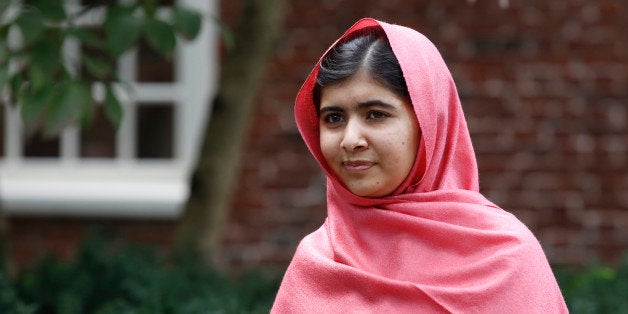 When Jon Amos Comenius proposed, four centuries ago, that all persons should be educated, so we could have Peace in the world, he laid the cornerstone for public education. It would take more than another century for the first nation states to begin to build the institutional infrastructure that allowed every child the opportunity to be schooled.
For most of the world, advances in providing real educational opportunities are more recent, the work of visionaries who understood that Peace rested in guaranteeing every person some basic rights contingent only in their humanity.
The inclusion of the right of education in the Universal Declaration of Human Rights, just over 60 years ago, began a most remarkable expansion of educational opportunity globally. Progress in translating this aspiration into real opportunities to learn has been the result of the dedicated work of ordinary people who establish schools, teach and support those who do.
Malala Yousafzai and Kailash Satyarthi are two such people, who remind us all of the necessity to continue advancing in providing meaningful opportunities for all children to learn and gain the mindsets and skills that empower them to be free, improve themselves, their communities and the world. In recognizing their important work the Nobel Committee builds on the intellectual foundation created by Comenius, by Eleanor Roosevelt and all others whose work linked the advancement of Peace with providing individuals the opportunity to learn.
When Malala was recognized a year ago by the Harvard Foundation in Cambridge, I was struck by the depth of perspective of someone so young. As over a thousand people in Sanders Theater gave her a standing ovation, she said humbly 'I don't want you to think I am in any way special... it is just that in a context of grave injustice, when no one does anything, the voice of a single person can make a big difference.'
Malala's Nobel Award was announced a day before we celebrate the International Day of the Girl Child, a date established by the United Nations to call attention to the barriers that prevent many girls around the world from the opportunity to develop their talent. Those barriers are an affront to the basic human rights of girls. But these barriers are also an affront to those of us who witness this gross violation of basic standards of fairness. That those barriers still exist under our watch, challenging international covenants, laws and basic sense of fairness, should cause us to take them personally, as Malala and Kailash have.
Much progress has been achieved in recent decades in expanding educational opportunities for girls, as a result of the efforts of governments and non-governmental organizations, as well as a result of the work of ordinary citizens. The Millenium Development Goals, for instance, a global compact adopted at a United Nations meeting in the year 2000 to eradicate poverty, focuses one of the goals in closing gender gaps in access to, progress throughout school and completion of various education levels.
But these goals are not sufficient to empower girls, as Malala's example makes evident. Malala is impressive not only because she has well developed cognitive skills, she is smart, thinks clearly, is curious and can think about new problems based on what she knows. She is also creative and inventive, in a context where there were not many obvious resources she could garner to advance the cause of girls education, she resorted to blogging as a way to reach a global audience.
If Malala's smarts are impressive, so is her character. She comes across as a person with deep empathy for others, with the capacity for self-reflection, with a strong moral compass. She is nothing but resilient, perseverant and disciplined. Cognitive skills and character are enhanced by Malala's fine interpersonal skills, she can listen, and speak, she can talk to all kinds of audiences, she advocates negotiation and peaceful resolutions of conflicts. Malala can most certainly work with others and lead. It is this rich set of competencies and dispositions, cognitive, interpersonal and intrapersonal,that make Malala the remarkable young person that she is.
These are the skills and dispositions we should strive to help all girls, and boys, in the world develop as a result of global efforts to expand educational opportunity. We should see children and youth as nothing less than full, multidimensional, human beings: mind and heart, character and relational skills. Nothing else will do if the main purpose of educating all is to have peace in the world. Ongoing efforts are failing because they express too narrow a view of what it means to educate a child, particularly a girl who lives in poverty.
As we share in the joy of this deserved recognition to the good work of two social activists, of two ordinary citizens who, in the face of grave injustice, raised their voice where others didn't, we should reflect on the capacities that are the reason they can do this. We should also examine whether we have the capacities to do our share in building a world in which we do not need to fear that those who follow us will say, in retrospect: "they saw half the sky denied the simple opportunity to learn and did nothing, they saw girls kidnapped by thugs in schools because they wanted to be in school, and did nothing, they saw girls shot in the head in school buses and remained silent, they knew girls were trafficked and violated and pretended it was not their business. What were those people thinking?"
Causing us to ask these questions, and to choose to take them personally, might well be the biggest legacy of Malala Yousafzai and Kailash Satyarthi.