Never will a client hug me for handing in a great report, which is a good thing. But the appreciation, gratitude and hugs I receive after cooking a full dinner for friends or family-that's one of the main reasons why I love it as much as I do.
Food plays an important role in my life. Making lasting memories with friends or family usually involves food. I started cooking as a young girl-there are pictures of me as a 3-year-old on a kitchen chair making a "vlaflip," a Dutch dessert, to prove it.
After spending my childhood in Brabant, a southern province in the Netherlands, I moved to The Hague to study hotel management at a hospitality management school when I was 19. When I graduated in 2001, I got a job as a management consultant for the hospitality branch of a consulting firm. In 2005, I joined Accenture, a global professional services company.
Sunny Sundays spent watching "MasterChef"
Over the years, I focused on my culinary hobby more and more. During the 2014 season of the show "MasterChef," I found myself spending most of a sunny Sunday indoors watching reruns. It's quite sad when you think about it, but I loved every episode.
Just to see those contestants learn so much about cooking in such a short time: fantastic! After the finale, I expressed to my husband, Paul, how great it would be to participate in a program like MasterChef. He looked at me with a serious face and asked me how badly I wanted it. "I would take a sabbatical for it," I replied. Next thing I knew I sent my application form for the next season.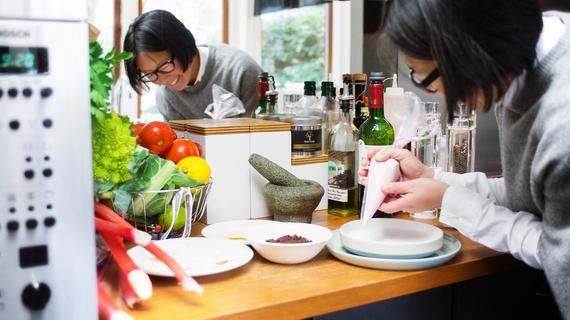 Months passed without hearing from the producers; in my head, I had already let go of the dream-until that phone call in September, when they invited me for an interview and screen test. And so I went... and got in.
Now, however, I had to let my boss know. This was the same boss who had just given me a new role and the responsibility of overseeing the sales of Operation Services for one of our large global accounts. I knew he wasn't going to be jumping for joy, to say the least.
"I won't be seeing you back in two weeks"
My boss wasn't very happy, but at the same time he was extremely supportive, thinking of a way to make it work. I suggested I would take a four- or five-month sabbatical, taking into account that that period could be drastically shorter if I were to be eliminated in the first few rounds. My boss looked at me, smiled and said, "Knowing you, I won't be seeing you back in two weeks". If it was to end sooner, I could return and reclaim my role, we agreed. I am still extremely grateful I was given the opportunity to pursue my dream.

A dream come true

Going to the studio every day to cook truly was a dream come true. It was not only the cooking aspect, but also the fact that it was such a fantastic learning experience: How often in our adult life do we get the chance to get feedback on a daily basis?
Given that the program has a very constructive and positive nature, I found myself in a very meaningful and inspiring environment. It was tremendous to see the best chefs at work and how they manage to give their utmost every day. It made me contemplate how we can push our people and teams to give it their all and be the best performers.
I made it to the finals-the only woman to do so-but was subsequently the first one eliminated during that last stretch. Why did I get as far as I did? It's probably the fact that I'm extremely good in dealing with stress and that I perform best when under pressure. Those are, unquestionably, two of my key success factors: and, of course, the fact that I'm a quick learner who's not afraid to experiment.
I was absolutely devastated when I was voted off; I don't think I ever felt so disappointed. I cried on national television-to the disbelief of some of my friends, who had never seen me cry in public.
I look back on that adventure fondly, and I wouldn't have wanted to miss it for the world. It even led to me offering my services as a professional private dinner chef. I have since cooked for small and large groups, like a fundraising night for 100 people, which was absolutely great.
What have I learned? My coach told me not to take everything too seriously and to look at life and work as a big play garden and to see the humor in things. He was so right.
REAL LIFE. REAL NEWS. REAL VOICES.
Help us tell more of the stories that matter from voices that too often remain unheard.