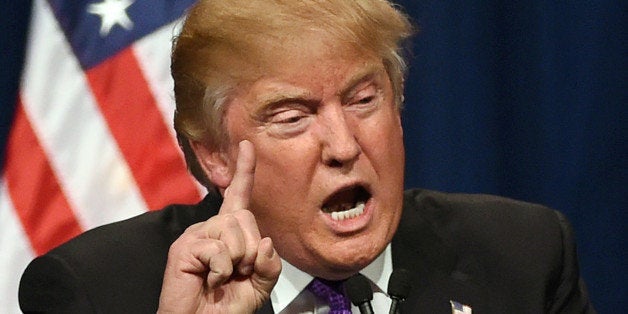 As a Latina, a teacher and a millennial, I am tired of hearing Trump say he has the Latino vote. I'm tired and offended. "Latinos love me," he repeatedly claims. Is that a joke?
I don't love you. Many of us don't love you.
The loudest voice right now seems to be coming from Trump supporters who are deeply dissatisfied with the country, and who continue to show their support for Trump by turning out to vote. As many have recently commented, liberals and republicans need to wake up. If the other Republican candidates can't bring the party together before super Tuesday, they risk having Trump become the nominee.
Though the idea of having Trump as president is terrifying, personally what is most worrying is the lack of education in America and how masses of people unconditionally support a candidate with xenophobic and racist remarks. "I love the poorly educated," Trump claims. Sure, we need to love everybody, but a lack of education is not something to be celebrated. We should be doing everything we can to raise the national standards, to provide access to early childhood education, and to ensure students aren't graduating with large debts.
Trump's goal is to make America great again by "winning, winning, winning," by being greedy, by building walls, and by discriminating against minorities, women, LGBT, dreamers and everyone else imaginable. Trump's ideals go against all of the values that I and thousands of other teachers across the nation, fight for every day in our classrooms.
As a teacher, I value every student's opinion regardless of their point-of-view. On the issue of immigration, whether a student supports amnesty, deportation, or a worker's visa, what matters most is not their position, but their willingness to understand and engage with an issue from every perspective, their respectfulness towards those with dissenting opinions, and their ability to support their position with substantial arguments. What is worrisome about Trump, is that millions of people accept his statements at face value without considering the implications of what he is actually saying. Millions of people are looking up to him, and he should be setting a better example.
For decades both developing and developed nations have characterized the U.S. as a big bully given its interventionist policies in Latin America and the Middle East. With his comments on Mexicans and Muslims, Trump is unfortunately fueling this stereotype. Growing up in a low income household in the U.S., too many times I saw my parents discriminated in the workplace because of the color of their skin. Yet very few people around me seemed to ever discuss that racism was a serious issue in America. Those who have grown up in multicultural communities or in bicultural households have been witnesses all along to the levels of inequality in America. Yet it was not until The Black Lives Movement gained national media exposure, or Trump's xenophobic rhetoric made the front page of every newspaper, that it became clear on a larger scale just how deeply rooted anti-immigrant sentiments are in our nation.
Currently Univisión is launching an extensive campaign to empower hispanics to vote in 2016. As Jorge Ramos has commented, "no one can make it to the white house without the Hispanic vote." Every evening I watch the news from my living room couch, laughing to myself at Trump's comments. My hope is that many Latinos are staying informed about our country's current political situation and that though at the moment we may be standing by quietly, listening and observing from our homes--that when election day comes, if Trump truly is the Republican nominee, that we will go out and support the democratic candidate in masses.
Popular in the Community