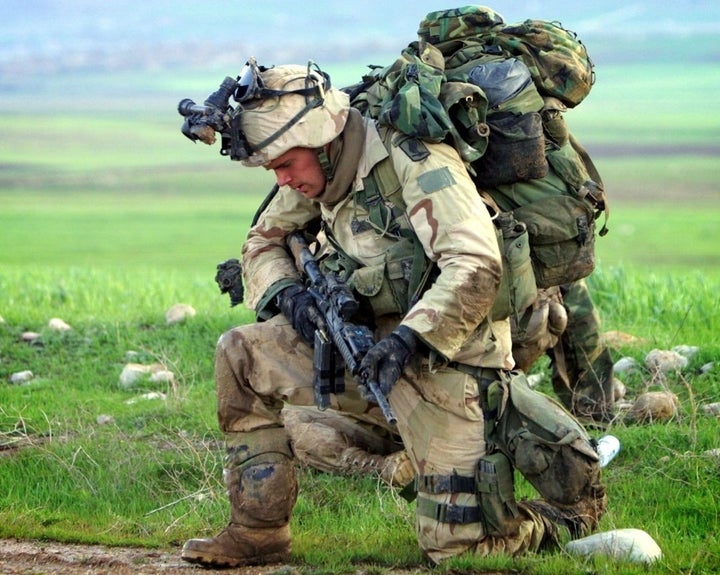 While fixing the economy will be the dominant issue for both president-elect Obama and the new Congress, we hope, on this Veterans Day, that health care for our wounded warriors will be a top policy priority next year. Actually, we hope that the new Democratic majority spends more of its time addressing veterans' health issues. The wars in Iraq and Afghanistan will continue to, literally, add hundreds of thousands of veterans in need of mental and physical treatment and rehabilitation.
We've heard a good deal recently about the 18 percent of men and women serving in Iraq and Afghanistan who are at risk for post-traumatic stress disorder (PTSD) or depression, according to an authoritative RAND Corporation study. Another 19 percent are estimated of having experienced traumatic brain injury (TBI) caused by improvised explosive devices that "rattle" the brain. In total more than 300,000 of our own are suffering from PTSD, depression or TBI.
What we have heard less about are other health care challenges, like those facing women veterans. The Department of Veterans Affairs system, a relic of a male-dominated military past, is simply unable to adequately treat the influx of women coming home from combat theaters. Only eight percent of all VA medical centers across the country have a full-time female program manager. Sufficient female staff is vital to meeting the specialized needs of women veterans, particularly the 19 percent of women veterans surveyed by the VA between 2002-2006 who say they had experienced military sexual trauma.
Too little attention has been paid to the plight of family caregivers, as well. It is spouses, parents, children, and siblings who drop everything -- withdraw from school or quit a job -- to race to be at the bedside of wounded combat veterans, and remain with them throughout their treatment, recovery and rehabilitation. They are providing this care without adequate psychological and financial support.
The seminal issue, however, for us next year is VA finance reform.
In too many cases, VA is unable to properly treat the physical and mental scars of war, in part because its budget is late and unpredictable. VA doesn't know when during the year it will get its funding from Congress, nor does it know how much money it will receive from year to year. Such wacky financing causes unnecessary delays, hold ups, and backlogs in the system. Hiring key staff is put off, or just not done, while injuries like PTSD or TBI are too often not diagnosed in a timely manner. Robert Perreault, a former VA health official, has rightly noted in congressional testimony that "VA funding and the appropriations process is a process no effective business would tolerate."

The problem of VA financing is so important that a partnership of nine veteran service organizations has been created to encourage Congress to provide timely and predictable funding for veterans medical care. Our solution is simple: Congress should allocate funding for the VA health care system one year in advance of when the funds are actually needed, a method already used by Congress to finance some housing and education programs.

As a presidential candidate, Sen. Obama supported the year-in-advance proposal (as did Sen. McCain). This proposal has also been backed by an overwhelming majority of the American people, an influential group of Republican and Democratic members of the House and Senate, and eight million veterans represented by the nine veteran service organizations.
With tough economic times ahead, president-elect Obama and the 111th Congress face grave choices that will require all of us to sacrifice. But we must never forget the very real sacrifices already made by millions of American veterans who have been injured or disabled as a result of their service. In addition to our thanks, we must promise to ensure that they get timely access to the highest quality medical care our nation can deliver. Passing the year-in-advance funding legislation, as well as policies to support women veterans and family caregivers, would help to ensure we keep that promise. We urge the new leadership in Washington to take up these critical issues in 2009.
Calling all HuffPost superfans!
Sign up for membership to become a founding member and help shape HuffPost's next chapter