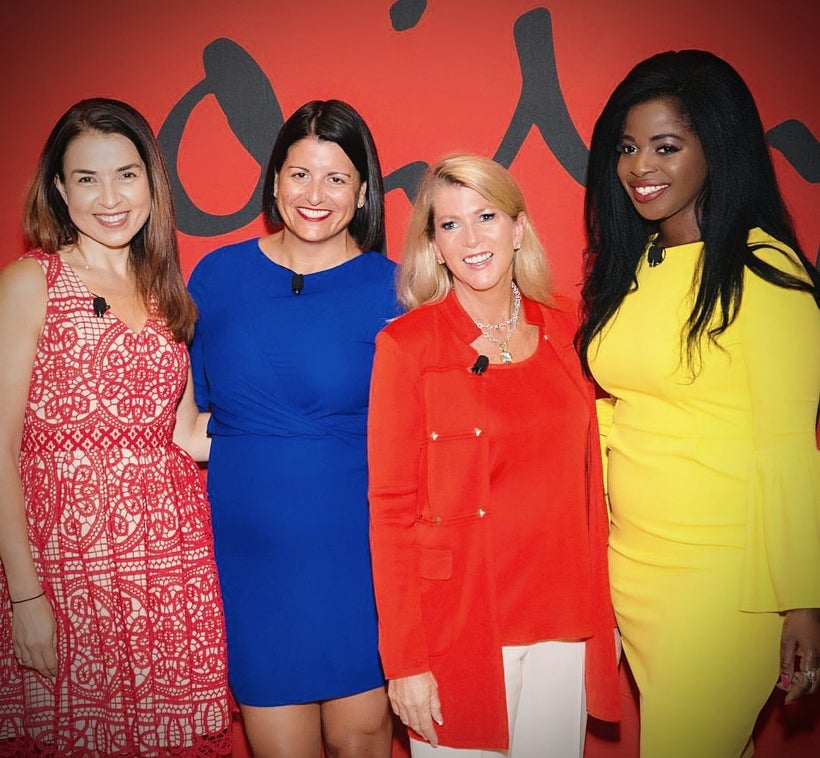 This year, Ogilvy once again opened ColorComm in Miami – an amazing event bringing together a diverse mix of innovators, newsmakers and game changers representing the best in marketing and communications today, from both the agency and brand side. At the event, I moderated a panel entitled, "Reinventing Madison Avenue" – discussing today's modern marketing era and how practioners today must meet the needs of a new breed of buyer that is driving our industry forward. I shared the stage with Anne Madison, Chief Strategy and Communications Officer for Brand USA, the destination marketing organization for the United States and my two Ogilvy colleagues, Kathy Baird and Tola St. Matthew-Daniel.
Ten years ago, there wouldn't have been a ColorComm or a panel at ColorComm led by women in communications. Agencies today realize that we need to have the right people to service clients – this includes women, people of color, millennials, etc. ColorComm is an important venue for us as Ogilvy as we are focused on having a talent pool that is as diverse as the clients we work with and the brands they represent.
As a first-time speaker, attendee and woman of color in communications taking on the challenges and opportunities with diversity in our industry, I asked Tola to share her takeaways from her time in Miami. She recaps her ColorComm debut as a guest on my blog below.
Recently, I had the opportunity to represent Ogilvy at ColorComm, the only business conference and retreat for women of color in communications bringing together a diverse and dynamic audience of more than 400 leaders, innovators and rising stars in communications to discuss the topics driving the industry. I've only been at Ogilvy just over six months and was honored to participate when Ogilvy's own Jennifer Risi invited me to join her as a speaker on the conference's opening panel session.
The 3-day extravaganza exposed me to a whole new world I never knew existed - a rich and complex sisterhood of exceptional women making their mark on the communications and changing the face of the industry.
As both a speaker and an attendee, my ColorComm debut gave me the ultimate opportunity to experience the event in a multifaceted way, seeing both sides of the coin.
Here are three key takeaways that I learned at the conference:
Go. Just Go: Looking at the audience during our session on "Reinventing Madison Avenue," I realized this was a conversation that could have happened anywhere but with faces that looked like mine staring right back – I understood why it had to happen here. As the industry evolves, diversity presents an enormous challenge and opportunity. While numbers capture the scale of the issue, there's no substitute for the face-to-face connections events like ColorComm offers to deeply engage and understand the issues. These forums are rare but necessary. Go and tell someone you know about it.
Find Your Fairy Godmother: Walking this communications journey alone is a foolhardy choice. It's also impossible to do it well. Do yourself a favor and find the right people to steer you in the right direction. With a range of participants at different stages of their careers and from all walks of life, you are literally surrounded by a sea of potential mentors and sponsors that could enrich your personal life and professional career and they're waiting for you to say hello. Like ColorComm honoree and Ogilvy's Kathy Baird said on mentorship," "I consider it a privilege. Don't be offended if I don't respond immediately. Keep trying."
Surprise Yourself: The official theme at this year's #C2Miami rings true every day for everyone in our industry but especially for women of color in communications. Although giant strides have been made to be more diverse and inclusive, the challenge remains. You can't afford to be a wall flower or play it safe it. Being bold is a prerequisite because in many instances you are literally doing what has never been done. Pioneering, inventing, transforming – surprising yourself and the world around you.
Given the changing communications landscape, diversity is more important today than it has ever been– it isn't a footnote but a central focus. There's much more that can and should be done to engage, enrich and empower women of color to galvanize our industry. ColorComm's success is proof that forums like these are impactful. After all, there is a reason why practically every single holding company was represented in Miami.
Attending ColorComm with the dynamic Ogilvy team was a life-changing experience. For me, it truly brought to life a key pillar in Ogilvy's next chapter strategy to become an agency as diverse as the clients we work with and the brands they represent.
I'm excited for my journey ahead at Ogilvy.
Tola St. Matthew-Daniel is a Vice President, Ogilvy Media Influence. For more than a decade, Tola has provided strategic media counsel to some of the world's highest-profile global corporations and organizations, cultivating valuable media relationships and securing several high-profile placements that have earned her industry recognition including two Silver Anvils, the industry's most prestigious award for excellence in PR.
REAL LIFE. REAL NEWS. REAL VOICES.
Help us tell more of the stories that matter from voices that too often remain unheard.
This post was published on the now-closed HuffPost Contributor platform. Contributors control their own work and posted freely to our site. If you need to flag this entry as abusive,
send us an email
.