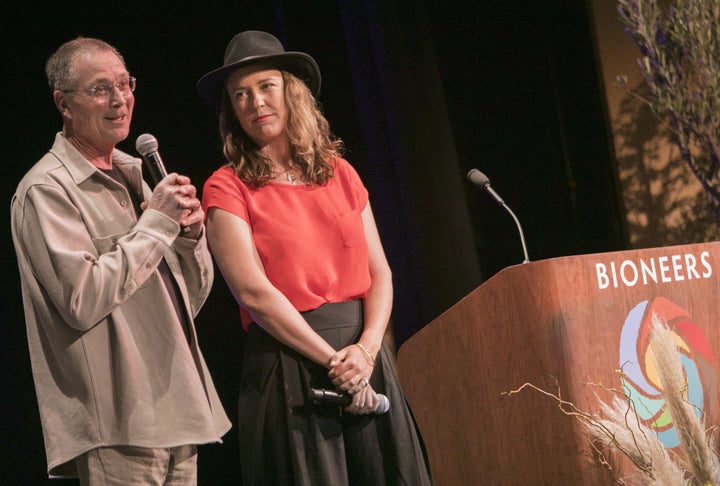 On millions of acres of grazed American range land, if you plunge a shovel into the ground, you're likely to find light-colored, depleted soil that's lost much of its carbon-containing organic matter.
That's the stuff that gives rich, fertile soils their dark color and clumpy texture. Carbon-poor soil, however, produces lower crop yields, less forage, and less biodiversity.
Carbon farming is a way of restoring these soils to health and simultaneously benefiting the climate. Ranchers and scientists working together in Northern California to establish carbon farming and scale it up believe it has amazing potential to remove millions of tons of carbon from the air in California and billions worldwide.
At the helm of the surge in carbon farming activity is the Marin Carbon Project—an ambitious consortium of agricultural institutions, ranchers, farmers, researchers, government agencies, and nonprofits based in Point Reyes, California.
Over the past decade, the project has initiated more than $15 million worth of field and laboratory research and demonstration projects that have conclusively linked restorative land management practices with increases in durable soil carbon. These findings have proven instrumental in influencing state agricultural policies in favor of carbon-farming.
The project also assembled a statewide coalition of agricultural stakeholders that successfully launched a statewide Healthy Soils Initiative adopted in 2015. State agencies and departments are now collaborating to promote the development of healthy, carbon-rich soils on California farms and ranch lands.
Farmers and ranchers around the state are also signing up to adopt carbon farm plans patterned on the Marin Carbon Project's pioneering work. Participants who embrace the program are part of a new agricultural movement that aims to improve the soil, provide healthy food to consumers, and help stabilize the climate. They can earn tradable California Environmental Quality Act carbon offset credits for the extra carbon that builds up in the soil thanks to their efforts.
Carbon farmers enjoy various important on-farm benefits, such as greater forage production that in turn increases livestock production and raises revenues. While the carbon offsets today only bring ranchers and farmers $10 a tonne—too low in itself to make carbon farming profitable—the price will likely rise over time as the state tightens its carbon emissions cap to meet its emission reduction goals.
John Wick is co-founder of the Marin Carbon Project and owns the Nicasio Native Grass Ranch. In addition to influencing state policies, Wick's multi-year lobbying efforts have also culminated in four new California environmental laws that promote carbon farming through regulation of solid wastes, agricultural soil, organic waste, and short-lived climate pollutants, like methane from manure.
The carbon farming planning process is currently being taken into the field statewide thanks to cooperation with county Resource Conservation Districts and land trusts. If all goes according to plan, farmers applying for U.S. Department of Agriculture range land subsidies may soon be able to receive funds to defray some of the costs of carbon farming.
Among the breakthrough carbon farming research findings that the Marin Carbon Project has been popularizing are several new discoveries. By spreading about a half an inch of dry organic compost in controlled experiments on research plots, Wick and his colleagues found that this natural fertilizer, containing carbon and nitrogen compounds, actually increased the soil's capacity to capture and hold more carbon. In fact, each 2.5 acres of treated land gained a ton of durable soil carbon that can remain remain locked in the soil for 30 to 100 years, without returning to the atmosphere.
The researchers were amazed to see that in each year following that single compost application—the soil gained an additional ton every year during a subsequent four-year study period. The initial compost application had jump started the soil's microbial community and energized the plants.
Plants on the ranch became more robust. Forage yields increased by 50 percent. The larger more vigorous plants tended to be more photosynthetically active, pulling more carbon out of the air. It was, said Wick, "a virtuous cycle."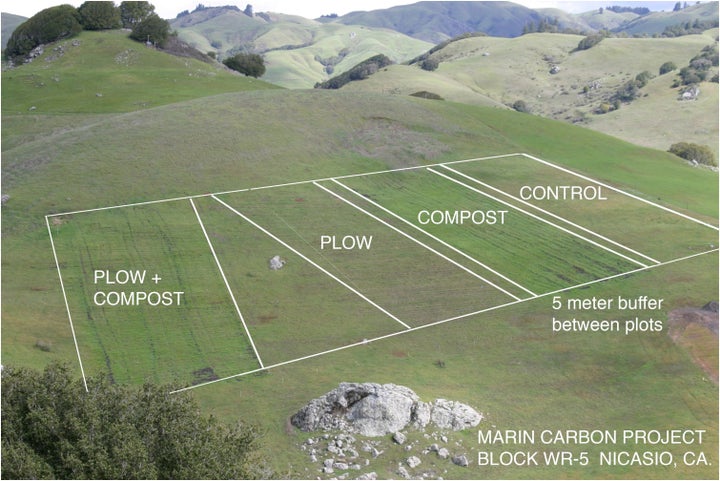 Adding compost to the soil is just one of several restorative techniques that have been scientifically demonstrated to increase soil carbon. Others include planting cover crops, reducing tillage, leaving crop residues on the land, and managed grazing. Many farmers in the U.S. are already using these carbon-friendly techniques.
If carbon farming were widely adopted across U.S. and global range lands, it could help shift the world's atmosphere toward its pre-industrial composition, with profound climate benefits.
California alone has 23 million acres of grassland. By some estimates, global crop and grazing lands cover 9 billion acres. If a tonne of carbon could be stored annually on even a few percent of this land area reasoned Wick and his colleagues, billions of tonnes of carbon dioxide might ultimately be taken out of the world's atmosphere.
The Marin Carbon Project has now been able to create carbon farming planning projects in 33 state Resource Conservation Districts from Northern to Southern California. "In three years, we took a working model, and we scaled up to the state," Calla Rose Ostrander, Wick's strategic adviser, reported.
The scaling up of carbon farming starts at home, she declared in a recent talk to a daylong carbon farming workshop. "It starts with you, it starts with the people you interact with [and with] me ... it starts with your community."
"Local governments, the participation process ... citizens, governors, assemblymen, mayors, boards of supervisors," Wick added. "This is the scale at which we can actually change the world."
"In this time when this problem [of climate change] is so overwhelming," Ostrander added, "just know that there's this beautiful solution, which is photosynthesis, which is everywhere around us."
Related