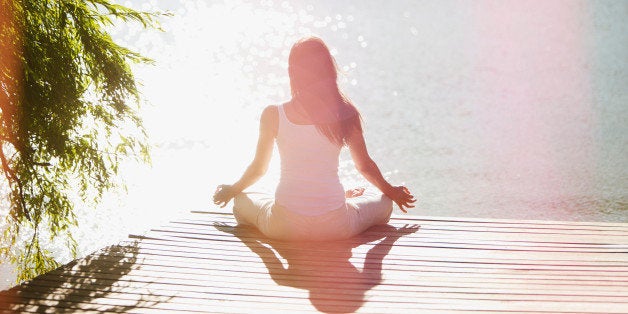 My wake up call was in August, 2013. Shortly after my 28th birthday, I didn't get a much deserved promotion at work and I completely fell apart. And my body was a complete mess. Two years prior, I discovered I was gluten-intolerant and had a nasty case of dysbiosis/candida from being totally overstressed from a job I didn't like and planning my wedding while living far from where it was happening. After I got married, my husband and I moved to San Francisco, and I got a job at a big technology company. I thought I made it -- working at a really hot company with amazing perks, living in California and wanting to change the world. It has been quite the roller coaster working there the past three years. Being around the best of the best is a kind of intensity I never experienced before. It brought a different kind of pressure that I got sucked right into. I thought I needed to keep up with everyone and work around the clock because there was always more work to be done. I wanted to climb the ladder and get promoted and become a CMO one day. That's what I thought success was.
But all this stress was not good for me. Even after I had my food issues under control, I still suffered from terrible stomachaches. And then in April, 2013, I started having horrible pain shooting down my wrist. I thought I had carpal tunnel and wore a brace for weeks. The pain was sometimes so bad that tears would stream down my face as I furiously typed away in the late hours on my laptop determined not to disappoint the senior people on my team I worked with.
I saw an activator chiropractor on a recommendation from a massage therapist. And through this type of gentle work, I discovered that my wrist was totally fine -- it was my nervous system that was totally shot and tight neck muscles and vertebrae that were causing the pain down my arms. I thought this was the solution -- fix me up and I can carry on my way and climb that ladder. But after I didn't get promoted in August, and the pain still persisted, I realized there was something more going on. My body was trying to send me a message. My buried soul was trying to get me to listen -- I was deeply unhappy and this was not the right path for me.
I decided to take control of my life and for the first time in my 28 years, listen to my own voice -- not what other people thought or what I thought was true from the media. I started by reading books and learning things like vulnerability, self-compassion, and mindfulness. Things that are so simple yet I had never been taught before. I took a stress and anxiety workshop through my doctor's office where I learned different types of meditation; started an alternative chiropractic treatment called Network Care that truly helped re-wire my nervous system and make changes in my life; met with a wellness coach who taught me how to breathe properly (I was a reverse breather my whole life -- totally life changing) and the principles of Ayurveda; worked with a friend of mine who does intuitive readings to better get in touch with my inner wisdom; met with a career coach and started to explore what I REALLY wanted to do.
And through all of this I realized -- my true passion is for helping others. Specially (and ironically) around education and awareness of health and wellness. The things that saved me are such basic truths and fundamental rights, yet no one talks about these things. I felt that I had to go through this whole process so I could share my story with others, and also meet some amazing practitioners along the way. My professional background is in marketing, so I decided to align the two. And in turn, align my life with my soul.
My wake up call forced me to truly examine and start to heal my mind, body and spirit. And to do whatever it takes to get myself to wherever I need to be. Whether or not insurance covers a treatment. Whether or not people agree with what I do. I'm taking more deep breaths. I'm listening to my own inner voice. And I know success is not defined as how high up the ladder I can climb. Success for me is happiness. Fulfillment. Joy. Enjoying every moment with my friends and family. Being comfortable with uncertainty. Laughter. Love.