No one wants to die before their time—or should in the United States, which spends a higher percent of its gross domestic product on health care than any other country in the world. Yet a 2009 American Journal of Public Health study conducted at Harvard Medical School found that uninsured, working-age Americans have a 40% higher risk of death than their privately insured counterparts.
The U.S. ranks dead last overall—as it did many times before—in The Commonwealth Fund's ongoing "Mirror Mirror" report on health care in the world's 11 top developed nations. Most disturbing are our biggest shortfalls; our nation is consistently last, or near last, in terms of healthcare access, efficiency and equity.
"Not surprisingly, given the absences of universal coverage, people in the U.S. go without needed health care because of cost," notes The Commonwealth Fund. Yet even those with health care in the U.S. can have a hard time getting the care they need due to the systemic issues they face, from neighborhood crime and transportation glitches to language barriers and work constraints. Complicating matters, underserved areas are often impoverished, crime-ridden and have residents with higher rates of chronic disease.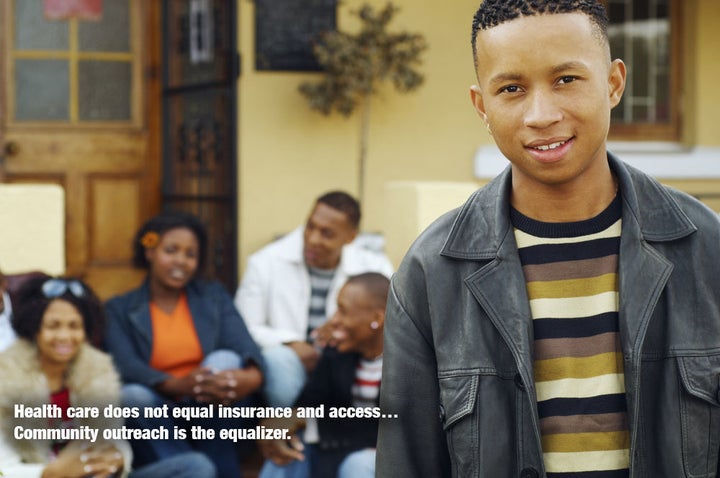 It takes innovative and disruptive approaches such as these to overcome challenges to engagement and improve outcomes in underserved areas. It also means connecting deeply with a community. To do that, we must take a page from the community organizer's playbook, the grassroots approach that was born in our hometown of Chicago. It's based on a deep understanding of a community's challenges and a strong connection to the area.
To treat anyone in crisis, Thrive NYC has created a roadmap for mental health to spread ownership of the issue to the entire city of New York. And nationally, there are an estimated 2000 clinics on wheels that treat about five to six million patients a year, delivering primary and preventative care to communities with poor access to health care, Slate reported in 2015.
The next step is dependent on payors such as my company, NextLevel Health. It is to make health care more accessible by developing plans that embrace innovative healthcare delivery models. Medicaid spending was $545.1 billion in 2015, and that sum is only going up, according to the Centers for Medicare & Medicaid Services. How long can Medicaid stay solvent at these rates?
It is incumbent upon payors to solve this issue finding ways to manage Medicaid dollars more effectively and economically than in the past. From my experience in the field, that means evidence-based models that are not only successful at delivering services–but also profitable as viable businesses. Only then will they be sustainable, scalable and "repeatable" so they can be used nationwide to increase access to health care.
At NextLevel Health in Cook County, we have created a promising delivery model by developing a holistic health plan that establishes, maintains and increases access to personalized health services for Medicaid patients. To do so, we borrowed a page from the community organizer's playbook by partnering with our community, hiring within it and creating support systems for our members.
The profound sense of mission so important for grass roots efforts runs deep for us, and our employee ranks show it. Eighty percent of our team is minority and 60 percent live in or near the communities we serve. And they are nimble, using mobile, cloud-based technology so that they can meet our members where they need us, whether that's at home, at a health provider appointment, or elsewhere in the community.
Our community based approach has the potential to move the needle on managed Medicaid and build our care completion rate in the right direction. Only a third of our members' phone numbers have been correct when they sign on with us. But our committed team members—hyper-local and high-touch—are responsible for facilitating interactions with our members that start with simple tasks, such as getting a current phone number, and progress to the kind of holistic care that can, and does, accelerate health plan completion rates.
But success is not just about care plan completion. Being there when a member transitions from one point of care another, such as hospital to home, ER to home, hospital to nursing home, nursing home to home or even hospice, is also critical so we can be sure that nobody drops the ball. Care transitions are what this touch model is about. Patients don't remember what the doctor said, or don't know how to follow up. Our high-touch, hyper-local, place informed team is there to help members make transitions and fill in the care holes.
But most significantly, our innovative healthcare delivery model is repeatable, and increases engagement by focusing on four strategies.
1. It Mobilizes Change From Within
Catalyzing better access to health care requires a deep understanding of the complicated and interwoven factors affecting a community, whether it's public safety, housing or employment. To do that requires you to be a geographically informed part of the community.
Assembling a team of healthcare innovators that both come from, and reflect, the local neighborhood ensures that you truly understand the pressures of life in the community. Hiring locally shows members you are making significant investment, not just by providing access to health care, but also by becoming an employer in a community that is traditionally fraught with unemployment. Investing in neighborhood-based facilities addresses the lack of health care access in an underserved area, and also demonstrates the economic commitment to a community that comes with being an employer and paying rent or property taxes.
2. Empowering Through Education
Mobilizing members with information, both about their plan and health conditions or treatments, is a critical part of cultivating an environment for long-term change. Developing easy-to-understand materials and working one-on-one with members builds the foundation of knowledge that is crucial to empowering them to become advocates for their health care. To improve health, members diagnosed with chronic conditions need to understand not just what medication is needed, but how to recognize symptoms and lifestyle factors that can make an impact over the long-term.
Good communication is key to helping members understand all the factors impacting their health, but achieving that can be difficult when a member feels ill at ease. Meeting members where they are comfortable, whether at home or elsewhere, helps put them at ease and makes it easier to share information. Having a team that has established relationships with members creates an important support system, whether it's as simple as having employees serve as a central contact point, accompany members to health provider appointments or support them with follow-through on a treatment plan. Such Interpersonal connections are key to building trust and support needed to create change.
Nurturing a sense of community among members is another important way to keep health issues part of the ongoing conversation. Monthly forums that invite members to ask questions and share their experiences creates an environment where information and practical advice about health conditions can be shared and personal connections can be strengthened. These connections can provide important support systems over the long-term, influencing health behaviors well beyond a single meeting or encounter.
4. Harnessing Local Partnerships
Recognizing that we can do more together than alone is a critical component of community organizing—and increasing access to health care. "When local citizens acquire the capacity to work together in smarter ways, communities can make significant change," noted David Bornstein, author of "How to Change the World," in the New York Times. Partnerships allow us to find ways to leverage expertise and other limited resources to tackle big issues.
While one approach can't work for every situation, or every neighborhood, it's important to find innovative and collaborative approaches to mining community resources both inside and outside the health care field. For example, when data showed that many of our members with behavioral health conditions also grappled with housing insecurity, we partnered with Trilogy, a community–based mental health organization that provides housing services, to help those members access treatment and housing. We are exploring partnering with small, minority-owned transportation businesses on Chicago's South and West Sides to create an Uber-like system enables caregivers or members to order services to close any transportation gap posing a barrier to accessing health care.
Bottom line, improving public health in struggling communities requires deep integration and investment in the community. That means finding ways to empower residents to access healthcare and take control of their health. And it means building relationships with not just members, but also those who live, work and do business in the community. It's not enough to simply look like our members, or have a nominal presence in the community. As healthcare innovators, we understand we must have "skin in the game" to truly build trust and work together to overcome challenges to engagement.