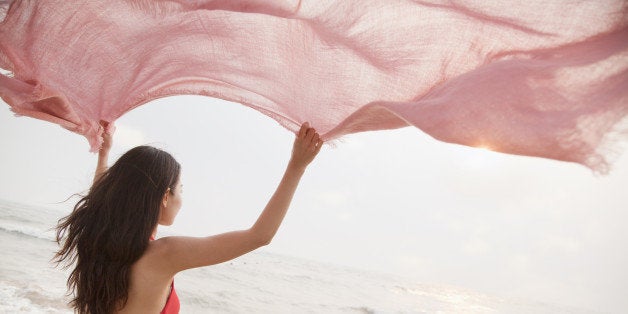 It's funny how something that seems like such a good idea at midnight, while scrolling around on FB, can seem so ridiculously crazy in the light of day. It goes something like this. You are at your computer, alone in the dark. Scrolling... scrolling... liking... clicking... when something really catches your eye -- a model call. You see that the most amazing boudoir photographer in your area wants to test out a new bear skin rug she picked up. She needs some volunteers. "Pick me, pick me!!" I practically stalk her with so many comments on her post. Totally embarrassing in hindsight. "I'm available... I'll do anything you want... My hubby is so hot... He will take off his clothes too." I went on and on in the comments section under her post. I even private messaged her. I acted like a middle school girl with a crush. No shame in my game.
You have to understand, Tiffany Fosnight Walker is an incredible boudoir photographer. She is the owner of Adeline and Grace Boudoir Photography. Her work is gorgeous. I love her and have followed her for years. She is funny, smart and talented. We are friends on FB and we run in a lot of the same photography circles. She was even gracious enough to speak at a photography meeting I hosted years ago about running a boudoir studio. I recently referred one of my clients to her for a boudoir shoot and my client raved about how amazing the session was and how she LOVED Tiffany. I remember feeling envious of my client and I kept thinking how brave she was. She showed me some of the final photos. She looked so beautiful, strong and feminine. I fantasized that I would hire Tiffany someday when I was in shape. That's what it always comes down to, right? You want to be in your best shape to take off your clothes to be photographed. So, basically it never happens.
The next day I get a PM from her -- "Are you and the hubs still down?" My heart sank and panic set in. What had I done? I had been training for my third half marathon of 2015 and I got injured. I had not exercised since October, unless you consider shopping exercise. I had been eating a ton. I had been indulging in every holiday vice I could since Thanksgiving. No working out, just eating. Of course this is the perfect time to volunteer for a boudoir shoot, right? And did I mention I had not even run this by my husband Anthony before volunteering him. I had officially lost my mind!
So, guess who is scheduled for a couples boudoir shoot this Sunday! Yes, you guessed it. Tiffany is photographing us this Sunday. Like in two days. WTF??? What was I thinking? How in the world am I going to get myself ready for boudoir pics in two days?? I am so excited and so terrified. Funny how timing works. I was in great shape in July. Why didn't she need a model then?
I am far from being fit by any means. I am actually feeling pretty lousy. My body shows all of the fun I had over the holidays. It shows that I have been at my desk all of the 4th quarter, editing client photos. It shows my love of peppermint bark, Newcastle beer and champagne, which I indulged in heavily over the holidays. Funny thing is, I haven't even tried to moderate my intake since she said she could use us. It was right before Christmas. I just didn't see that I could change anything that quickly. So, I have proceeded as normal. It doesn't help that Anthony has the body of a 20 year old gym rat. I guess I can use him as a decoy.
I am in denial a bit and therefore decided to share with the public at large, trying to make it real for myself. I am trying very hard to embrace being a 46 year old woman, who has two college aged kids and a love of good food and drink. I am not supposed to be a rail. My husband loves my body as is, he says he loves my curves. I say I wish I had his rock hard abs, he says he's glad I don't.
In my job, I photograph women who are eight months pregnant and generally the heaviest they have ever been in their life. I have them take off their clothes and I photograph them. I love the intimacy of pregnancy photography. Showing skin and curves is just so beautiful in my eyes. I never see them as out of shape or fat. I see them as beautiful. I tell them how amazing they look and show them their beauty with the photographs I take. I encourage them to see their strength, not their flaws. They are pregnant, curves are expected.
When I photograph newborns, moms generally have a poochy tummy and milk filled boobs overflowing from their bras. That is beautiful. That is ok. They just brought a life into the world. We forgive their rolls, we accept them. We even embrace them. They are there for a reason.
For the rest of us, curves are less ok. We don't forgive, we judge. I believe we should all embrace our bodies. And yet that can still be hard to really embrace for ourselves. I love that women are standing up and saying, 'we are good enough and we can't live up to this absolutely unattainable body type that has clearly been photoshopped to "perfection".' Yet, in the back of my head, I wish I was skinnier and in shape right now. I kind of want to look like the smoldering women in the magazines. I want to look sexy and strong. I know Tiffany knows her stuff and I trust her to show me my own beauty. The question will be, will I be able to accept what I see? I am scared I won't. I want to. Even though I coach my clients on self acceptance, and this is what I believe we should do, will I be able to listen to my own words of encouragement and not judge myself?
For now, I am just going to leave it all in Tiffany's hands. I am going to do my very best to remove all self doubt before the shoot, and even more so once I see the photos. That is my goal. I am working hard at loving myself, just as I am. This is the first test in 2016. I will keep you all posted.
Have you done a boudoir shoot? Do you have tips for me?
Calling all HuffPost superfans!
Sign up for membership to become a founding member and help shape HuffPost's next chapter