The first thing that needs to be said about Myrtle Beach is that is a family destination. True, a lot of people retire there, own second homes, and join one of the dozens of golf clubs -- there are about 115 golf courses, private and public in the area. You could go off by yourself and spend idle days fishing, which down there means saltwater fishing on the Intercoastal Highway, which runs parallel to the coast from Little River to Waccamaw River.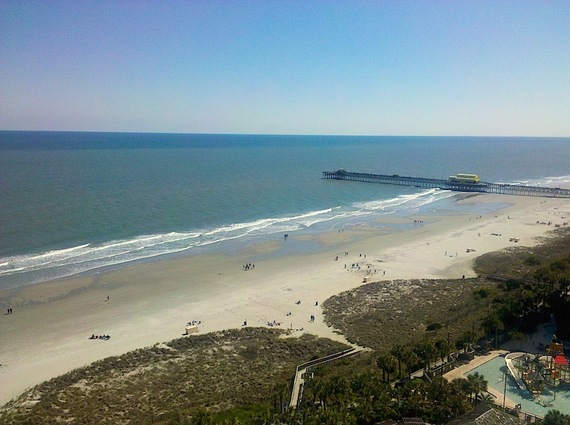 But anyone who drives down Route 17 through Myrtle Beach -- whose length takes in Surfside Beach, Loris, Aynor, Pawleys Island, Murrells Inlet and a great deal more -- will be in no doubt that in season the place is overrun with families packed into SUVs and mobile homes; on every block of every boulevard you'll find waffle and pancake shops, fast food chains, seafood houses and amazing number of places with "Cap'n" in the name. The streets are lined with hundreds of t-shirt and bathing suit shops, always having a sale on: one vast chain, Eagles, has nearly 30 stores in the area, some within blocks of one another.
When I visited a month or so ago, the weather had not yet cooperated with the plans of many families ready for sun and surf, but by now the temperatures are in the eighties and the humidity has set in, so the beaches and hotel pools are filling up with people packing high SPF sunscreen lotions.
A great deal of the activity in the area is along the new (since 2010) $6.5 million, 1.2 mile oceanfront boardwalk that extends from 14th Avenue to 2nd Avenue Piers in Myrtle Beach. While I've always loved the idea of boardwalks, I'm almost always disappointed to see so much trashy activity on them. There is a high-altitude Ferris wheel in Myrtle Beach, and it's pleasant to stroll along the beach in the morning or at twilight. But all along the main drag are little more than raucous bars, ice cream stores, pizza stands and endless burger joints next to the inevitable t-shirt shops and places where you can have your photo taken dressed as a Confederate soldier. Sadly, it's pretty tacky, but it's easy enough to escape from.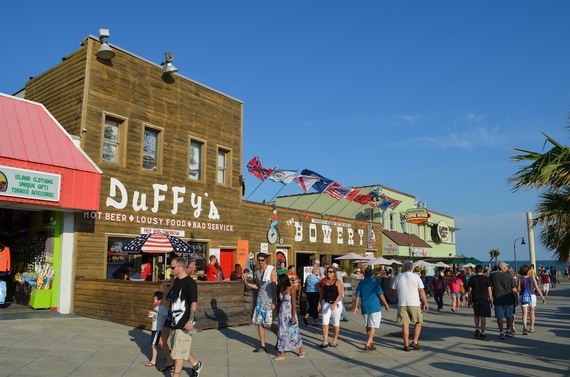 But not before dropping into a deliberately tawdry bar named The Bowery, whose no-frills, beer-and-shots fame, since 1944, as a honky-tonk is evident in every corner of the place and which rests on the considerable laurels of having once had the country group Alabama as its house band in the 1970s. You could spend hours here just going through the old photos that line the wall, which includes a legion of show biz folk and a photo of a waiter named Scuba Osborne who holds one of the odder distinctions in the Guinness Book of World Records for carrying 35 mugs of beer in his two hands.

One attraction I found awesome -- a word I try hard not to use too frequently -- is the NASCAR Racing Experience, not for the faint of heart, which I found out I was. But for anyone who wanting a once-in-a-lifetime thrill ride, inside a true NASCAR machine (with a driver) that will get up above 100 mph (the cars will do 180 without breaking a sweat) and tear around three laps of the track for five minutes, this is bliss, at $129. Even more heavenly for those so inclined is the opportunity to drive the monster yourself, after three hours of training at the track under cool, strict supervision. Prices for that range from about $400 up to $3,034 for a day and a half of racing. Five minutes was more than enough, holding on tight while the driver came within inches of the barrier. All I could imagine was doing this on a track with 50 other guys trying to wedge their way through the pack. Yes, awesome.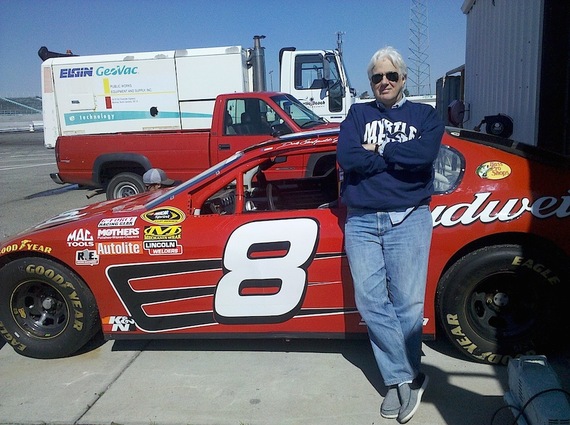 I won't say much about accommodations -- they run the full gamut of all the chain hotels and smaller local motels. I stayed at the Embassy Suites, a chain that offers no surprises for anyone who's ever stayed in any one of them. But this one had a very good restaurant indeed, named Vintage Twelve, where Chef Caitlin Brady is balancing family dining requests with original Low Country ideas that result in fine dishes like her Charleston crab soup with Sherry ($7), Carolina Mountain trout with smoked bacon, sweet potato salad and arugula ($26), and superb Creole shrimp with a grilled baguette ($22) to dip into the spicy sauce they swam in that morning. In fact, the first bite of those local shrimp made me swoon.

The fact is, 99.9 percent of all the shrimp you will ever eat in this country are frozen, and a good deal of that is coming from the murky waters of shrimp farms in Southeast Asia. Which is a damn shame because the fresh shrimp that comes from America's Southern coastal waterways is the sweetest, most delicious shrimp in the world.

So, while on Myrtle Beach, where most restaurants specialize in seafood, I gorged for three days on fresh shrimp, specifically the species known by the names brown, pink and white, although in the South they always call it sweet shrimp. At the (oddly named) Aspen Grille (below) I demolished a platter of shrimp and grits ($17 or $23) -- a staple of Southern cookery usually made with boxed, tasteless instant Quaker Oats grits, but now, as here, increasingly made with the nonpareil stone-ground grits from companies like Old School, Bob's Red Mill, and Anson Mills, whose grits' texture and taste are as unforgettable as the sweet shrimp themselves. Aspen Grille is one of the few sophisticated but by no means haughty restaurants in the region, and I was delighted by Chef Curry Martin's jumbo lump crab remoulade ($11), pan-seared flounder with shrimp ($27), and German chocolate brownie sundae ($8).

The unqualified supremacy of Southern coastal shrimp can easily be experienced by driving down U.S. Route 17 Business along the marshy shore of Murrells Inlet in Myrtle Beach, which is lined with huge seafood eateries with names like Wicked Tuna and Drunken Jack's, Hot Fish Club, K-Raye's, and Dead Dog Saloon. A finer dining restaurant here is Bliss, where chef Ernest Bledsoe makes another Southern specialty, fried green tomatoes with truffled goat's cheese and shrimp ($12); he stuffs crab with shrimp and a whole grain mustard emulsion ($22); his shrimp and grits ($21) are enhanced with smoked cheddar, bell peppers, onions and andouille sausage gravy; and he tosses them with angel's hair pasta, leeks, grape tomatoes, spinach and lemon-garlic. I asked the waitress, who is also the pastry chef, "Does anybody around here serve frozen shrimp?" She looked stunned, paused a second, shook her head and said, "Hmm, nobody around here would dare."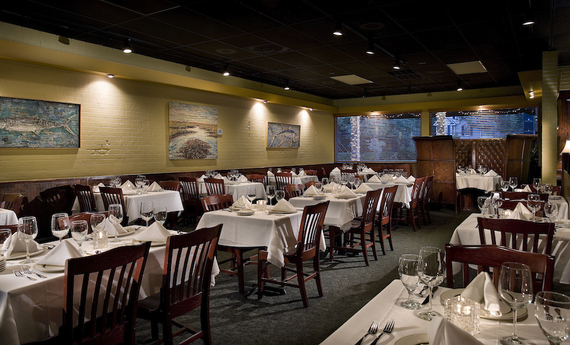 As I sat at a booth at the unexpectedly glitzy Wicked Tuna, opened just last year on Murrells Inlet, plucking up one after another of hot popcorn shrimp with a mayo dipping sauce ($12), I pitied all those New Yorkers -- of which I'm one -- who gobble up one-and-a-half million pounds of shrimp every week, almost all of it frozen, eaten with cocktail sauce or deep-fried, chewy and tasteless, prized more for their jumbo size than their flavor. They really haven't a clue what they're missing.