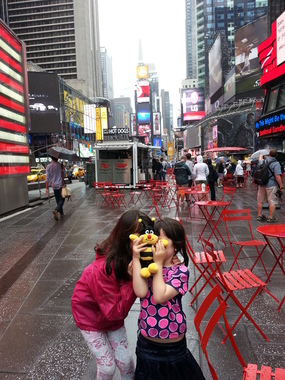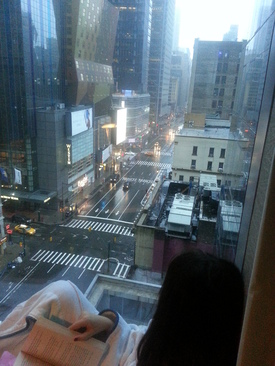 On my flight from Manchester, England to JFK Airport in New York City, a British father who sat next to me on the plane smugly lectured about the follies of taking young children to New York City as he barely tolerated my 5-year-old and 10-year-old acting like normal kids. He threw in the fact that he took his child to a beach holiday every year until he was 12 years old as if that was the smartest thing to ever do. At the end of the transatlantic flight, he revealed his son was on the same flight with him. His 21-year-old son was sitting with his wife, going to New York City for the first time. The smug dad hadn't said one word to his son across the aisle during the entire flight.
He disembarked from the flight, feeling quite smart with himself, but the fact is his son has missed out on a slew of experiences, leaving him handicapped enough that he didn't have the confidence and maturity to visit New York City by himself as an adult. The thing about the Big Apple is that there's an experience for everyone for every age range.
As many weekends I've spent in New York City over a span of two decades, I had never come across some magical sites that you would never explore unless you were with kids. Yes, New York City can be crowded and intimidating. But there are a few simple guidelines to keep in mind as you maneuver your way through the most vibrant, most stimulating city in the world with young kids in tow.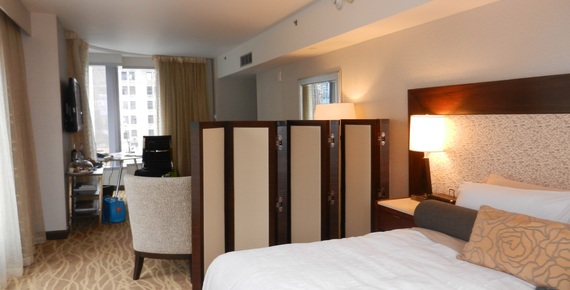 Stay close and comfortable - Coming off a long plane journey, especially when you've jetted through five time zones, can be grueling for adults, not alone children. You need to combine rest along with optimizing the time you have in the city where there's so much to do. We stayed in a corner deluxe suite at the Intercontinental Times Square with wraparound views of the city streets. We could see theatre marquees for the Phantom of the Opera and Matilda and Jumbotrons from our wraparound windows. From our hotel room, we soaked up the atmosphere of Times Square without stepping foot outside our door. The king-sized bed was so plush it felt like we were sleeping on a cloud. A room divider separated the sofa sleeper bed from the bedroom to give just enough privacy without making the room feel like a box. With two televisions, no one fought over the remote control. The hotel was thoughtful enough to leave an adorable stuffed bee named Bert to join us on our Big Apple adventures.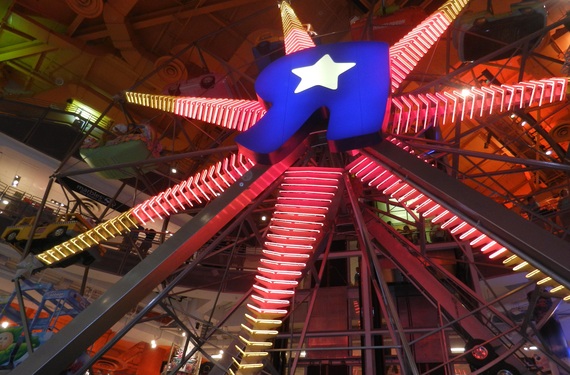 Outside our doorstep was all the action. - One block away for the Toys R Us Ferris Wheel which my kids fondly remembered from two years ago. I had stepped foot inside the Toys R Us at Times Square to come across an unbelievable indoor Ferris wheel that spans four floors of toys. To a child, it's the most amazing, unimaginable spectacle. To me, my disbelieving reaction was "who would've thought?!"
The M&M store with its decadent offerings of every hue of M&M imaginable from teal green to lavender purple was also off Times Square. You get to fill a bag choosing your own color and type, from pretzel to plain M&Ms.
Also, the Times Square subway stop was right next to the hotel, which is a faster, efficient and cheaper way to travel around the Big Apple. We took ourselves to the Upper West Side in no time to catch a show.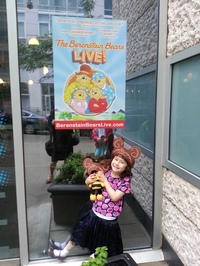 Find a low-key event to blend in with the locals. - We went to see the Berenstain Bears LIVE Family Matters musical at the Manhattan Movement and Arts Center in the Upper West Side. Our seats were on a furry rug that served as grassy knoll for our VIB, a.k.a. Very Important Bear, tickets. In an energetic, entertaining play, the bear family shared lively lessons about stranger danger, the perils of junk food and hard lessons when you don't do your homework. As a parent, I love it! It's not just me harping on about these teachings so it's a relief when the reinforcements are coming from other sources, even if it's a bear. Mommy is not just crazy strict! Others spout the same message. For more info, go to Berenstain Bears LIVE Family Matters.
Take advantage of the best restaurants in the world! With Kids! - Ramen is the rage these days. We stopped at Ippudo, a Japanese ramen noodle restaurant that takes no reservations. We got there by 12:30 p.m. on a Sunday. We were told the wait was an hour and a half. I put our name down because I wasn't going to miss our chance for the best bowl of Japanese noodle soup outside of Japan. Thankfully, the bar serves a menu that has appetizers offered on the regular menu like chicken buns and hirata chicken wings so I could start feeding my kids right away. For more info, go to Ippudo.
Overall, New York City for kids is a must! Many parents may find it easy to talk themselves out of it but there are things you'll find in the city you'll find in no other. The level of imagination and energy can stimulate a child's creativity. If you can follow some simple guidelines, you can etch their experience of the Big Apple forever in their memory by keeping their trip positive and stress-free.