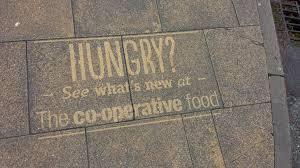 Spurring passersby to take photos or videos in front of your business can pull them through the door and pull columnists to cover "our" story. "The city is our canvas," GreenGraffiti owner, Jim Bowes told The New York Times. Bowes said, "We can tell a story over the course of two blocks if we want to, without paper, without ink."
"Using stencils and high-pressure water sprayers, he selectively washes down pavement, leaving behind 'clean' words and images that gleam through the grime."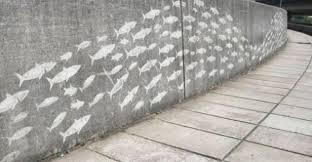 Give Passersby a Way to Earn Bragging Rights -- Putting Your Business in Their Picture
Such images stop passersby in their tracks. When what they see is interesting they take photos of it, often putting themselves in the photo to show others. If that image relates to your nearby business then they've taken the first step to getting closer to it. This method is called reverse graffiti -- and you could use it too for your business or cause.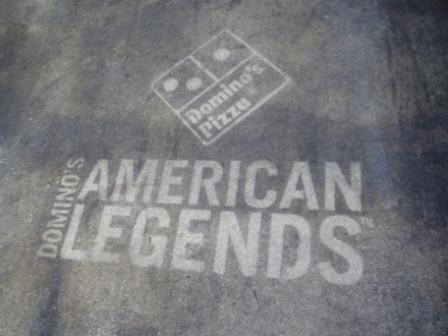 Domino's Pizza invited pedestrians in three cities to send in photographs of themselves with the street images and win Domino's gift cards. It estimates that generated about $1 million worth of publicity. How could you adapt this method to your consumer-serving business?
Hint: Get People Taking Action That Moves Them Inside Your Business
1. When people take a photo of themselves or a friend that includes, in the shot, something related to your business they are taking a step closer towards talking about your business.
2. When they have gained such bragging rights they are more likely to walk in the door. Spur them on with the small gift or prize they will get when they do. Groups as diverse as Greenpeace, the Amsterdam police (anti-auto theft campaign), Starbucks and MTV have attracted attention using reverse graffiti.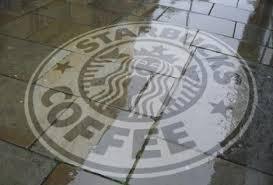 Three Partner-Based, Customer-Attracting "What-If" Scenarios for You
Storyboard your sequence of word and images down your business street. Using reverse graffiti, what if businesses on three or four blocks joined forces to reverse graffiti a themed "path" on their collective sidewalk in one of these ways?
1. Place funny, wise or whimsical sayings or images or bits of history about their neighborhood on the path. Ahead of time post signs in the windows and on your web sites offering prizes to the first 200 people who email photos of themselves posing on the graffiti "sidewalk trail" they will see "next week." Also alert the local media and bloggers of this event. Tell them all photos will be posted on a web page for the event so be sure to include their name and caption for their photo. (Reviewing the photos in advance enables you to screen for inappropriate photos.)
Your web page also has images of the small prizes each participating business will offer to the named winners who walk in their doors to pick them up.
2. Along the path, tell a story, tied to something special inside each place.
3. Co-host a scavenger hunt, offering clues that draw people inside and prizes to receive inside each place for the first 100 people who complete the hunt. Perhaps use Local Squared.
People are using reverse graffiti for all kinds of reasons. Here are three:
1. In Minneapolis, Martin Pace created murals by scrubbing away exhaust grime on motorway walls as Moose did in San Francisco's dirty Broadway tunnel.
2. For the L.A. Film Festival Clorox commissioned The Reverse Graffiti Project, a mini-documentary for its GreenWorks line of cleaning products.
3. A solar gadget company used stenciled mud graffiti, eye-catching and sustainable because it last just a week or so.
Calling all HuffPost superfans!
Sign up for membership to become a founding member and help shape HuffPost's next chapter