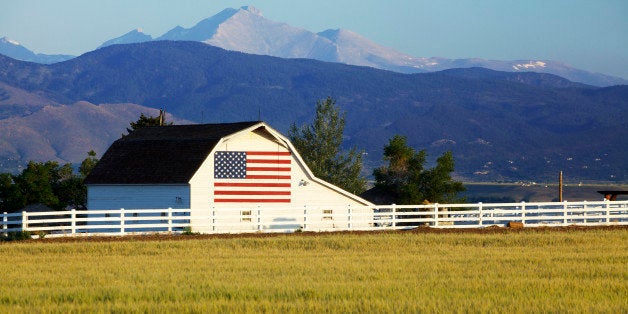 I do not consider myself religious in any traditional sense, nor would I say that I am deeply patriotic, but I am tired of "American" and "Christian" being used as descriptors of what is happening in the popular discourse.
I am tired of letting the loudest among us be those who call for un-American behavior in the name of patriotism. I am tired of letting the dialogue be monopolized by those who pass off prejudice as faith. Compassion matters. Dignity matters. Exercising self-discipline when we are scared and angry matters.
Human beings are biological creatures with lots of biological impulses. But we also have the capacity to see beyond our temporary urges for violence and oppression. We have the ability to anchor ourselves in, and act out of, enduring and inspiring principles. If we do not use the wisdom we have access to, then what exactly makes us human?
This feels like a moment in time when we are collectively trying to decide how to move forward. In the face of terrorist attacks, racial tension and conflicting world views, where shall we go for guidance? Shall we just go with what we feel and call it what we want? Shall we lash out and call it Christian? Shall we segregate and call it American? Or shall we consult some principles that were written down precisely so that we would remember them in times such as these?
The second paragraph of the Declaration of the Independence begins with these words:
We hold these truths to be self-evident, that all men are created equal, that they are endowed by their Creator with certain unalienable Rights, that among these are Life, Liberty and the pursuit of Happiness.
The Constitution of the United States begins with these words:
We the People of the United States, in Order to form a more perfect Union, establish Justice, insure domestic Tranquility, provide for the common defence, promote the general Welfare, and secure the Blessings of Liberty to ourselves and our Posterity
A plaque mounted on the base of the Statue of Liberty carries these lines from a poem by Emma Lazarus:
"Give me your tired, your poor,
Your huddled masses yearning to breathe free,
The wretched refuse of your teeming shore.
Send these, the homeless, tempest-tossed to me,
I lift my lamp beside the golden door!"
Every morning my son stands up in his public high school classroom and recites The Pledge of Allegiance, which ends with the words: "with liberty and justice for all."
The New Testament contains these words from the Sermon on the Mount:
You have heard that it was said, 'An eye for an eye, and a tooth for a tooth.' But now I tell you: do not take revenge on someone who wrongs you.
You have heard that it was said, 'Love your friends, hate your enemies.' But now I tell you: love your enemies and pray for those who persecute you.
The first stanza of The Prayer of Saint Francis reads:
Lord, make me an instrument of thy peace.
Where there is hatred, let me sow love;
Where there is injury, pardon;
Where there is doubt, faith;
Where there is despair, hope;
Where there is darkness, light;
Where there is sadness, joy.
What am I missing? Where is written that we should block access, imprison, blame and malign those who we do not understand, who look different, or who live outside our borders? Does being American or Christian represent any fundamental principles or are these nothing more than titles that we get simply by living in this country and going to a fancy building on Sunday?
I propose that these words which are thrown around quite a lot lately actually do stand for something. I propose that the privileges of living in this country come with the responsibilities of being inclusive, of speaking for those without a voice and representing the rights of those who are denied access. I propose that the privileges of being Christian come with the responsibilities of showing compassion and generosity for those in need and mercy toward those who have offended.
Uncertainty can trigger anxiety and self-defensiveness. We can respond by being reactionary, rigid, and exclusive. But this is not our only choice. We also have the choice of compassion, inclusivity, and peaceful resistance.
Of course, it is challenging to make this choice in the face of senseless violence and vehement disagreement. Standing for something worthwhile is rarely easy.
Related
Popular in the Community