The thing about visiting a Biennial that you have visited and written about in the past is that the ghosts of Biennials past tend to linger. Before you know it, and despite yourself, these ghosts start haunting the place and creating a dialogue with the present. Consequently, when I started my conversation with Veerle Poupeye, the Executive Director of the National Gallery of Jamaica, I wanted to know the ways in which she saw the Jamaica Biennial 2017 being different from the previous staging of the Biennial in 2015.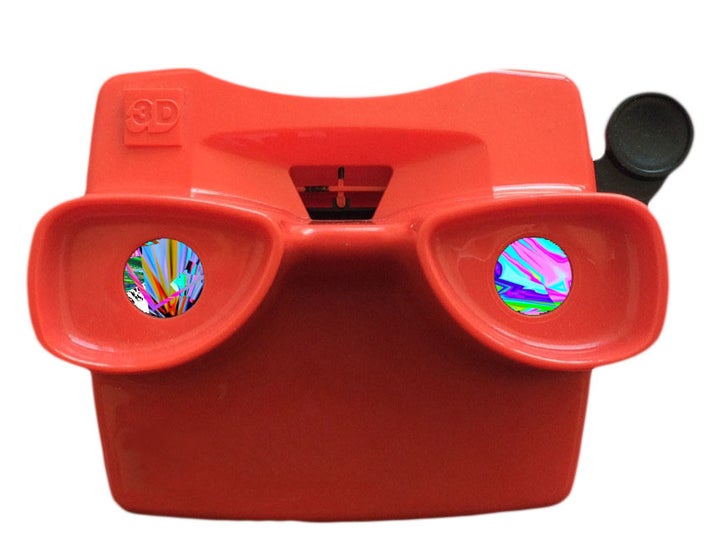 "There have been two major changes in the Jamaica Biennial 2017 since the Biennial in 2015," Dr. Poupeye told me. "We have added a tributes section to the 2017 Biennial, and in this way, we recognize the work of a more senior artist (Alexander Cooper) and a younger artist (Peter Dean Rickards) who passed away since the last Biennial. The second major change is that there was a Board decision to add two local jurors (Susanne Fredericks and Omari Ra) to complement the international jurors (Christopher Cozier and Amanda Coulson) who decided on the juried section of the Biennial. The Board of the National Gallery of Jamaica felt that there was need to have local voices involved in the decision making in the juried section of the Biennial."
Altogether, there are more than 160 works from more than 90 artists shown in three locations – the National Gallery and Devon House in Kingston and National Gallery West in Montego Bay. There are almost equal numbers of Invited and Juried artists to the Biennial, and six special projects by international invitees in addition to the two tributes. The Jamaica Biennial 2017 is, as much of the catalogue and publication material makes clear, 'the largest such exhibition in the National Gallery's History'.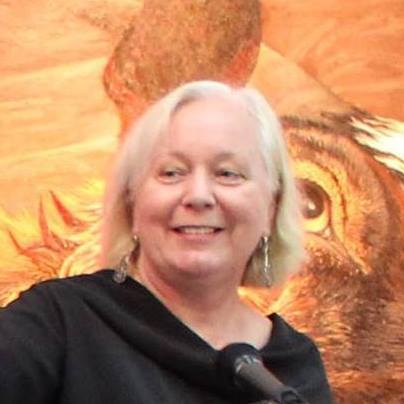 For Poupeye, photography and photographic based works continue to be quite strong in this Biennial. The paintings section, this time around, is possibly stronger than the last time; and there is a real resurgence in fiber arts which used to be quite marginal. "Artists, both male and female, are using textile and fiber arts to address many of the expectations that surround particularly women and womanhood. If you look at the work of the artist, Marcel Pinas, one of the special international guest artists, embroidery from Maroon women is one of the key elements in his works. Another of the invited artists, this time David Gumbs from St. Martin, utilizes lace curtain culture and mesh materials for his cube. When Gumbs' projection switches to black and white, you can get a great appreciation for the use of textile in his work."

In fact, David Gumbs' video-projection and conch-blowing installation at National Gallery West in Montego Bay is simply stunning and is one of the standout pieces in the Jamaica Biennial 2017.
Gumbs has taken over the large, darkened room of the National Gallery West to create an immersive environment of flowers and plant life that emerges to gigantic proportions along an enclosed mesh apparatus and up the walls of the Gallery. Many of the flowers are recognizably tropical and Caribbean, but they are constantly being altered and re-appropriated and generated by a computer program into a fabulist dream. If you stare at the flowers long enough, a tropical oasis of fish and tropical fauna begin to materialize.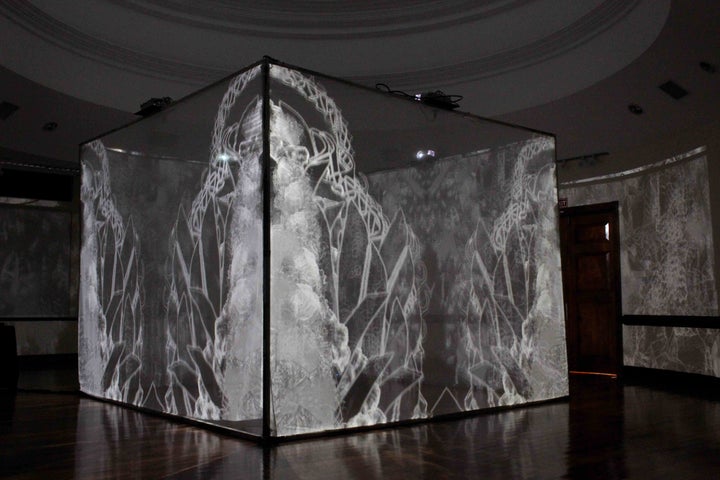 As part of the work, there is a conch that one can blow into to make the images become even bigger, thereby moving the display into one of participation and interaction. The display shifts from intense and vibrant colors to lace patterned black and white designs that are as engaging as the flowers. National Gallery West has a distinctive dome that Gumbs has used to full effect and one can look up at the dome at any given time to see the most hybrid and beautiful flowers projected on the ceiling.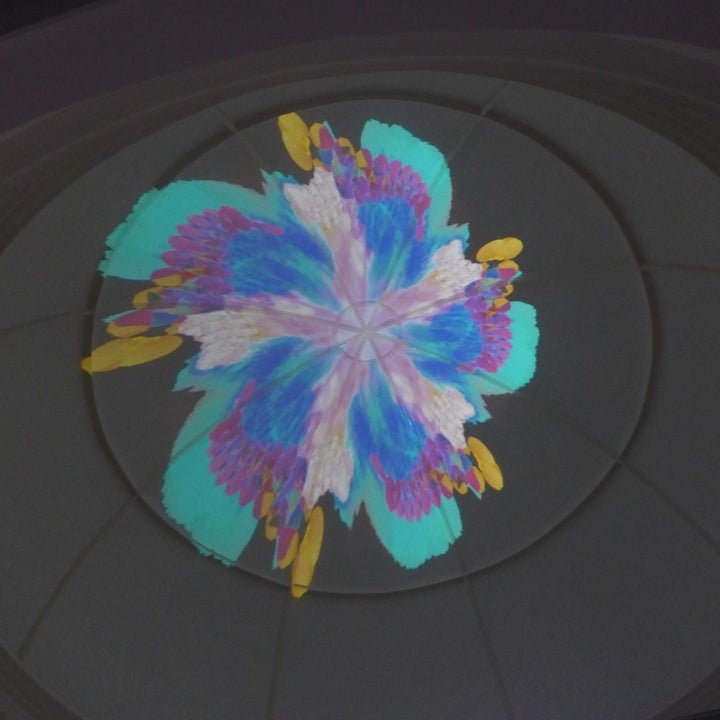 A similar, well-thought out pairing of art and space is also to be seen at historic Devon House in Kingston. The art selected by the curators to be shown at the House is a perfect fit. A complex system of mirroring, dialoguing and cross-referencing begins to unfold with the works at Devon House. This was started at the last Biennial but was not as fully realized as it is this time around. Consequently, multiple and nuanced readings become visible from the works at this location.
Because of an overly complex and at times a slightly absurd process of no-two visitors being allowed in the same room at once to view a work of art, I ended up on a curious and circuitous route throughout the house. This all meant, I am guessing here, that one was made to experience the works not as the curators or even the artists intended us to see the works, but as determined by the visitors ahead of you, and, another curious fact, by who your tour guide happened to be. In my case, I lucked out, and got Ms. Barbara Beckford, with whom I ended up having an insightful and illuminating conversation about the works on display.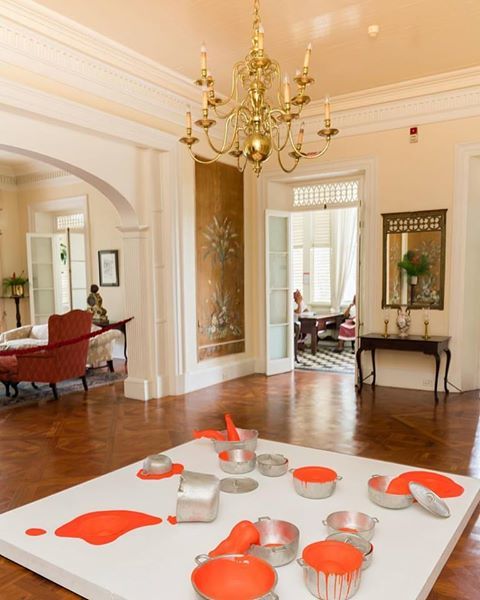 The first work that anyone gets to see at Devon House is Leasho Johnson's 'In The Middle' which is located in the main downstairs area of the house. Johnson, who has made a name for himself producing work commenting on dancehall culture, has the legs and buttocks of women sticking out of cooking pots. Some pots are overturned and there is blood everywhere. One has come upon a deadly domestic violence scene reinforced by the head-less-ness of the female figures. Interestingly enough, though, high-heeled expensive looking shoes are encased on the feet of some of these women. Dancehall women? Working women? Upscale women? Johnson seems to be asserting, rightfully so, that domestic violence cuts across all class levels.
Leasho Johnson's work is placed in such a way that there is no way that you can avoid it, and begins a foray into the multiple readings that placing a work in such a prominent place at a historic house and site calls forth. The placement of Johnson's work historicizes the issue of violence on the island and gives it long, deep and very tangled roots. Placing the work as it is, implicates all of us who look upon the spectacle.
The issue of violence against women and its historical precedents is picked up in the work I saw next; that of Deborah Anzinger's, 'A Piercing Void Where We Meet', which is a reflection on how the female body is utilized in Guyanese writer, Wilson Harris's novel, 'Palace of the Peacock.' The novel, set in the sixteenth century, presents a group of men rummaging through the forest. The men are being led by a cruel and tyrannical European colonialist, hunting down a woman who keeps seeking to elude them.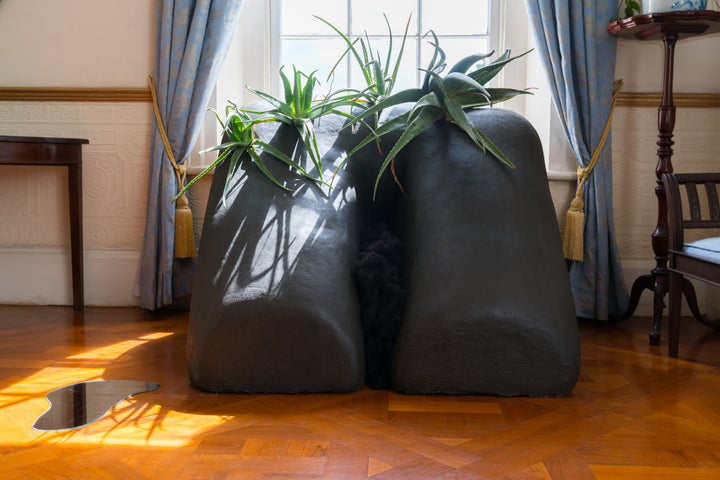 Confronted with the graphic vaginal opening and rotund black buttocks of the work, I turned to my guide and asked her opinion of the piece. My guide blushed and said, "Miss, you have to use your imagination." Anzinger's work skillfully utilizes mirrors as a reflection back on the piece, the house and the viewer. Throughout the house are historic mirrors that themselves amplify the questions being posed in all works shown at Devon House.
Also on view at Devon House is the work of Jasmine Thomas-Girvan who recast the confrontation between Europeans and enslaved, indentured and native peoples. Her hybrid female figure carrying a ship on top of her head is particularly incredible. Sharon Norwood's two hair pieces on prints looked as though they belonged where they were placed, and were the favorite pieces for my guide, because they were "so genteel." Andrea Chung's soap-casted hands of black mid-wives, "Look real-real don't it?" to my guide, while Laura Facey's wooden mirror and desk carvings which looked like some kind of fertility symbol to me, caused Ms. Beckford to pause and explain that though the work was a commentary on Jamaican landscape, for her it was all about "The hills and valleys and ups and downs of life."
I thoroughly enjoyed hearing Ms. Beckford's unscripted takes on the works at Devon House.
It was at The National Gallery in downtown Kingston that things started to go haywire with the Biennial. While there are very strong pieces here, the overall feeling of this venue is a lack of focus and dynamism. Throughout this venue, I started to get an uncomfortable feeling that things here are big – for big's sake.
Much has been written about the size and monumentality of Laura Facey's cotton tree drum. For me, the drum was an inconvenience to be negotiated, and furthermore, it blocked the other works on that floor. In addition, several of the artists who last time produced some of the most exciting works seemed to have been caught in mid-stride with works that had not found full resolution as yet – Camille Chedda, Oneika Russell and Philip Thomas seem to be in this group. And then some of the works are just puzzling, as are Tina Spiro's 'Deep-See' and Claudia Beyer's 'Splendour in the Grass'. I am not sure how the works were selected for the Alexander Cooper tribute section but here there seemed an overall lack of energy.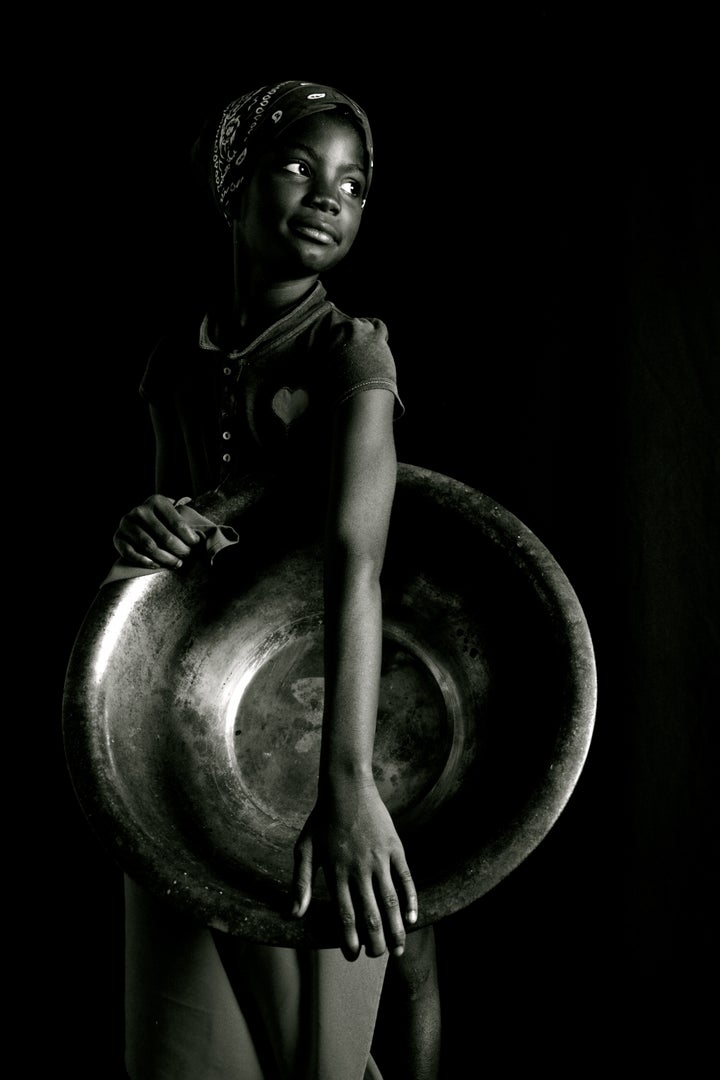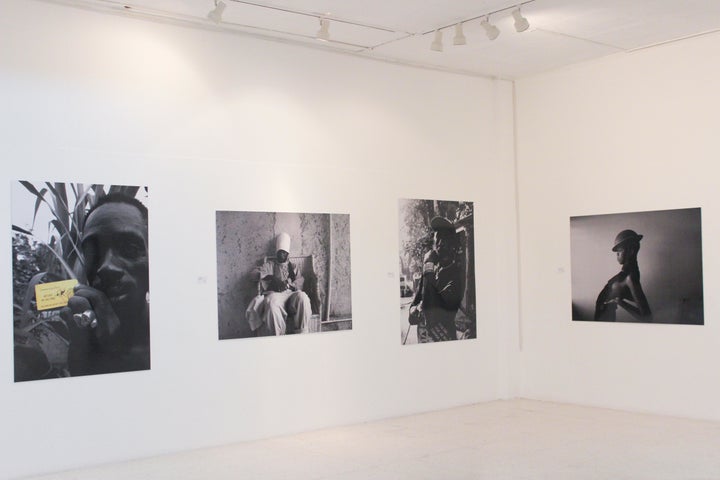 The two most memorable displays at the National Gallery in downtown Kingston were the striking black and white photographs of a radiantly beautiful young model by Donnette Zacca, and the tribute room dedicated to Peter Dean Rickards, which makes one ache for what could have been with Rickards. What I find so fascinating about Rickards' work is that he somehow seemed to have obviated the 'outsiderness' that seems to always attach itself to artistic representations of dancehall culture and the 'rude' lifestyle. Consequently, there is an unselfconsciousness to two almost totally nude women dancing in front of Rickards' video which in turn mesmerizes the viewer.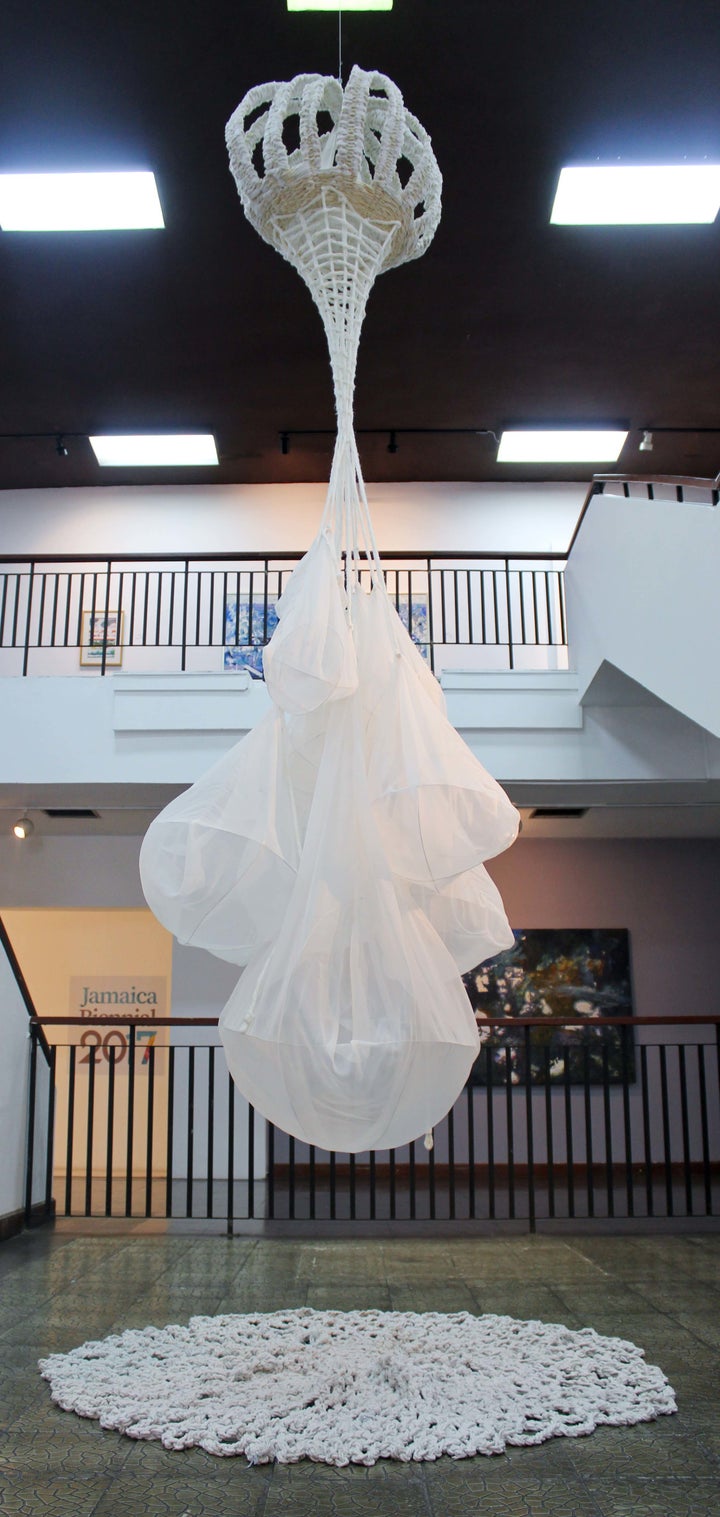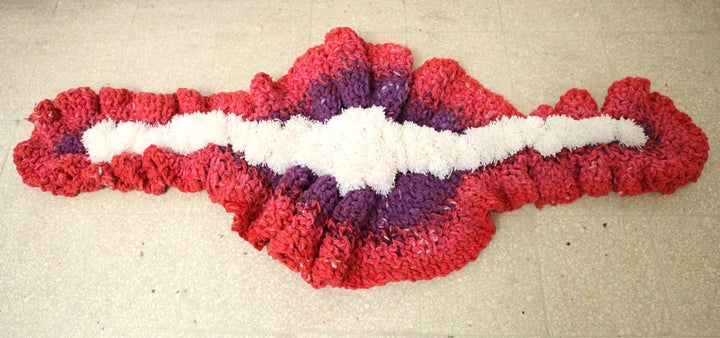 One of the strongest pieces in the entire Biennial, Katrina Coombs' 'Other's Divergent' is also to be found at the National Gallery. Coombs might as well do away with the chandelier-looking top of 'Other's Divergent' and leave in its place the powerful sac-filled work hanging floor to ceiling with the large crochet piece beneath it. Coombs' other textile piece in the Biennial, 'Fixation', and the strong assured fiber work of invited artist Raquel Paiewonsky, single both women out as artists to watch.
Indeed, it seemed as though it were the fiber artists this time around that had so many things to say right now, that it was unfortunate that invited artist Marcel Pinas' forceful and urgent embroidery pieces in pudding pans were undercut by a truly unnecessary large washed-out video behind his works.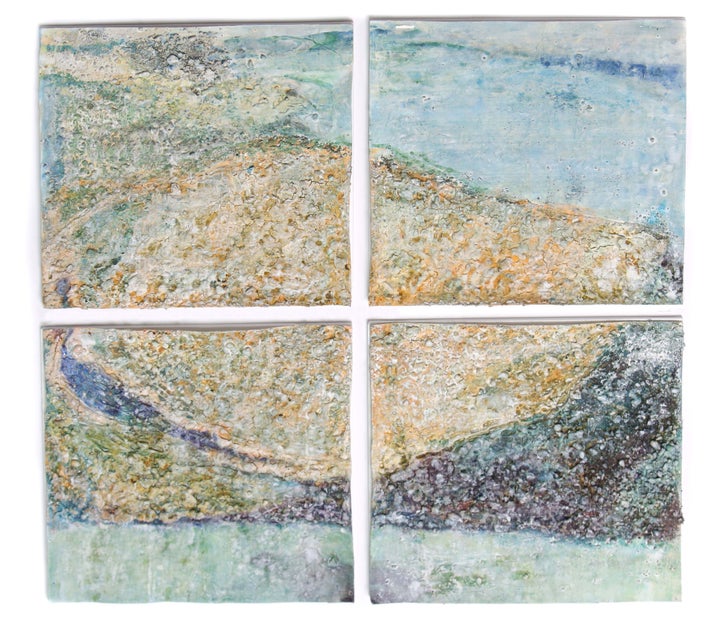 Other artists who had very strong work in the downtown venue included Hope Brooks' gorgeous poetic suite of paintings on paper meditating on the environment of Goat Island. Cosmo Whyte's work on black male subjugation and emasculation seemed to be in direct conversation with that of Omari Ra's work on male race-based domination. Kelley-Ann Lindo's 'Send Love inna Barrel' is a well-conceived and executed work. Jodie Lynn-Kee-Chow's work, while strongly conceptualized and made, somehow seemed to be missing her presence.
Perhaps the most delightful surprise at the downtown Kingston location of the Biennial is the work of Di-Andre Caprice Davis who offers fresh, energetic images that can be viewed in multiple red viewfinders. Assistant Curator, Monique Barnett-Davidson, explained that, "Di-Andre Caprice's work is about the things that she sees in her subconscious, juxtaposed with real objects." Di-Andre Caprice Davis and David Gumbs seem to have opened up a new vein in contemporary Caribbean art, which is focused around play, interactivity and new media technology. More than anything else, the work of Davis and Gumbs leaves one optimistic about the art being produced in the Caribbean and being showcased at the Jamaica Biennial.
Most of the photos in this article were provided by the National Gallery of Jamaica. Images for Deborah Anzinger and Leasho Johnson's work are by Randy Richards. The floral image of David Gumbs' work is by Jacqueline Bishop.
Related
Popular in the Community