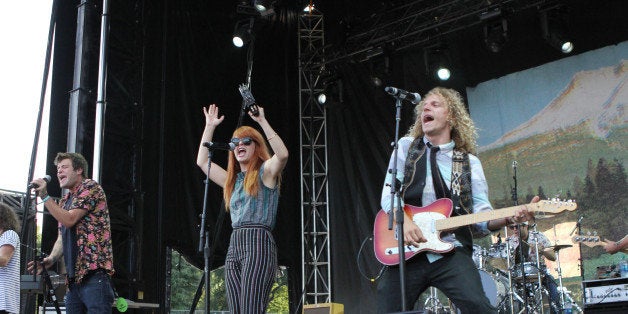 Even the most upbeat person in the universe can't preach positivity 24 hours a day. That would be exhausting, even annoying. Playing in a band that relies on feel-good music at its core can have some challenges, too.
Just ask Colin Louis Dieden, one of the founders, lead singer-songwriters and guitarists of the Mowgli's, a Southern California-based seven-piece indie pop-rock group that thrives on love, hope and understanding, along with some incredibly infectious tunes.
If happiness is a warm gun, the Mowgli's seemingly arrived fully loaded. If the Polyphonic Spree crossbred with an updated, hipper version of the Partridge Family or Up With People, the Mowgli's would most likely wind up on your doorstep.
Speaking from a cellphone with spotty reception on a tour bus he thought was somewhere in Louisiana while making its way from Florida to Texas in late April, Dieden tried to put a good face on his present lot in life. But there was an edgy undercurrent that suggested all wasn't totally hunky-dory.
"Writing on the road is pretty hard," he said, comparing the "entirely different experience" of transitioning from the Mowgli's major label debut, Waiting for the Dawn (Photo Finish Records) in 2013, to Kids in Love, which was released on April 14. But expect their full-of-good-cheerful sounds found in songs such as "You're Not Alone" and "I'm Good" to continue, even during bleak times when remaining optimistic seems impossible.
"That's what we do with this band," Dieden said, his tone more resolute than perturbed. "If there's negative songs, we can put them somewhere else. We want to make music that contributes positivity and light to the world because there's so much fucked-up shit that I don't even want to touch. You know, I have to deal with that all the time. I don't want to put it in my art right now with this band. I have plenty of songs like that. They just don't go to the Mowgli's. It's just something designed to make people feel great. That's all we're trying to do."
But capturing magic in a bottle the second time around doesn't always happen. A warm, nostalgic feeling seemed to filter into Dieden's voice as he recalled the making of Waiting for the Dawn.
"You always feel like you have your whole life to make your first record and then you have six months to make your second, you know?" he said. "Back in the day, there was no pressure of like relative success. ... We were just a bunch of kids living in Venice Beach writing songs and having parties and drinking and being friends and running around like crazy people, just like kind of in love with that part of our lives."
Those thoughts were reinforced when Dieden recalled the Mowgli's first visit to the Hangout music festival, also in 2013.
"We had a beautiful house over there in Gulf Shores," Dieden said of the town along the Gulf of Mexico in southern Alabama. "Just all of us being together. We were all running around the beach at night and there was something incredible about it."

The current lineup of the Mowgli's includes (from left): Andy Warren,
Spencer Trent, Colin Louis Dieden, Katie Earl, Josh Hogan,
Dave Appelbaum and Matthew Di Panni.
The Mowgli's will return to the Hangout on May 16 (2:30 p.m., Surf Stage), where Dieden said the audience can expect, "Tons of energy, kids singing along, it's gonna be a party. That's what we do."
Matching 2013's experience won't be easy, though. Asked if there was a chance the band would stay there for the entire three-day weekend this time, Dieden joked, "I can't imagine that. ... They don't let us have that much fun."
Even though he was kidding, there might be some truth to it. From year to year, a band's journey on the road to good intentions can suddenly shift in direction, especially when it involves lineup changes, broken dreams and false hopes.
If there's a little less enjoyment in the Mowgli's lives these days, it could go back to the departure of Michael Vincze in 2014.
The singer-songwriter, guitarist and one of the band's original members was contacted separately via email after the Dieden interview to help fill in the blanks of the Mowgli's backstory.
Dark at the end of this tunnel
Prefacing it with "We've opened a whole can of worms here!" Vincze agreed to provide some details about the Mowgli's origins while shedding some light on a dark chapter from their recent past.
It was the band, he said, that initially adopted his vision "as a force for good and method of helping to change the world for that greater good by sharing and practicing the messages in the songs."
Vincze mentioned how he conceived the idea of the Mowgli's in Black Rock City during the summer of 2008. "It was my first taste of the potential for Utopian society; as strange and weird as it was, it re-lit the flame under my hope for all people on this Earth and I was so inspired to help in some way," he said. "The answer had always been music, only now I was really going to step up and use it for a purpose far greater than anything I could ever imagine."
The birth of the Mowgli's, Vincze recalled, was when he returned from a vacation to Hawaii the next summer and the "makings of the first Mowgli's songs began to take shape," including "Time" and "The Great Divide."
Both appeared on Sound the Drum, their self-released debut in 2012, and were re-released after they signed a record deal with Photo Finish, first on the Love's Not Dead EP, then Waiting for the Dawn.
During a 2009 party in L.A. attended by his close friend Peter Mallinger and Dieden, Vincze asked for help to finish "The Great Divide" while they passed around a guitar on the front lawn.
"Peter laid down a verse right then and there and Colin became overwhelmed with excitement," Vincze recalled. "He mentioned that he had just written something a few days prior that would fit perfectly. The three of us put our heads together and finished the song! We were like puzzle pieces. Peter and I knew immediately that Colin needed to be a part of the band."
According to Dieden, "We decided then that we should probably get some people together and make it a real thing. We thought the song was gonna do a good thing for the world. And we felt like it was a happy, good-feeling thing, you know."
Like Dieden, Vincze also remembers those early days when he and his band mates were "typical musician party mongers with a deep, deep need to be as wild as possible at all times."
With more parties, beers and hanging out on front lawns, the Mowgli's multiplied, reaching 10 at one point, Dieden said, depending on whether they incorporated a horn section.
Katie Earl (vocals, percussion) and Josh Hogan (guitar, vocals), who currently front the band and split lead vocals with Dieden, were recruited.
The other four members of the current lineup -- Dave Appelbaum (keyboards), Matthew Di Panni (bass), Spencer Trent (guitar, vocals) and Andy Warren (drums) -- went to Calabasas High School together.
Vincze said he began renting and sharing a room in Woodland Hills with Mallinger, who had "the most brilliant and spirited wolf pup named Mowgli. ... Being huge Rudyard Kipling (The Jungle Book) fans, we decided to name the band after the wolf."  
The party animals continued to rumble through their own Jungleland.
"Sadly," Vincze said, "it all started to break down by the summer of '10."
He was "heartbroken and losing faith" when an experiment to form a local music collective that included 20 bands eventually faltered, and Mallinger was asked to leave the band for personal reasons.
Fast forward to February 2014, when Vincze announced his departure on Facebook, which included a video of a song he wrote called "The Business." The lyrics take the Mowgli's to task for putting their love "up for sale" and managing to "compromise the art."
Recently released from the record deal, Vincze is happy to be making music again and just cut a demo called "Make It Rain" for some friends at the Liberty Hill Foundation in Los Angeles.
"Part of the reason I left is because of the complexities and conflicting interests of pursuing the path of a love gospel with corporations at my back and a band that had become more interested in being a normal 'pop' group than a band of merry prankster-like missionaries on a quest to make the world a better place," Vincze explained in the email. "Once the music and shows became the band's primary source for putting food on the table, the majority of the band's psyche shifted its priorities from love first to profit first. Love never went away, it just got knocked down the list for reasons of survival."
Asked through their publicist if they wanted to respond to Vincze's comments in the previous paragraph, the Mowgli's declined.
The write touch
While Dieden does his best to continue the mission of co-leading the Mowgli's, he said keeping everyone happy isn't one of his responsibilities.
"Fortunately, it's not up to me," Dieden said. "You can't keep anybody happy. ... I think people always ask that question about how, "Is it difficult to coordinate with seven people?' It's not. ... We've all dedicated ourselves entirely to this. Like we live in the same bus right now. We're all together right now. This is everyone's lives. We're all so dedicated in it that it makes it very easy. We're all working for the same thing."
For Dieden, who was born on May 22, 1989, it was a circuitous route he took to get his job with the Mowgli's.
The son of Gwen Seliger, a former actress (The Bodyguard) who moved her family (including two daughters) from Los Angeles to Kansas City, he soon developed a passion for writing and entertaining.
"That was always something I was interested in doing one day," Dieden said. "I didn't know what medium. And then I got really heavily involved into writing. I really wanted to write books and I'm sure one day I will. But I'm 25 and I have the attention span of a fucking goldfish. So I realized pretty quick, right now what I can do with all this energy and all these ideas and all these thoughts is to put them into songs. And I kind of never looked back from that."
As a 15- or 16-year-old, though, it was listening to the Smiths that inspired him to compose and play songs.
"I realized that I could write about anything that I wanted in the world without any sort of limitations," Dieden said of the 1980s English group led by Morrissey. "I just heard him saying whatever he wanted to say just because he felt it. I was like, 'Oh, you can do that? Like you don't have to do anything with preconceived notions of what songwriting is? You can do whatever you want?' And I loved that, just listening to Morrissey say ... he was so conversational. I was so attracted to that."
Initially pursuing a career as a solo performer with an acoustic guitar even though he flunked out of music school, Dieden joined the Mowgli's not long after he, at the age of 18, moved back to Los Angeles and attended California Institute of the Arts.
They've grown up a lot since then, for better or worse. Kids in Love is "more mature," Dieden said of songs that were written on a rough road during extensive periods of touring when they would try to find time to write, even if it was only "a verse in a back alley in Philadelphia."
For many of the songs, Dieden said, "Me and Josh will write a lyric and melody and all that stuff and once we bring it to the band, everyone kind of touches it in their own way."
If there's a jokester in the group that keeps things lighthearted during times of stress, Dieden said, "Andy's that guy. ... He's a funny little guy."
Yet Dieden didn't laugh when asked if the attitudes of the Mowgli's are as positive as their music.
"Everybody, no matter if you're in the Mowgli's or if you're not in the Mowgli's, deals with, struggles with things," he said. "No matter who you are, what you do for a living, creating happy music, you still feel horrible sometimes. You can draw from that. There's that dichotomy. You can draw from that to write a happy song, to wish for something or to be hopeful.
"My life's a struggle like everyone else. I try the best that I can to maintain a positive outlook and when I sometimes find myself slipping away from that, I just try to remind myself what I do and who I'm doing it for. And it's for these kids. So I'm not going to say I'm perfect or that I always feel great about myself. I have the same insecurities as everybody else. I just choose not to write self-aggrandizing songs about how much I hate myself."
Completing that last thought with a slight snicker, Dieden doesn't appear to be heading down that taking-himself-too-seriously road, but he did suggest there's another destination in his future.
Singular approach
About a year and a half ago, the lone Mowgli with a credit on all 12 Kids in Love tunes said he went to Nashville to learn to write country songs with "literally some of the best, most successful writers out there," though he politely declined to name names.
Writing 15 songs in a week, Dieden said, "I realized how much work I had to do. I'm a songwriter first and then a singer in a band second. I've been writing all my life and I want to be the best at what I do. I have no genre parameters. ... It's like a factory up there. I'm so attracted to that level of drive. I was lost in it, I was drunk on that feeling of writing that many songs a day."
Dieden Does Country might seem far-fetched as an eventual side project, but he said the Music City hasn't heard the last of him.
"One day whenever I have time, I have no idea when that's gonna be, but I'm gonna move to Nashville," Dieden said. "I want to write."
Besides, Dieden believes, that should be a fairly smooth transition considering how certain musical genres are blending together more and more.
"Pop and country right now in 2015 are the exact same style of music," he said. "There's nothing different. ... It's just one's coming out of Nashville, one's coming out of L.A. or New York."
It might come down to weighing the pluses/minuses of being in a group vs. going at it alone, both of which have been part of Dieden's life experience.
"It's lonelier (as a solo performer), but in some ways it's less lonely," he said, asking if that makes sense. "I enjoy my space and independence. I definitely got that being a solo artist but that's also very lonely."
Yet a feeling of isolation still can exist in a group, even one that seemed as welcoming as the Mowgli's.
"Everything's so amplified when you're around a group of 10, whatever," Dieden said. "With a band and crew, we have like 10, 11, 12, I don't know ... we have a bunch of people, and sometimes it's hard to take a second. And that can be a lonely feeling. You're unable to stay up with yourself and recognize what you're feeling because you have no chance to. It's never quiet enough for you to feel it."
Obviously, there's more to the Mowgli's than "come on, get happy."
Dieden is proof-positive of that.
ALABAMA GETAWAY WITH COLIN LOUIS DIEDEN:
FIVE FESTIVAL-RELATED QUESTIONS
1. The Mowgli's played the Hangout in 2013; what was that experience like and what separates the Hangout from other music festivals you've played?
CLD: I thought it was one of the coolest festivals we've ever done. It's right there on the beach. ... It's so different. Like most festivals take place like in this huge field. Lollapalooza is in this big park in Chicago. Bonarroo is in like this kind of sandy desolate desert thing or whatever that is in Tennessee. ... (The Hangout's) right there on the ocean, it's so gorgeous. Like when you're offstage, you get to go interact with people in their environment. It's that cool, you know. That beautiful.
2. When you're not making music, where do you like to hang out?
CLD: My bed. I never ... time off is not a thing that's happened to me very much. I have a family at home, I live in L.A., I have a dog. When I'm not making music, I'm at home writing more music.
3. Complete this sentence: If life is a beach, then Gulf Shores is ...
CLD: A place where I can eat oysters and drink beers with my friends.
4. Which of the following Alabama-themed songs makes you wish you lived there (and why)?
a. "Sweet Home Alabama," Lynyrd Skynyrd
b. "Alabama Getaway," Grateful Dead
c. "My Home's In Alabama," Alabama
d. "Alabama Pines," Jason Isbell
CLD: "Alabama Pines" by Jason Isbell because he's like my favorite artist in the world right now. Oh my God, I've been stuck on Jason Isbell for years. I'm so glad you brought him up. ... I have not met Jason but if you speak to him, tell him Colin from the Mowgli's is a huge fan. (laughs)
5. What band or artist in the Hangout lineup would you pay to see?
CLD: (After hearing some of the headlining choices:) I'm gonna go with Zac Brown. I think he's an incredible songwriter and we're on the same label, so we should probably be friends anyway. I have a lot of respect for Zac Brown. I think he's an amazing artist, a huge talent. I like the way he makes songs sound.
Second in a series that began May 1 with Kopecky. See more in the days leading up to the Hangout festival. Publicity photo from Photo Finish Records.
REAL LIFE. REAL NEWS. REAL VOICES.
Help us tell more of the stories that matter from voices that too often remain unheard.