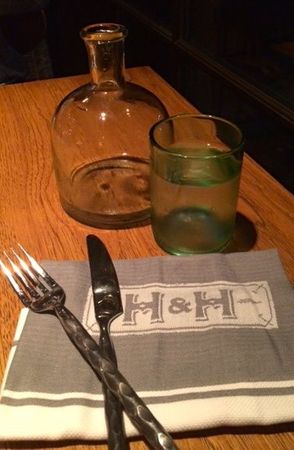 My introduction to a restaurant in a hotel -- as opposed to a hotel restaurant -- began when I feasted on the most delicious, velvety mac and cheese my mouth had ever savored. This was not your average elbow pasta with shredded sharp Cheddar found in a kid-friendly blue box. The piping hot dish of pimento macaroni and cheese prepared by Chef de Cuisine Mark Jeffers at The Ritz-Carlton Orlando, Grande Lakes' Highball & Harvest was the finest crispy and creamy concoction ever created.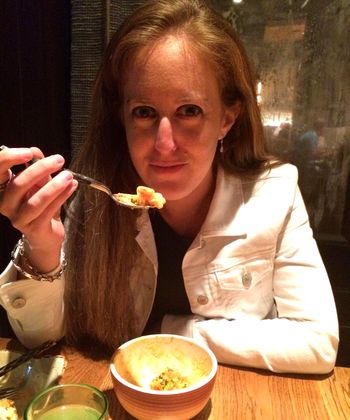 The first thing that hit me about Highball & Harvest is The Ritz-Carlton isn't trying to reinvent the wheel of a hotel restaurant but rather redefine what the wheel is. Jon McGavin, the General Manager of The Ritz-Carlton Orlando, Grande Lakes did not mince words when he briefed me on the concept for Highball & Harvest: "This is a restaurant in a hotel that is not a hotel restaurant."
The problem with many hotel restaurants is their identities are too closely intertwined with the hotels that house them. If you want your guests to be happy, you have to make like Michelangelo and do something artfully poetic with cuisine and decor.
"Staying and dining in a hotel is about emotion," Matt Cristi, Restaurant Manager at Highball & Harvest explains. "We have always focused on food being such an important part of the experience and now we get to present food that gives restaurant-goers a sense of nostalgia."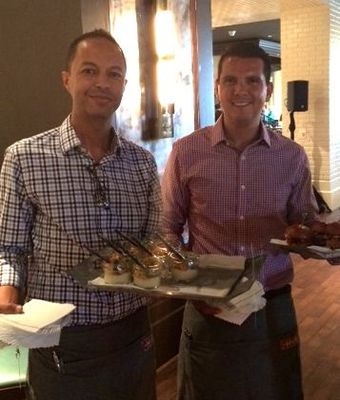 From a purely marketing and PR standpoint, hotel restaurants must differentiate themselves in a competitive marketplace, drive customers and influencers to their doors, generate a sustained buzz, win over critics, and establish a loyal following. Herewith are the ways The Ritz-Carlton accomplished the scrumptious impossible: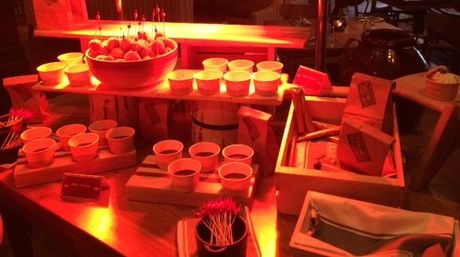 Give Guests Good Food: There is no secret sauce here. Hotel restaurants, historically known for "perfecting" club sandwiches, burgers, and warm apple pie must offer food bursting with a flair for the dramatics. To that end, Highball & Harvest serves hyper-local dishes infused with Floridian citrus and ingredients from nearby purveyors as well as the resort's own 7,000-square-foot Whisper Creek Farm.
We are a culture bombarded with endless possibilities. Chef de Cuisine Mark Jeffers thus understood the need for thoughtful refinement when creating the menu. "I wanted to offer highlights that display only the best items on the menu." It is a treat when an expert culinary artist helps you select your own gastronomic adventure.
I sampled a wide variety of Highball & Harvest's Southern-inspired cuisine for dinner, including deviled eggs; shrimp and grits; blackened grouper; crab cake and fried green tomato; strawberry shortcake; and baby donuts dunked in a chocolate hazelnut spread. Everything was divine. At the first tinge of fullness, I powered through like any good eater would and relished every last drop.
Give Guests A Design For The Decades: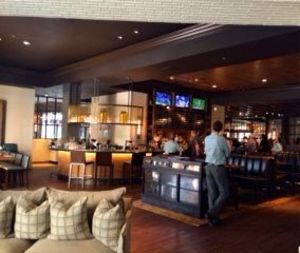 Highball & Harvest has the same soulful vibe as Brookfield Place in Lower Manhattan which recently underwent a major renovation to showcase its European-style marketplace and chef-driven restaurants. Brookfield Place was able to maintain a debonair charm despite its office building setting while Highball & Harvest, with its white brick walls, hardwood floors, and contemporary art accents in no way screams hotel.
There is nothing wrong with giving guests a theme to hang their Philip Treacy hats on. While motifs can veer dangerously close to kitschy if done incorrectly, spaces that remain true to the menu's influences will strike the right cord with even the most discerning tastemakers. Highball & Harvest's railroad-inspired design, for instance, is rustic but warm. The communal seating is perfect for lovers and large parties alike while a raw oyster bar (with chefs shucking oysters by hand) reminds me of Blue Water Grill in Union Square (without the long wait times).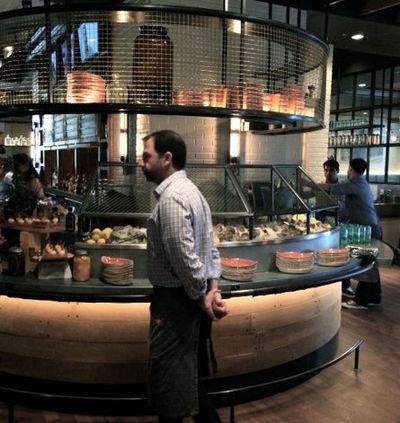 Give Guests An Experience: Hotel restaurants rarely offer your senses a thrilling escapade. In fact, most hotel restaurants are merely eager to feed ravenous travelers and jet-lagged folks, which is not an entirely misguided goal. Nevertheless, imagine if a restaurant in a hotel offered a little dazzle that is not of the dinner theater or Medieval Times variety.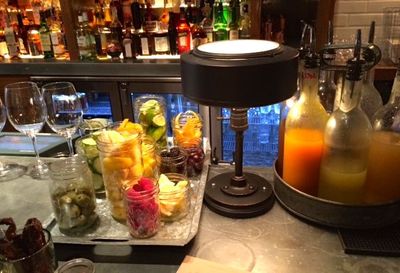 I sipped one jubilee of a drink (Doc Holliday) at Highball & Harvest that was refreshingly tangy and tart, containing the perfect marriage of house ginger beer and blueberry jam. This sui generis drink was served in a renewable brass container with a square hand-chipped ice block. I nursed the drink for the better part of an hour on a warm September day, and the ice maintained its perfectly proportioned shape and form.
Jon McGavin, a man of endless hospitality knowledge, remarked, "We are in the memory business." No doubt this memory of mouthwatering food served in a smart atmosphere (within the confines of a hotel, no less) will last a lifetime.