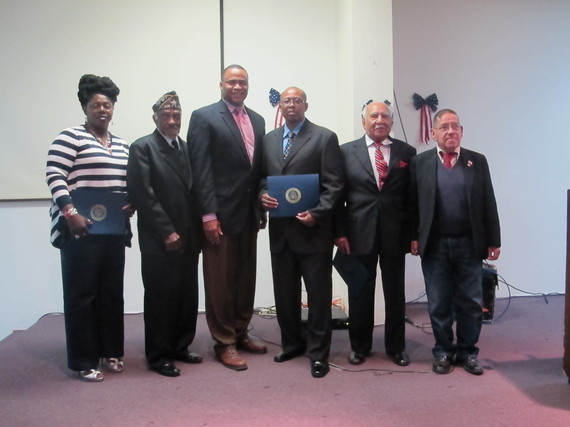 Monday, November, 10, 2014-- Congressman Marc Veasey (TX-33) presents five Metroplex veterans with the Congressional Veteran Commendation (CVC) award in Fort Worth, TX.
Sitting on the House Armed Services Committee is a great responsibility and an opportunity to represent not only the thousands of veterans in the 33rd Congressional District of Texas that I represent in Dallas-Fort Worth, but also the active-duty men and women of our armed forces, national guard and reserve components. While I never served in uniform, I fully understand the great service and sacrifice that our brave men and women have given to our country.
These courageous individuals put their lives, families and jobs on hold to serve their country. I believe it is my duty and that of Congress to ensure that they are afforded the benefits and care that they have earned and deserve for the sacrifices that they and their families have made through their service to our country.
Keeping these promises is not only our duty and responsibility, but also serves to strengthen our national security by assuring future generations of military volunteers that their service will be honored.
While our country continues to fall short of ideal in keeping our commitments to our veterans, I am optimistic that Congress and Veterans Affairs have together taken steps in the right direction.
Congress recently passed nearly unanimously in the House and Senate, and the President quickly signed into law, major VA reform legislation: the Veterans Access, Choice, and Accountability Act of 2014. This new law provides significant investments to strengthen our VA system for veterans by providing $10 billion to initiate a program to alleviate health care wait times for veterans by allowing them to seek care from non-VA sources that are nearer to their home. The law seeks to increase the number of available primary doctors, specialty care physicians, nurses and other medical professionals in the VA with five billion dollars for new hires. The law also includes increased accountability for the VA when they fall short, counseling and care assistance for victims of sexual assault in the military, and leases for twenty seven new VA clinics in 18 states.

While Congress has answered the call to provide the VA with additional resources and authority to care for our veterans, the VA itself is instituting their own reforms and initiatives to improve their services. Secretary Robert McDonald has undertaken significant recruitment efforts to ensure that the VA has only the highest caliber of talent among their health care professionals. Currently, the biggest obstacle is backlog, which the VA is systematically addressing in a comprehensive manner. The Accelerating Access to Care Initiative has succeeded in scheduling 200,000 new VA appointments nationwide and 912,000 referrals to non-VA care providers, and has decreased the Electronic Wait List by 57 percent.

Extensive outreach efforts by Veteran Service Organizations like the Veterans of Foreign Wars (VFW), American Legion, Disabled American Veterans (DAV), Iraq and Afghanistan Veterans of America (IAVA) and others, are increasing awareness and participation in these new programs and showing results.
These latest efforts should also be considered in combination with overall budget increases put in place by Congress to achieve a 60 percent increase in discretionary funds for the VA since 2007, which have improved health care and services.
While there is no silver bullet to ensure that we honor our commitment to current and future veterans, it is vital that Congress works together with the administration of any party in a bipartisan manner to make sure we keep that promise. This issue, or no other, should be above the petty partisan politics that too often permeate Washington, D.C.

In addition to working to advance legislative efforts to improve VA services, I am glad to take part in sharing the stories of veterans in my congressional district by participating in the Congressional Veteran Commendation Program (CVC). The CVC is a nominations-based program designed to recognize the wartime sacrifices and the peacetime community involvement of veterans of the 33rd Congressional District of Texas. This year, I was proud to present five local veterans the prestigious award. The recipients of the 2014 CVC award include: Mr. Felix Lozada, Sr., West Dallas; Mr. Mario Gutierrez, Dallas; Mr. Ernest Mackey, Fort Worth; Ms. Yolonde Rocio, Forest Hill; and Mr. Arthur Wilder, Fort Worth.
I look forward to doing my part to keep our solemn vow to veterans who have served our country with pride and distinction. They are all heroes in my eyes and they deserve no less. Thank you all for your service, sacrifice and bravery.
Popular in the Community