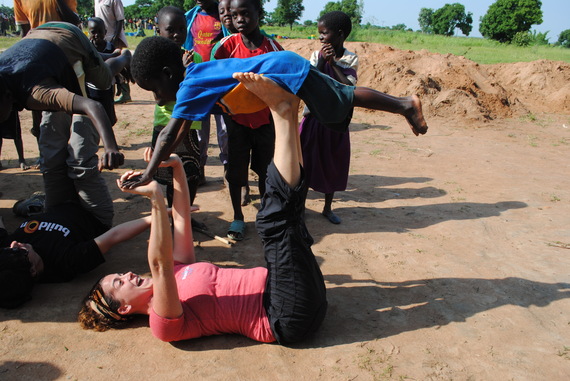 Photo Credit: buildOn
The beginnings of yoga can be traced back over 5,000 years but has only become massively popular in the last decade. In fact, in 2011 the number of people practicing was 20 million, jumping from just 4 million 10 years earlier. Now, much like Starbucks, it's almost impossible to walk down the street without seeing a yoga studio popping up. Many hope this feeling of departure from their often-hectic lives found on the mat can translate into their every day lives. But these two yoga teachers found that life off the mat was the most transformative.
Maura Manzo and Brittany Policastro have dedicated their lives to yoga for over the past decade always recognizing that giving back was an integral part of their practice. A trip in 2009 to Cambodia with the aptly named organization "Off the Mat Into the World" would forever change their approach to yoga and their understanding of the immense effect it can have on others. "Service is not something that is new in the yoga world," says Maura. "I came to the practice of yoga after a traumatic event in my life for my own health, well being and healing. That trip opened my eyes of working together in communities at home and abroad and seeing the impact all of our decisions and actions make." Brittany echoes this sentiment saying, "The power of going outside of your country is often also going outside of your comfort zone. When you're out of your comfort zone it gives you this ability to tap into your heart and to a much deeper experience."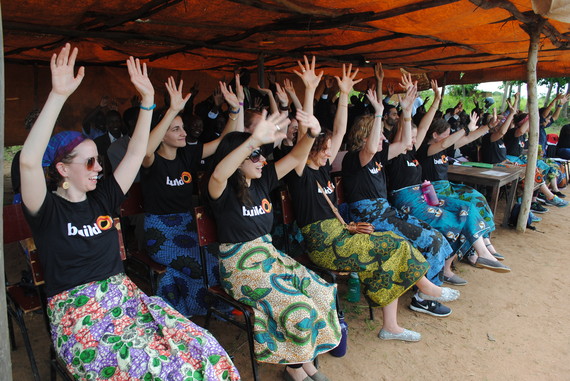 Photo Credit: buildOn
Since then, both Maura and Brittany have been on several trips all over the world giving back to a variety of communities. And over the past couple of years they've worked with buildOn, an organization that runs youth service after school programs in United States high schools, and builds schools in developing countries. "BuildOn really got the community aspect, which is so important to us as yogis," says Maura. "This idea of community seemed to fit right in and was a nice parallel to what we're doing." As part of their Beyond Asana yoga offerings, Maura and Brittany began their Beyond Asana Teacher Training where each student has to raise $5,000, which is used to build a primary school in an underserved community in the developing world. Once the funds are raised, the group travels to the community to help break ground on the school they've helped fund. "A lot of people going on this trek have never traveled in this way before," says Maura. "It's not a yoga trip. We are here to witness how you live. We are here to take a little piece of how you live. I'm very passionate about teaching yoga in a way that transforms and heals and service is the same way," adds Brittany.
In just a couple of years the duo have raise over $200,000 and built four schools in everywhere from Nepal and Malawi to Nicaragua. "When we set out to do this it wasn't about raising this amount of money and building this amount of schools," says Maura. "It was really about developing leaders who could be change agents in their community and how that change ripples out." BuildOn prides itself on setting up self-sustainable schools in impoverished areas using the community and its strengths to build and maintain it rather than simply creating a structure with no long-term plan.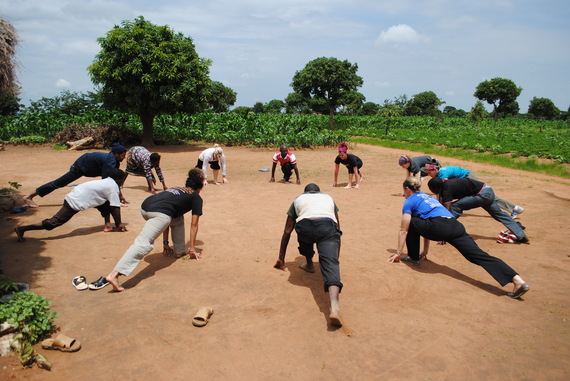 Photo Credit: buildOn
Along with creating a legacy of education in some of the most illiterate places around the world, Maura and Brittany have had their own personal transformations throughout this process. "I met a man at a coffee plantation last year in Nicaragua who picked coffee beans day in and day out and was still joyous," says Maura. " Here he is doing really grueling work and he was happy because he was present and as a yogi that is something we strive for so much. It's in the present that we find happiness and joy and the ability to really tap into all that our lives have for us." For Brittany it was simply about love. "As cheesy as that sounds, it really is about love," she says. "It's what this yoga practice is about, that's what life is about and what these service trips are about. They're about compassion and love."
Related
Popular in the Community