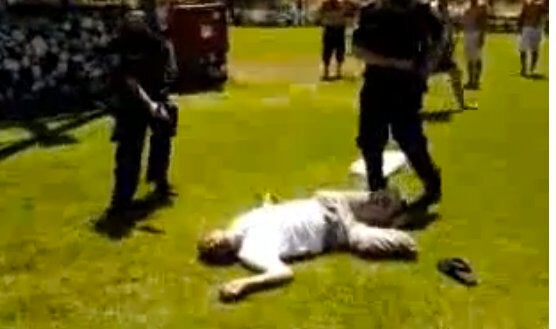 A Palestinian man from East Jerusalem claims he was repeatedly stunned with a Taser in front of his children at a water park in Tel Aviv this week, the Israeli newspaper Haaretz reports.
According to the newspaper, 42-year-old Talal Siad was stunned five times by Israeli police in front of his five children. Siad, who had gone to the water park with his family to celebrate the Muslim holy day Eid ul-Fitr, claims that he suffered from burns and nausea as a result of the incident.
"They cuffed me and continued shooting even though I was not a threat," Siad told Ynet.com. "My son was terrified. I heard him say, 'My father has been murdered.'" The incident, which was caught on camera, reportedly occurred following a brawl that broke out between a number of park patrons on Tuesday. Video shot by several witnesses at the park shows Siad rolling on the grass as officers shock him several times -- even after he was handcuffed.
Siad was not initially involved in the confrontation, Russian news agency RT writes. The man says he stepped in to intervene when he felt that police were using unnecessary force against one of the young men involved.
"I told the policeman, 'What are you doing? You're killing those kids,' and he told me to leave. I said, 'You're being unreasonable, you go away," Siad explained, according to Haaretz.
Many have criticized Tel Aviv police after the video was made public, but police officers say the footage was edited so it "did not represent the full situation," Ynet.com reports.
WARNING: Graphic content. Some may find the contents of this video disturbing.
Related
Popular in the Community