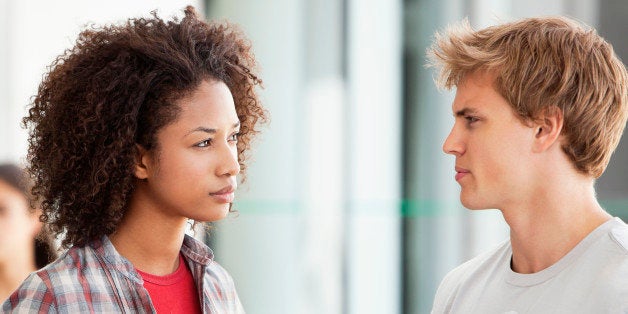 With all of the unrest that has been occurring at my alma mater, The University of Missouri-Columbia, it has caused me to reflect on my own experiences while on campus. I completed both my undergraduate as well as my master's degree at Mizzou and while I had the opportunity to make great memories with some incredible people, it was a tough experience. I started Mizzou back in 2004. It was my last choice a.k.a safety school, because I knew that I was going to a HBCU. As the fates would have it however, I received the best financial aid packet from Mizzou and so in August 2004 I was on my way. I had participated in the Clue N2 Mizzou program, which was designed to give admitted black students the opportunity to stay on campus for a weekend prior to graduation or attending college. We stayed with a host student on campus, and basically shadowed them throughout the day. We attended class with them, ate at the dining halls, hung out around campus and participated in the activities sponsored by United Ambassadors, the organization that hosted the trip. Through this experience, I was able to meet other black students prior to attending school. I also had some older friends who had attended Mizzou and so I did not feel so culturally isolated.
From the beginning, I recognized that Mizzou essentially functioned as two separate campuses, a white one and a black one. For the most part, all of the black students either knew each other or knew of one another. If it just so happened that you didn't know someone but crossed paths with them, most would speak or give a nod of the head to acknowledge their presence. Do not get me wrong, you had those of us who felt that they were too good to speak to anyone and acted accordingly, but they still knew who you were. We would joke about how we were our own mini HBCU within the greater university. I mean, we did everything separately. We had our own black organizations including the Legion of Black Collegians, our black student government. We had our own black fraternities and sororities, The Black Culture Center, NAACP as well as a host of other organizations geared towards our interest. If for some reason there was not an organization to fit your needs, it was as easy as pie to start a new one. Although we did not have the funds of other major white orgs on campus, we made due with what we had.
In the meantime, the other student government on campus MSA, had a million dollar budget, while the Legion of Black Collegians continued to petition the university for a budget increase, something that was apart of their original demands from 1969.
Nonetheless, we had enough black organizations and events to attend that we never felt the need to integrate, nor were we welcomed. It was understood that you stay over there and we'll stay over here. While some of the brave souls ventured through Greek Town, a section of campus where the white fraternities and sororities live in million dollar mansions and above the law of the university, it was known that blacks were not welcomed there. I heard numerous of stories of people being called Niggers walking through Greek Town and so I avoided that side of campus like the plague. The closest I would get, would be to the Truman School of Business or Dobbs Dining Hall. And to confirm the unspoken agreement, in 2004 there was an article placed in the school newspaper The Maneater, in which a white Greek student basically told black students to stay out of Greek Town. The black students were up in arms and held a protest at Jesse Hall, the administrative building on campus. Of course nothing changed and as such we continued to operate separately.
During this time, most of our events were hosted on campus in the Black Culture Center (BCC). It was one of our safe havens. Outside of the BCC, black students also found a safe place through Academic Retention Services (ARS) in the Student Success Center. ARS was influential because that office was in charge of the Diversity and Brooks Scholarship. Being that a good portion of the black students received one of those awards, we reported to an ARS advisor. With the exception of one advisor, the entire staff was black. In addition it was one of the only places on campus were black staff did not serve solely in custodial and food service positions. This in turn acted as a campus hangout for a lot of black students. At that time, students with the Diversity Scholarship participated in Dual Enrollment. Dual enrollment was an initiative in which blocks of seats were reserved in certain core courses so that first year black students could be placed in these classes together. This was to ensure that you had a support system and were not one of 3 black students in a class of 300 to 400. We were also required to participate in at least two campus organizations or activities as a stipulation of our scholarship. At the end of the semester we had to turn in the sheet signed by one of our organizations board members stating that we had actually participated. All throughout the week we would be running into each other and laugh because we all knew that we were doing the same thing, but those interactions helped us to build community. One of the AKA's on campus worked for ARS and everyday she would send out emails about all of the activities and parties that different black student organizations were hosting. We had forums discussing issues affecting the black community almost every other day, parties every weekend and we simply existed amongst each other. The only time that we had to interact with our white peers in a real sense and not simply in passing was in class, on-campus job or if you had a white roommate. Other than that we existed in our own mini HBCU fashion.
Microaggressions were abundant at Mizzou. I would hear stories of black students being told not to take up certain majors by their academic advisors, because it would be too hard for them. Ill give you one guess as to what those fields were. You guessed it, science and math. We were pushed into the humanities and being that an overwhelming majority of black kids were first generation college students, we did not know any better. We did not have mentors and older people to help guide us through school, and so we were left to our own devices and those of the majority white administration who did not believe in us even before we made it through the door. There were a few black students in the engineering department and they were all tight as glue. They also had their own organization called NSBE, the National Association of Black Engineers in which they supported each other in every sense of the way. In class, we had to constantly prove that we deserved to be there. There were students from all over Missouri and many of whom had never even seen a black person in real life, let alone speak to one. So for many of our white peers, everything that they knew about black people they learned from their families and television, so stereotypes were held as truths. The black stereotypes went accordingly; we were only there because of affirmative action, we were not actually smart enough to get in by our merits and most of us were from the ghetto. If you upset one of the white students, they had no problem telling you to go back to the hood. My absolute favorite moments were being in class and discussing race. Seeing as how there may have been only 3 black students in your class, you were then expected to speak for the entire black race, so you better make it count. Depending on what you said, it either confirmed or caused a sort of dissonance about their attitudes and ideologies of black people. So the authenticity as well as the intellectual, mental, spiritual and overall demeanor of the black race rested on your shoulders.
At one point I was majoring in sociology, but had to leave the department. I felt as if this field was a dumping ground for all the harrowing statistics about black life. It seemed that no matter what sociology class I found myself in, the rhetoric was the same. Black people are poor, live in poor neighborhoods, violence, black, poverty, black, body, black, despair, black and I had enough. Not to mention the fact that we were discussing these things amongst of body of white students who did not know nor care to know the other side of any of those arguments. I would get in debates with students so often, I lost count and I was plain tired of fighting. When it was all said and done, non-black students would swear to you that racism no longer existed. Their grandparents however, and even their parents did not like black people but they had one black friend and so they were colorblind. It was rare to have a professor that looked like you and when you did, it was a literal Godsend. While they were accessible to you one on one, it was rare for them to be present within the larger black student body, or even as a support amongst each other. Understandably so, many of them were dealing with the pressure of the racism from within their own departments. These were things that white students never even had to think about.
When it came to campus wide activities, such as homecoming, we were separated in that also. We had our own homecoming called The Black Family Reunion. Black Greeks did not participate in Greek Week and the activities leading up to homecoming, whereas the white fraternities and sororities held competitions and build floats for the parade. We were excluded from that. Granted we did not have the capital nor manpower as the white organizations, but once again, there was always that understood silence that this is our thing and you all have yours. Now many students on campus will argue that black Greeks had this elitist attitude and that we never really wanted to be apart of their activities, however our organizations were founded out of being excluded from white Greekdom, and that exclusionary attitude never changed. The Office of Greek Life held a leadership retreat for the heads of the all the Greek Lettered Organizations. They attempted to bridge the gap between all of the different councils and collectively we addressed a host of stereotypes that we each had of one another. It was very insightful and certain individuals made attempts to coalition build, but as is the nature of college, people graduate and new students come in with old beliefs. And in 2008, the state tried to pass a measure called the Civil Rights Initiative. It sounds promising right? Wrong, it was a bill that would eliminate affirmative action from schools and government contracts throughout Missouri. So a couple of students and I mobilized to fight against this on campus and spread awareness throughout the state. The school has an open campus policy and so the people who were paid to have these petitions signed to get on the November ballot, would be on campus all day and we literally had to shadow them to run them off of campus. We ended up winning that fight, but without the help of the administration and to the dismay of the many white students on campus. They were in agreement with bill and argued that affirmative action was reverse discrimination; not taking into consideration that all minority students combined only equaled 13.5% off undergraduate students at Mizzou, while white students made up the other 86.5%.
This was my Mizzou. Some will read into this story and say that it sounds like you all had everything that you needed to survive on campus. It sounds like a tale of a truly separate but equal educational system, but it wasn't. It was a system in which the black students had a cultural center and different organizations to make them feel apart of something, but that something was not the campus. That something was our version of Hawaii, a state outside of the states but required to pledge allegiance to the country, or in our case the university. Do not get me wrong, I had some really great times at Mizzou and I do not regret going there, however it came with a price and a message. The message was that we were not truly wanted there, so instead of those in charge actually making strides towards having an all inclusive school, they gave us just enough to exist within it. They gave us a campus within a campus.
Calling all HuffPost superfans!
Sign up for membership to become a founding member and help shape HuffPost's next chapter