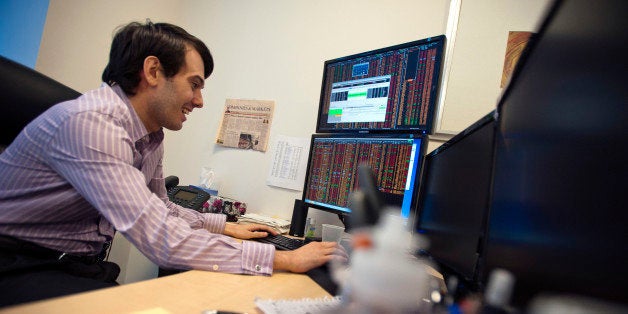 In his recent column in Fortune magazine, Stanley Bing shared his opinion of the 40 under 40 individuals: "What can we learn from them? They're aggressive and make their own ways. They don't care a fig about established protocols. They are rebellious and disruptive right up to the moment there's a chance that they will be the ones to get disrupted. And when they get rich, they live as stupidly and hedonistically as possible."
Perhaps this is true for many wealthy people but there is lot more we can learn from them than simply gawk at how they live and spend. Consider the two CEOs from biotech industry in the news recently:
Martin Shkreli, a former hedge fund manager, now founder and CEO of a start-up company, Turning Pharmaceuticals, raised the price of a drug, called Daraprim from $13.50 to $750. You read that right, from $13.50 to $750. The rise in price is an astronomical 5500 percent and unheard of in an industry already with a history of price inflation. He is not a scientist or inventor, who invested years of efforts and money into research of this product. He just acquired this drug barely a month ago. This is not even a new drug -- it has been available since 1953 and it cost about $1 to make. This price increase will not only affect low income and middle class families but will cost taxpayers eventually with Medicaid.
Martin Shkreli made his money as a hedge fund manager before starting his new pharmaceutical business. His past record is full of questionable deals and settlements. Hedge fund managers are not known for inventing or creating anything particularly useful. They make high risk investments to make money. In his interview with CNBC, he was defiant, unapologetic and indicated this is what he considers a more appropriate price.
Martin Shkreli was born in 1983. He is 32 years old. His net worth is estimated to be $100 million.
Now contrast that with that Elizabeth Holmes. Elizabeth Holmes dropped out of Stanford at 19 to build a company, Theranos, to save lives. After 12 years of hard work, she is very close to achieving her goal by making blood test procedures simple, less painful and inexpensive. So inexpensive that you can get a cholesterol test for $2.99, which is cheaper than a Grande Coffee Frappuccino. A basic HIV tests can be done for $15.40. Think about this for a minute.
Elizabeth Holmes is offering over 250 blood tests affordable for all people, and Martin Shkreli is making one life-saving drug out of reach for most people. Elizabeth Holmes is hoping to engage individuals for their own health and promote preventive care. Theranos is creating wellness centers around the country and the low cost pricing is going to shake the foundations of traditional pharmaceutical companies.
Holmes' opinion, "the premise that you're going to run a business, and that if someone is in need, I'm going to charge them a ton of money, is completely wrong," speaks volumes about her approach to business and compassion.

Elizabeth Holmes was born in 1984 and is year younger than Martin Shkreli. She is the world's youngest self-made female billionaire. Her net worth is estimated at $4.5 billion and Theranos is yet to go public. She could be worth $50 billion in a few short years. She has been building her company since 2003 and she is not in a rush to make money.
Martin Shkreli is an epitome of what is wrong in America. He is the picture perfect profile of a Public Enemy. He joins the long line of criminals who rob people in the name of market economy. He is made of the same substance as Bernie Madoff and other crooks.
Elizabeth Holmes represents the tradition of great scientists and leaders. Elizabeth Holmes is an inventor, entrepreneur, business executive and a compassionate women, who is challenging the way business is done. She sets a great example for younger generation that you can do what you are passionate about and become wealthy too.
Calling all HuffPost superfans!
Sign up for membership to become a founding member and help shape HuffPost's next chapter