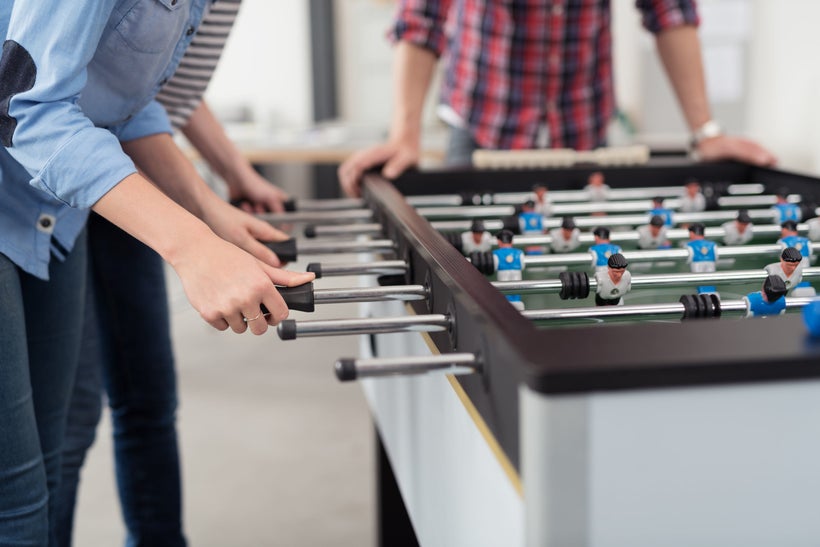 35% of American's do freelance work. 43% said they spent at least some time working remotely. Two-thirds of managers say employees who work remotely increase their overall productivity. This year companies like William-Sonoma and Amazon are stocking up on part-time employees who can work from home.
For businesses that require an in-office workforce, the competition to solidify and retain top talent is getting tight. There are companies like Google offer on-site doctors. Goldman Sachs has an on-site nursery. Silicon Valley is known for their casual office dress code, so much so that famous figures such as Steve Jobs have chosen to wear the same outfit each day in order to reduce "decision fatigue."
But alas, not all companies can be Google or Apple. However, they can take notes from their employee benefits strategy to make their in-office workforce feel valued and appreciated. All of these perks save the employee time. They don't need to stop for breakfast and coffee on their way to work. They don't need to leave the office early to pick up their dry cleaning or sneak out early on a Friday to their car washed before the weekend. These may seem like minuscule items on an everyday to-do list, but companies that provide such perks realize the bigger trend: buying-time makes people happier. So much so that 4 out of 5 employees prefer benefits or perks over a pay raise.
"Companies are in hand-to-hand combat for top talent," said Scot Wingo, thought leader in the on-demand economy and founder of Spiffy. "The employers that consistently win the best place to work awards show their employees they are strategic by providing them with benefits that not only cover the basics like health insurance but makes their lives easier. This strategy not only helps with recruiting but also retention. So much so that recent psychological studies have proven that people get more enjoyment out of tasks being performed for them ("buying time") vs. receiving 'things' which validates a benefits strategy that includes services in addition to cash/ownership, etc."
Around the world, increases in wealth have produced an unintended consequence: a rising sense of time scarcity. We provide evidence that using money to buy time can provide a buffer against this time famine, thereby promoting happiness. Using large, diverse samples from the United States, Canada, Denmark, and The Netherlands (n = 6,271), we show that individuals who spend money on time-saving services report greater life satisfaction. A field experiment provides causal evidence that working adults report greater happiness after spending money on a time-saving purchase than on a material purchase. Together, these results suggest that using money to buy time can protect people from the detrimental effects of time pressure on life satisfaction.
Google has been on Fortune's 100 Best Companies to Work For list for ten years and one Google summed up the value of company culture as such: "The company culture truly makes workers feel they're valued and respected as a human being, not as a cog in a machine."
"Employees and candidates have the upper hand now, so culture is everything! Building a strong culture where people want to work is the key to employee retention," says Cara Silletto of Crescendo Strategies, national speaker, author, and consultant on company culture.
One of the best ways to implement such amenities in the office is to cater to already ingrained employee habits. "In today's world, people are very busy, multitasking and have literally thousands of different things competing for their attention," explains Wingo. "The average person picks up their phone 40-50 times a day, so we believe the best way to break through that noise and make the employee's life easier is with an app-based solution. Today's smartphone has become the remote control for your life, and your benefits strategy should be aligned with that, not fight it."
Although the gig-economy and virtual workplaces are getting a lot of attention these days, Wingo says it is not necessarily the future: "Companies realize that remote working isn't working, so high profile leading-edge employers like Yahoo! and IBM are 'pulling back' employees to the office. This pendulum switch in the workplace has been a significant change to kick the decade off. I believe this is going to lead to more and more benefits to retain talent and differentiate their workplace vs. competitors."
Calling all HuffPost superfans!
Sign up for membership to become a founding member and help shape HuffPost's next chapter
This post was published on the now-closed HuffPost Contributor platform. Contributors control their own work and posted freely to our site. If you need to flag this entry as abusive,
send us an email
.