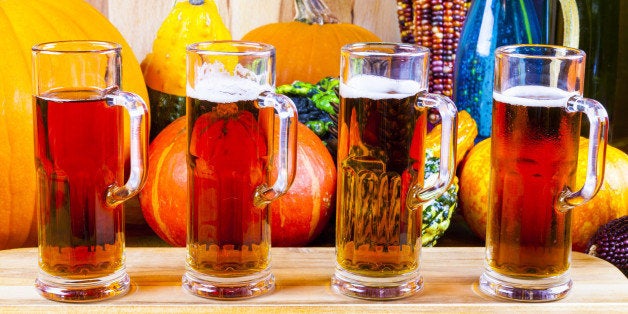 As we approach the day when ghosts lurk among us, it's time to peer into the dark side of the beverage industry. Unlike the monsters we adore, these beverage trends are real, sinister, and will linger beyond Halloween.
Gravely Expensive Brew - Prices have indeed crept up from the first time Dracula arose from the grave. Six-packs at $15 and growlers creeping toward $20. Enough to send thirsty vampires sprinting back to the crypt. Luckily, there's still plenty of scary-good brew at everyday prices under $10.
Creepy Celebrity Wines - Wayne Gretzky, Duck Commander, retired pro golfers. On wine labels. Wines bearing celebrity names will likely produce pure horror if let out of the bottle. Even more disturbing: these wines won't go away after sunup as long as stars have the means to emblazon their names on labels.
Slimy Spirits Misrepresentation - Mislead by marketing, fans of craft spirits have discovered some small-batch bottles to be filled with spooky, mass-produced distillate from mid-America. Like pods from Invasion of the Body Snatchers, your Bourbon may look the part, but something about it is very wrong. Make sure to check the origin; you may well be bringing home a shadowy impostor.
Abhorrent Wine Concepts - Scarier than Mothra, new wines with nonsensical names and concepts are popping up daily. Spine-tingling labels like Butternut Chardonnay, Carnivor, and Auspicion usually last a year before a new name is glued onto the same wine. The bad news: the infestation of zombie-labels is so serious that they've already taken over part of the wine world.
Pumpkin Flavored Beer - If coffee and other flavorings weren't scary enough, suddenly every brewery with a pumpkin patch in the vicinity is making creepy Jack 'O Lantern suds. And like The Blob, the pumpkin phenomenon is eating up cooler space at an alarming rate.
Toast the spirits this Halloween with an Octoberfest or an authentic craft distilled brandy. Just keep the pumpkins on the porch. And leave squash, kale and rutabagas in the roasting pan and out of the growlers.