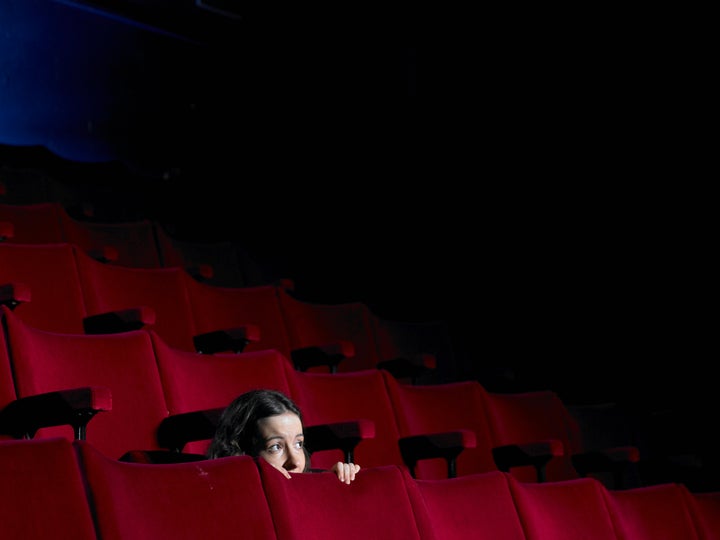 New York-based actor and playwright Jennifer Morris had always wanted to produce a short film chronicling her parents' divorce. More specifically, she wanted to capture the story behind the most hotly contested object in her parents' divorce: a Tiffany Lamp. During their contentious split in the '80s, Morris' father claimed the lamp was his rightful family inheritance, while her mother insisted it was hers "because she put her name on it" when the family was dividing up his mother's belongings after her death. The inanimate object that played such a minor role in their married life became the focal point of their split.
With plans for the short film underway, Morris, a co-founder of the Brooklyn-based theater company The Civilians, began to think about how she might bring this story to a different medium: the theater. So she approached her fellow Civillians actors--also children of divorce--Matthew Maher, Caitlin Miller, and Robbie Collier Sublett, with her idea. Together, they conducted candid interviews with their parents about the evolution of their married (and unmarried) lives. The product of their efforts is "You Better Sit Down: Tales From My Parents' Divorce"--a play based on the interviews, featuring each actor playing one or both of their own parents. The show, which offers a singular perspective on the the emotional minefield of divorce-- premires August 16th at Massachusetts' Williamstown Theater Festival.
As part of the show, the cast developed an online community with webisodes of the play and forums for fans to share their own experiences of divorce and connect about their own "contested objects," fights, resolutions, and relationships. We spoke with Jennifer Morris about the show, and how it has changed her perspective on divorce as a whole.
Huffington Post: What inspired this show?
Jennifer Morris: It was dually inspired, actually. I always had this idea to do a short film about a Tiffany Lamp that was the contested object in my parents' divorce. I always found it amazing that my mom would go from zero to one hundred 20 years later like, "he can't have that lamp--it's mine!" She always had this rant and I thought it was quite something that this inanimate object that doesn't think or feel anything about anything is hotly contested 20 years later--it's so obviously not about the lamp--it's about other stuff. I'm also part of a theater company called the Civilians and our mission statement is that we do investigations into real life. I approached four other actors in the theater company whose parents were also divorced. One of the other actors said, "We have to interview our own parents." And we were all thinking, "That's terrifying, but, you're right." And when we started workshopping all of the interviews, [the conversations with our parents] ended up being the material that everyone responded to, so we chose to focus on those stories.
HP: Why was that material so compelling?
JM: I think, because it's a parent-child conversation, we were getting a different, more intimate kind of interview. It's going to be different coming from your mom than from a stranger.
HP: It seems that this is an intimate piece and is fairly revealing. Were all of your parents cooperative? Did they want to be involved?
JM: We each play our own parents in the show and tell the story of how they met, fell in love, and then divorced. Although, of the characters, only one actors, Matt Maher, interviewed both of his parents and plays both his mom and dad. My father declined to be interviewed--which I totally understand. One actor's parents passed away and one actor doesn't speak with his father anymore.
HP: Did playing your parent help you to understand their divorce in a different way? Was it different from other roles you've played?
JM: It is absolutely different. The thing we all found to be so fascinating and funny is that, as children of divorce, the moments our parents announced their splits to us are burned in our heads. It's such a big deal when you're a kid and you think it's the [saddest for you], but when you speak to [your parents] as adults you realize that it's bigger than just you: it's about them, and their falling out of love and losing their relationship. That was illuminating.
HP: Do you have a better grasp on how it affected them?
JM: You know, our parents have so much distance from it now. It feels kind of hopeful, in a way. You can have this whole life and be married for 20 years and then have this whole other life. One woman said, "25 years [of marriage] was less than 50 percent of my life—so I don't look back." Being the child of divorce, for us [it's good to know] that you can grow and move on from that. They also had such a sense of humor about everything, which was nice to hear.
HP: What was it like to have these candid conversations with your parents? Had you had honest discussions about divorce before?
JM: It definitely was the first time [I had a conversation like that]. It was interesting because we were all there [at the time of the divorce], but we all have such different memories of what was happening. Everyone was experiencing it in such a different way. We all went through it together, but everyone had very different memories and takes on it. We're all in our 30s and our parents were our age when they were divorced, which made things connect on a totally different level.
HP: How did your parents react to the show?
JM: When we were still workshopping the show our parents came to see it. There was an amazing moment when Matt Maher's mother came to see the play and in it his dad says, "I don't remember where I was when we broke the news of the divorce" and his mom, from the audience, screamed out: "We were around the kitchen table!!" Which was really hilarious. My mom is a remarkably good sport. The first night I think she felt a little exposed. You're watching your daughter play you and tell all of these things about your life. But the second night my mom was asked how she felt about watching the show and she said, "I really like what I'm saying tonight!"
HP: Was there a consensus among the actors about what you hoped the play would convey?
JM: The real question of the show was, while everyone can talk about the moment that they fell in love, is it possible to pinpoint the moment people fall out of love? From speaking with our parents, I think we can say the answer is no. It's a sprawling series of events--there's no one definitive point. There were certain things that were so clearly etched into our memories that our parents simply didn't remember. For us, divorce was one of the defining events of our lives.
HP: Was this a cathartic process for you? Might it be helpful for audience members going through their own splits?
JM:[The actors] definitely found it to be cathartic. People actually added their own stories online in a forum and we took some of their stories and integrated them into one of our shows and people came to the shows, which was so cool. Part of our hope for the show is that it sparks a dialogue I was really surprised how open and willing [audiences] were to share their stories about their divorce. They were almost eager.
HP: What's your goal for the project? Has it changed?
JM: Our hope is that the show sparks a dialogue rather than give [viewers] an answer or feeling. A big part of it is broadening the discussion about divorce. Everyone who sees the show should become involved. The interactive piece is really important—whether online or by coming to see the show. People have written songs, done cartoons, and interviewed their parents—creating a whole community surrounding divorce. The best thing about this play is that after seeing the show, people have really wanted to share their stories of divorce.
Watch Morris' short film, directed by Alix Lambert, about her parents' split, below:
CORRECTION: The original interview mis-identified the third member of the company approached by Morris. the correct company member, Robbie Collier Sublett, has been added.
Related