If one examines the recent crop of new musicals it quickly becomes apparent that each of these shows was accompanied by high levels of anticipation from theatregoers.
Sister Act, Catch Me If You Can, and Priscilla, Queen of the Desert are stage adaptations of successful movies.
The Book of Mormon is the work product of highly successful songwriters ("bad boys" Trey Parker and Matt Stone from South Park and composer/lyricist Robert Lopez from Avenue Q).
Wonderland and Spider-Man: Turn Off The Darkwere based on two beloved fictional characters.
The recent world premiere of Armistead Maupin's Tales of the City at San Francisco's American Conservatory Theatre was eagerly awaited for obvious reasons:
Those who were living in San Francisco when Maupin's serial novel, Tales of the City, first appeared in the

San Francisco Chronicle

cherish their memories of the wild adventures, searing heartbreak, and catty gossip that delighted readers who saw Tales as a reflection of the time in which they were living. Many readers fell passionately in love with Maupin's characters (particularly Michael "Mouse" Tolliver) and embraced them as a part of their own extended families.
Many of those who were introduced to Tales of the City in book form (or through the 1993 television miniseries) found Maupin's stories irresistible.
For many young LGBT men and women, Tales of the City opened up a window onto a whole new world of possibilities for them to consider. Even as they felt trapped living at home with their parents, Tales became an essential part of their coming out process. If Mary Ann Singleton could leave Cleveland and reinvent herself in San Francisco, so could they.
For the musical's creative team, being able to work with an established regional theatre company that was as much a part of San Francisco's cultural landscape as Maupin's novels (and where the author still lived), offered the blessing of having the show's world premiere take place in its home territory.
For A.C.T.'s marketing staff, Armistead Maupin's Tales of the City offered the opportunity to create a special VIP package for premiere center orchestra tickets priced at $200 per seat.
For the development staff at A.C.T., premiering a show that would generate a huge amount of local interest opened up a host of new fundraising opportunities (an entire page in the program is devoted to listing donor names in new categories such as Commissioning, Production, Music, Choreography, Scenic, and Casting sponsors).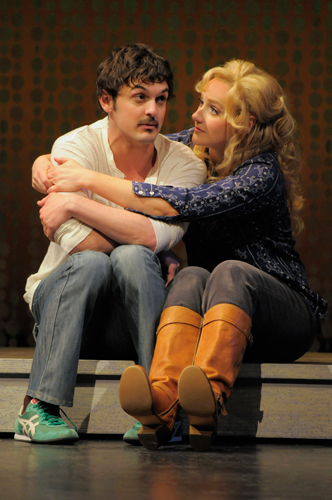 Michael "Mouse" Tolliver (Wesley Tylor)
and Mary Ann Singleton (Besty Wolfe )
Photo by: Kevin Berne

As you watch the following video clip in which set designer Douglas W. Schmidt and costume design Beaver Bauer describe their research for this new production, you'll notice something very interesting. Schmidt's eventual set design (inspired by the back stairways of so many San Francisco houses) bears an astonishing resemblance to the layout for the stage of an English Renaissance theatre (what we now think of as an "Elizabethan" or "Shakespearean" stage).
Unlike some of my friends, I chose not to rush out and re-read Tales of the City one more time prior to seeing the musical. The show's characters remain deeply etched in the imaginations of those who read Tales in serial as well as in book form. To a great extent, I think the streamlined style and strength of Maupin's writing stimulated a rare kind of emotional buy-in from his readers. I wanted to see how the musicalized version would hold the stage on the basis of its own merits.
From a technical standpoint, this is a very slickly designed show. Aided by Robert Wierzel's lighting design, Schmidt's unit set facilitates a smooth flow of rapidly changing scenes. Crisply directed by Jason Moore (with choreography by Larry Keigwin), much of Armistead Maupin's Tales of the City zips by at an astonishing pace.
From the very first beats of disco music, a parade of fond memories whisks across the stage in the form of first time bong hits, roller-skating nuns, the steam room in a gay bathhouse, and the jockey shorts contest at The EndUp (I was one of the judges at several of those contests). The very last thing I expected to experience during the performance was a pang of nostalgia at the sight of gay men dancing in high-waisted pants! Songwriters Jake Shears and John Garden have written an Act I curtain number for Mrs. Madrigal (Judy Kaye) that is the transgender equivalent of Albin's "I Am What I Am" in La Cage aux Folles.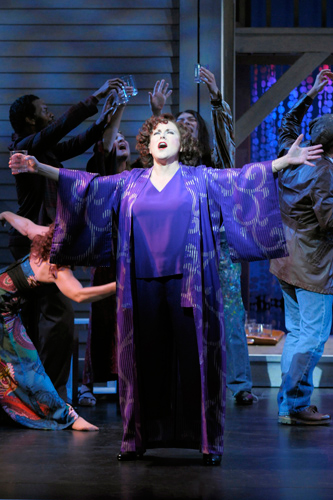 Judy Kaye as Anna Madrigal (Photo by: Kevin Berne)

However, as the evening wears on, its weaknesses become more noticeable (I can't remember previously encountering a musical whose program did not list its musical numbers). The song written for Michael to sing when he reads his coming-out letter to his mother was so mechanical and uninspired that the moment would have had far greater dramatic impact without music.
Members of the audience who did not arrive pre-invested in Maupin's characters might find it very hard to gain traction with them or develop a sense of empathy as so many plot points go whizzing by onstage. By the time the final curtain came down I had the bizarre feeling that I had just experienced the CliffsNotes version of Tales of the City. And, as anyone who ever used them to write a paper for an English class knows, CliffsNotes may be a handy tool for understanding plot points, motivation, and the use of symbolism but they never -- ever -- create a sense of empathy for any of the characters in a novel.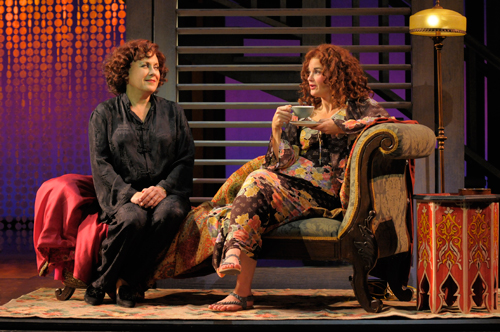 Anna Madrigal (Judy Kaye) and Mona Ramsey (Mary Birdsong)

While the libretto by Jeff Whitty is extremely faithful to the source, after some surprisingly nostalgic moments in the first act I found myself responding to Armistead Maupin's Tales of the City as if it was an industrial show. Certain characters like Beauchamp Day (Andrew Samonsky), his lonely wife, DeDe Halcyon-Day (Kathleen Elizabeth Monteleone), Brian Hawkins (Patrick Lane), and Mona Ramsey (Mary Birdsong) were all present and accounted for. As in the original, one of the most sympathetic characters was Edgar Halcyon (Richard Poe).
Whereas, for many people, the emotional heart of Tales of the City was more easily found in the romantic misadventures of Michael "Mouse" Tolliver (Wesley Taylor) than the ongoing embarrassments of Mary Ann Singleton (Betsy Wolfe), in the musical version Michael and his handsome gynecologist, Jon Fielding (Josh Breckenridge), almost seem like characters who are merely peripheral to the back story of Anna Madrigal's gender identity. In Act II, when the salty Mother Mucca (the superb Diane J. Findlay) brings down the house, the show receives a sudden -- and startling -- burst of energy.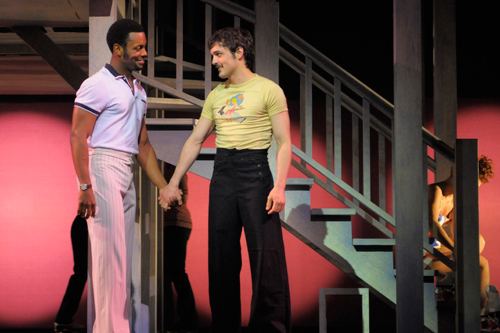 Jon Fielding (Josh Breckenridge) and Michael "Mouse" Tolliver (Wesley Taylor)
Photo by: Kevin Berne

In many ways, these problems lie not so much with Armistead Maupin's Tales of the City as with the audience's changing level of awareness. While this show is definitely a period piece, it's not as much of a period piece as something like The Boy Friend (Sandy Wilson's delicious send-up of the Roaring Twenties).
Some 35 years after Tales of the City first appeared in print -- and in an age of medical marijuana -- a scene in which someone gets stoned for the first time seems quaint rather than illicit or vicariously shocking.
The Sisters of Perpetual Indulgence recently celebrated their 30th anniversary.
A jockey shorts contest holds little shock value compared to the graphic images of shaved butt holes -- or a Congressman's weiner -- that one can easily find on the Internet.
With films like 2005's Transamerica and 2011's Becoming Chaz, transgenderism has become the new black.
The loathsome Anita Bryant (who opens the show's second act) is, at best, a distant memory for most people in the audience.
As a result, there is an element of watching Armistead Maupin's Tales of the City that becomes like watching a PowerPoint presentation created from a series of family picture albums. As beloved as Tales of the City may be to Bay area audiences (and Maupin's devoted readers), I'm not sure this show can survive a Broadway transfer any more than Steve Silver's Beach Blanket Babylon. A great deal of my doubt stems from the fact that Maupin's characters -- who came to life so beautifully on the printed page and in the television miniseries -- don't have the same magnetic grip on the audience in this new musical comedy version.
As the old saying goes "Opinions are like assholes -- everybody's got one!" The above opinion is strictly my own. Due to the heavy demand for tickets, the run of Armistead Maupin's Tales of the City has been extended through July 24.
Calling all HuffPost superfans!
Sign up for membership to become a founding member and help shape HuffPost's next chapter