I'm always fascinated by how geography and chronology can affect a person's sense of self. In the United States, same-sex marriage has become the law of the land; the LGBT community is now a potent force in national politics, and many people who thought they had been handed a premature death sentence are successfully living with HIV/AIDS.
Meanwhile, in other parts of the world, gay men can be executed simply on the basis of their sexual orientation; HIV/AIDS is rampant among the heterosexual population, and refugees (most recently from Syria) are causing people to question man's inhumanity to man.
But what about the psychic damage people inflict on themselves? Condemned by their religion, and ostracized by their families, some gay men develop high levels of internalized homophobia, which prevents them from enjoying life. In another part of the world, a desperate need for money may make a young gay man take extreme measures that could affect his future.
Recently screened at the 2015 Mill Valley Film Festival, Dang Di Phan's poignant Big Father, Small Father and Other Stories is set in Vietnam in the late 1990s. While the narrative occasionally gets a bit muddled, the film's cinematography by Nguyen K'Linh and an excellent musical score by Louis Warynski add to its tropical appeal.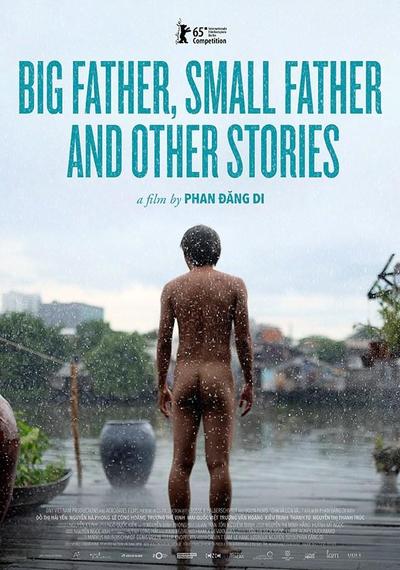 Poster art for Big Father, Small Father and Other Stories
The film's protagonist is Vu (Cong Hoang Le), a young photography student who has come to Saigon from his home in Tien Giang in the Mekong Delta. Vu's housemate is Thang (Truong The Vinh), a hunk who tends bar at a nightclub and thinks of himself as a major stud. The star of the nightclub's floor show is a young woman named Van (Do Thi Hai Yen), who studies at a ballet academy during the day and, at one point attempts to seduce Vu, who is obviously not interested in her body.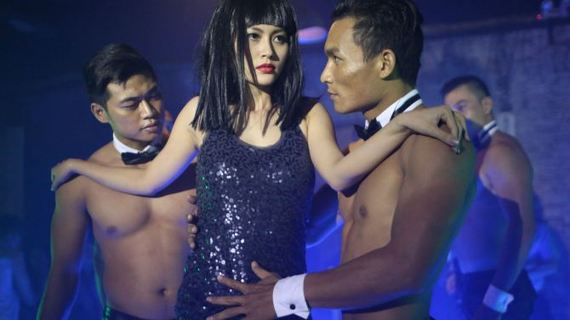 Van (Do Thi Hai Yen) is the star attraction in a local nightclub's
erotic floor show in Big Father, Small Father and Other Stories
Part of the problem is that Vu (who is a closeted gay man) has a crush on Thang. Well aware of Vu's financial situation, Thang has been urging him to take advantage of their landlady's political connections. With Vietnam struggling to cope with a population crisis, Mrs. Phung (Thi Kieu Trinh Nguyen) has been augmenting her income by referring young men to government clinics that perform vasectomies. Not only does each young man receive a healthy reward from the government for undergoing sterilization, Mrs. Phung gets a generous finder's fee.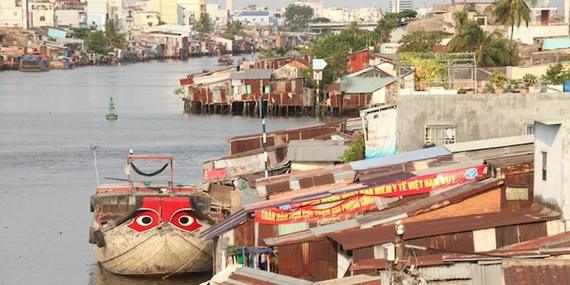 Mr. Sau's houseboat docked in Saigon
One day, Vu's father, Mr. Sau (Ha Phong Nguyen) arrives in Saigon bearing a special gift for his son: an expensive foreign camera that he's purchased on the black market. While there, he meets Van and Thang, who have become his son's closest friends.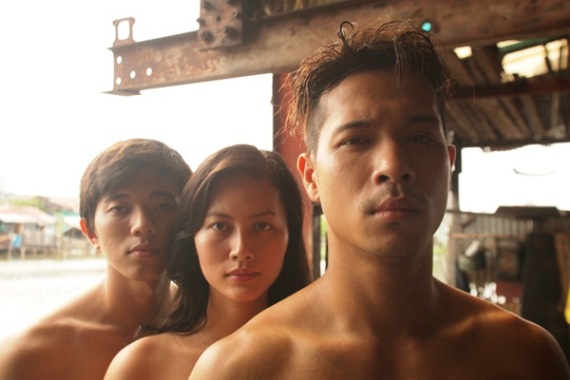 Vu (Cong Hoang Le), Van (Do Thi Hai Yen), and Thang (Truong
The Vinh) in a scene from Big Father, Small Father and Other Stories
While some of Vu's acquaintances are fun to spend time with, they're also losers.
Cuon is a muscular (if not very bright) factory worker who can only afford to purchase a mobile phone for his girlfriend by getting the reimbursement for undergoing sterilization.
Tung (Quoc Viet Mai) is a busker who plays guitar while his tone-deaf sister, Mai (Thien Tu Nguyen) tries to sing along and beg for tips. Tung recently borrowed money to purchase an electric guitar. To make matters worse, he is also late in paying protection money to Binh Boong (Chau The Tam), a local thug who likes Tung's music but likes money even more.
After members of Binh Boong's gang jump Tung and beat him up in front of his terrified sister, it becomes obvious that the four friends (Tung, Thang, Cuong, and Vu) need to get out of town and lay low for awhile. Vu suggests they go upriver to his father's home and wait for things in Saigon to calm down.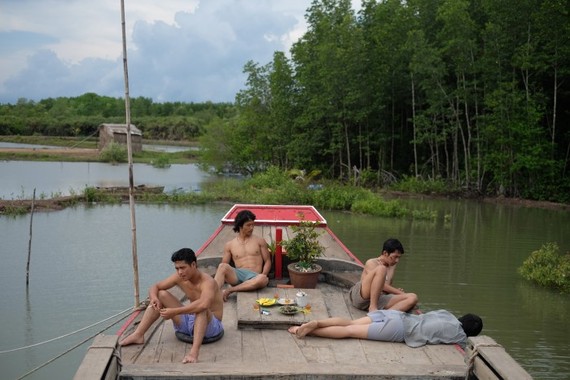 Vu and his friends relax on Mr. Sau's houseboat in a
scene from Big Father, Small Father and Other Stories
Numerous problems arise while Vu and his friends are in Tien Giang. A group of children playing with Cuong's mobile phone decides to throw it in the river to see if it will float (fast action allows Cuong to retrieve the phone). Meanwhile, Vu's father urges Huong (Nguyen Thi Thanh Truc), an orphan girl he has raised as a maid/child-bride, to try to make a man out of his son. Huong doesn't have much luck with Vu. Late at night, Vu swims over to where Thang is resting and watches his flatmate flirting with Huong. As time passes, Huong's belly continues to swell and Mr. Sau realizes that he is about to become a father again.
Upon returning to Saigon, Vu and his friends continue to have problems. The sadistic Binh Boong has one of his thugs beat the crap out of Tung for failing to pay his debts. Some foreign tourists hire Van away for a weekend of fun and sex. When Vu learns that Van is pregnant, he convinces Mrs. Phung to forge a certificate stating that, at 25, he already has two children. As he undergoes a vasectomy (there's an interesting overhead shot of Vu on the operating table with the surgical field around his genitals prepped and draped for surgery), the young man thinks back on some of the photographs he took of his family and friends.
The narrative of Big Father, Small Father and Other Stories may be difficult to follow but the film has exceptional visuals. Here's the trailer:
Over at the New Conservatory Theatre Center, P.A. Cooley recently starred as Chauncey Miles in an impressive production of Douglas Carter Beane's dramedy, The Nance. Directed by Dennis Lickteig on Kuo Hao Lo's unit set (with costumes designed by Jorge R. Hernandez), The Nance takes the audience back to a peculiar time in the 1930s when many burlesque shows had skits which featured a Nance (or Nancy-Boy) character who was extremely effeminate and riotously funny.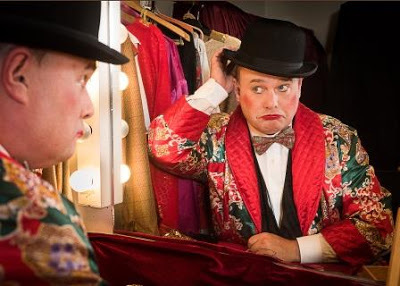 P.A. Cooley stars in The Nance (Photo by: Lois Tema)
If you have 45 minutes to spare, I strongly recommend watching the following discussion between playwright Douglas Carter Beane and director Jack O'Brien, who nurtured The Nance through its gestational process as a vehicle for Nathan Lane. In addition to talking about their experiences bringing The Nance to the stage, they discuss a great deal of New York's theatre and gay history from the early 20th century.
Cooley's character, the self-loathing Chauncey Miles, is a deeply conflicted protagonist. While eager to fight against censorship (and no fan of either President Franklin D. Roosevelt or the way Mayor Fiorello H. LaGuardia is trying to shut down the city's burlesque houses), he is nevertheless a die-hard Republican who is quite conservative in his politics.
Probably the last thing Chauncey ever expects is to meet a handsome hunk in an Automat in Greenwich Village that is a notorious cruising spot for gay men. After making sure that the young man is not a cop (and carefully explaining how the two of them should meet up at a nearby newsstand), Chauncey ends up bringing his new friend home and letting him stay at his flat until he can get a job.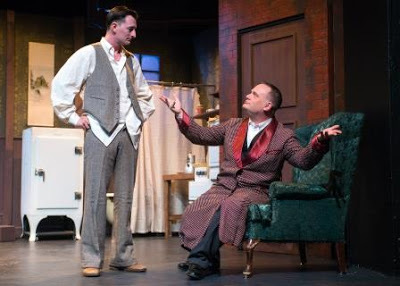 Nathanael Card (Ned) and P.A. Cooley (Chauncey Miles)
in a scene from The Nance (Photo by: Lois Tema)
As it turns out, Ned (Nathanael Card), who has just arrived in town from upstate New York, may be a bit naive, but he's a good man, the kind Chauncey could never imagine himself deserving. Formerly married to his best friend from high school, Ned has written his wife a letter asking her to divorce him and landed in the Big Apple hoping to start a new life. Whereas Chauncey looks upon their one-night stand with jaundiced eyes, Ned found it refreshing and uplifting, especially since he was able to have intimate sex with a man indoors, take a bath, enjoy a good night's sleep, and eat breakfast instead of attempting to sleep on a park bench.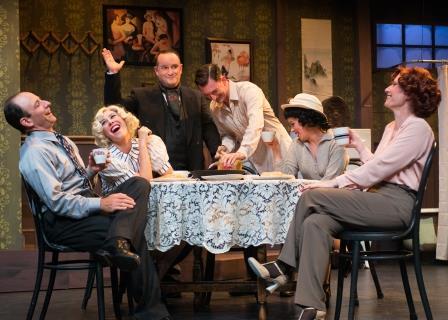 Chauncey (P.A. Cooley) and Ned (Nathanael Card) enjoy dinner
with their friends from the theatre in a scene from The Nance
(Photo by: Lois Tema)
Despite his self-loathing, Chauncey can't help admitting to his colleagues down at the Irving Place Theatre that it's nice to have a man around the house. As Ned gets to know the people at the theatre, he makes new friends and gets used to backstage life. Even Chauncey's mildly homophobic boss, Efram (Brian Herndon), welcomes Ned into "the family" when Ned saves the day by going onstage as the straight man to Chauncey's Nance character.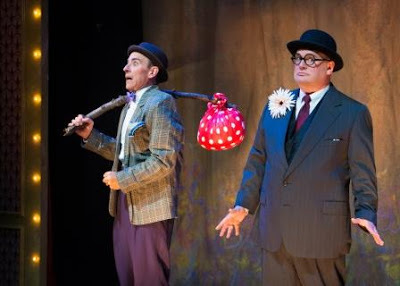 Efram (Brian Herndon) and Chauncey (P.A. Cooley) perform one
of the burlesque skits in The Nance (Photo by: Lois Tema)
With original music (and musical direction) by composer Scrumbly Koldewyn and choreography by Rory Davis, the burlesque skits -- some of which are as old as the hills -- are delivered with gusto by Chauncey, Efram, Joan (Courtney Hatcher), Carmen (Mia Romero) and Sylvia (Shay Oglesby-Smith). But as the political pressure increases, and Efram attempts to tone down Chauncey's flamboyant behavior as a Nance, he's faced with multiple threats.
Because rumors have spread that Chauncey is gay, Mayor LaGuardia's police force is taking aim at the Irving Place Theatre.
Because there has been a lot of sexual activity between gay men in the theatre's balcony, if Chauncey is cut from the show, Efram stands to lose the most lucrative part of his audience.
Meanwhile, the situation is starting to force a wedge between Chauncey and Ned (who plans to join the other actors in a demonstration against censorship). Chauncey's unflappable belief in the good will of the Republican party stands apart from his more leftist-leaning colleagues. As Chauncey becomes more irritated, he starts cruising his old haunts (including Bryant Park) and hooking up with strangers for casual sex. This deeply hurts Ned's feelings, who feels that he ought to be more than enough to satisfy Chauncey's needs.
Eventually, the cops close down the Irving Place Theatre, Ned gets a job in a touring company of Cole Porter's hit musical, Red, Hot and Blue, and he and Chauncey split up. During their final rendezvous in the Automat where they first met, the cops raid the restaurant and Chauncey, for once in his Republican life, does the right thing by refusing to identify Ned. Chauncey's career as a Nance may be over, but at least he's still got his integrity and Ned's future is safe.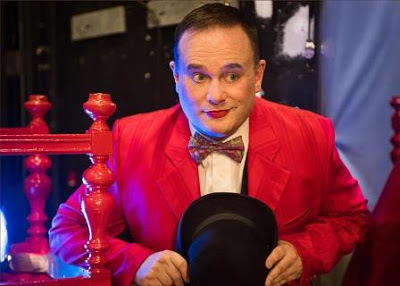 P.A. Cooley stars in The Nance
(Photo by: Lois Tema)
The Nance offers a superb vehicle for P.A. Cooley (who looks and acts like he could be Nathan Lane's kid brother), while Nathanael Card turns in a beautifully layered performance as Ned.
REAL LIFE. REAL NEWS. REAL VOICES.
Help us tell more of the stories that matter from voices that too often remain unheard.