These are certainly wonderful times for Armistead Maupin -- and imagine the tales he'll be telling a year from now. For starters, the musical stage adaptation of his beloved Tales of the City literary saga -- combining his first two books, Tales, and More Tales of the City -- has surpassed expectations in its world premiere this summer. It's become the hottest thing to hit San Francisco during its fog-ridden summers since, well, the hottest thing to hit San Francisco during its fog-ridden summers.
The good news: It's shattered all sales and fundraising records for a single A.C.T. production. Beyond that, more than 58,000 people have seen the show--that's the size of a nice suburb--and generated the largest advance sale and the highest gross sales in the company's history. The opening night gala in June, in fact, raised nearly a million dollars for A.C.T.'s revered, award-winning conservatory and expanding educational programs.
"I'm so delighted that I have been able to create a lore that can survive; that can translate into so many different realms of art," Maupin recently told me about the Tales mystique and its longevity. "I don't know what to say. It's a tremendous tribute, not so much to me, but to the story I have been telling. This is a terrific third act of my life."
One that's not about to end soon. Even though the show closes July 31, Broadway may beckon.
The genesis of the musical project began more than three years ago and soon began generating buzz. Some of that had to do with Jake Shears and John Garden of the Scissor Sisters, who would eventually give birth to the music here. (Sassy and, at times, emotional romps kept audiences invested.) But the production seemed charmed from the get-gos when writer Jeff Whitty and director Jason Moore, both of Avenue Q, arrived at the helm.
Maupin first began penning Tales more than 35 years ago. After turning heads as a serial column in the San Francisco Chronicle, and later as an award-winning mini-series, his characters -- from naïve the Mary Ann (played by Laura Linney on the small screen) to the mysterious Barbary Lane landlady Mrs. Madrigal (Olympia Dukakis in a powerful performance) -- warmed readers' hearts and continue to do so.
(Maupin's latest "Tales" jaunt, Mary Ann in Autumn, met with stellar reviews upon release last fall.)
"The story seems real to people," Maupin notes. "The characters seem to real to people and become integral to their lives. It had become more about people's own excitement living in San Francisco. Throughout all that, I was merely expressing my own love for the city and the humanity that was changing my own life."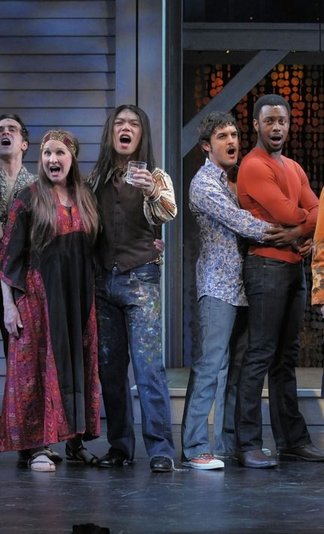 Photo by Kevin Berne/ Courtesy A.C.T
So why does he think the novels were embraced so marvelously worldwide?
"I think that it appeals to the growing notion that one's family is more often than not, invented," he says. "Mrs. Madrigal in the recent Tales novels, talks about the logical family versus the biological family. We no longer feel quite so enslaved to people who brought us into the world. Some of us are lucky enough to have biological family members that are also logical family members. It doesn't always work that way and I think Tales celebrates the notion of finding love and family amongst your friends. The general notion of self realization -- who you are."
This isn't the first time Maupin's work went nuclear. His many books have been well received and back in 2006, he was the creative fuel behind the screenplay for The Night Listener, starring Robin Williams. When asked about what it takes to be a "dedicated" if not "good" writer, he says it has a great deal to do with self-awareness.
"You have to be able to see your own foibles as clearly as possible in order to record them and celebrate them as universal," he muses. "People who are not willing to admit the worst about themselves are not going to create characters that are fully human."
Now the the musical is reaching its final stretch and the buzz circulating over where, if anywhere, it will head next, Maupin seems content in sinking into the simple moments life has to offer.
"I value the love that I share with my husband [Christopher Turner] above all other things," he says. "It's just the truth. It's more important to me than all things happening to me career wise. Christopher Isherwood, when he was in his seventies, told me years ago about his partner Don Bachardy -- that life is so much simpler when you've narrowed it down one other person. That's what old age is telling me ... and that's not a bad thing to hear."
In the meantime, I trekked behind-the-scenes for some banter with the Tales of the City crew and actress Pamela Myers. Take a peek:
Calling all HuffPost superfans!
Sign up for membership to become a founding member and help shape HuffPost's next chapter