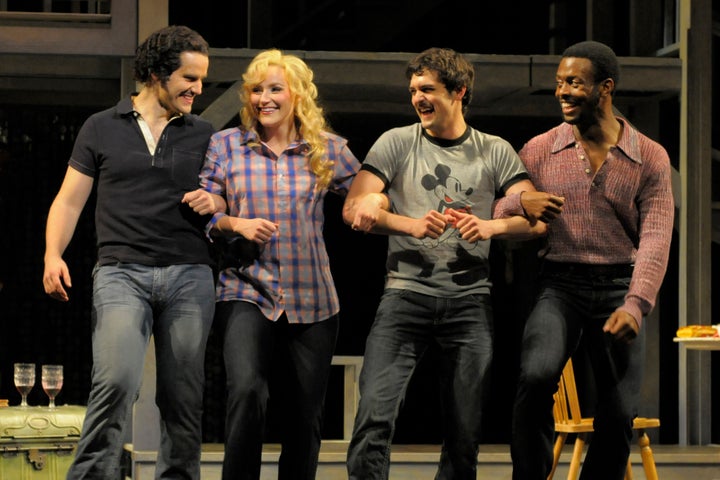 Though it will be a brief, bittersweet affair, the beloved residents of 28 Barbary Lane are bound for Broadway.
A musical adaptation of Armistead Maupin's sexy, unabashedly queer literary series, "Tales of the City," will receive a one-night staging at New York's Music Box Theater March 27. The show, which features a book by "Avenue Q" librettist Jeff Whitty and music by Scissor Sisters frontman Jake Shears and John Garden, was developed as part of the Eugene O'Neill Theater Center's National Music Theater conference in 2009.
Produced by the Eugene O'Neill Theater Center, the 2017 incarnation of "Tales of the City" will be a staged concert version of the musical as it appeared in its debut engagement at San Francisco's American Conservatory Theater in 2011. The show, which takes place in 1976, follows Mary Ann Singleton (played by Betsy Wolfe), a naive Ohio woman who moves to San Francisco on a whim. She finds an apartment at 28 Barbary Lane, where she gradually befriends the building's free-spirited tenants, including the openly gay Michael "Mouse" Tolliver (Wesley Taylor) and pill-popping Mona Ramsey (Mary Birdsong). New to the March 27 cast is Justin Vivian Bond, who will play pot-smoking landlady and surrogate mother to Barbary Lane's pack of eccentrics, Anna Madrigal, while Maupin himself will also appear.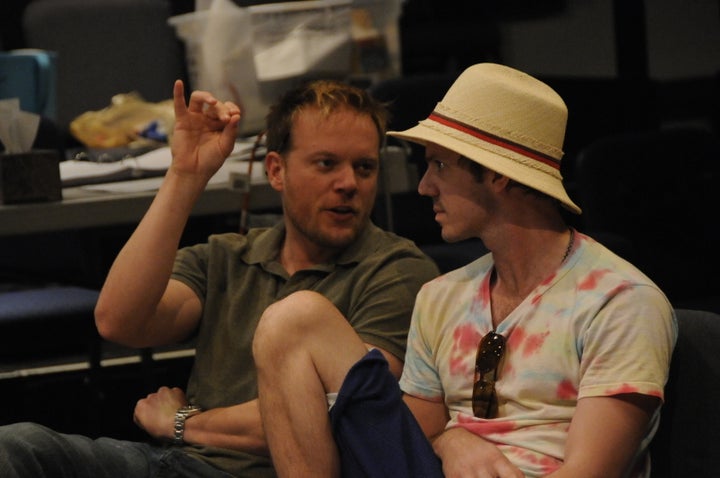 Shears told The Huffington Post that when Whitty asked him and Garden to help turn "Tales of the City" into a musical over a decade ago, the pair jumped at the opportunity. The singer-songwriter's personal history with the source material – he said he "devoured" the books in high school, shortly before coming out as gay – made the decision a no-brainer. "I knew it was something I had to do, and something I wanted to do," he said. "The books were a real eye-opener for me, and made me feel settled about who I was [as I was coming out]. They've always had a special place in my heart."
The inclusive nature of Maupin's work was certainly ahead of its time when his first "Tales of the City" stories were serialized in The San Francisco Chronicle in 1976, but continue to impact the musical's cast members, too. The stories struck a personal chord for Taylor, a Florida native who was raised in a conservative Christian family. The 30-year-old actor-singer, who appeared on Broadway in "Rock of Ages" and "The Addams Family," said relocating to San Francisco for "Tales of the City" offered him a fresh start after years of New York theater gigs. The city's "weird, kooky and unabashed" queer community, he said, embraced him wholeheartedly.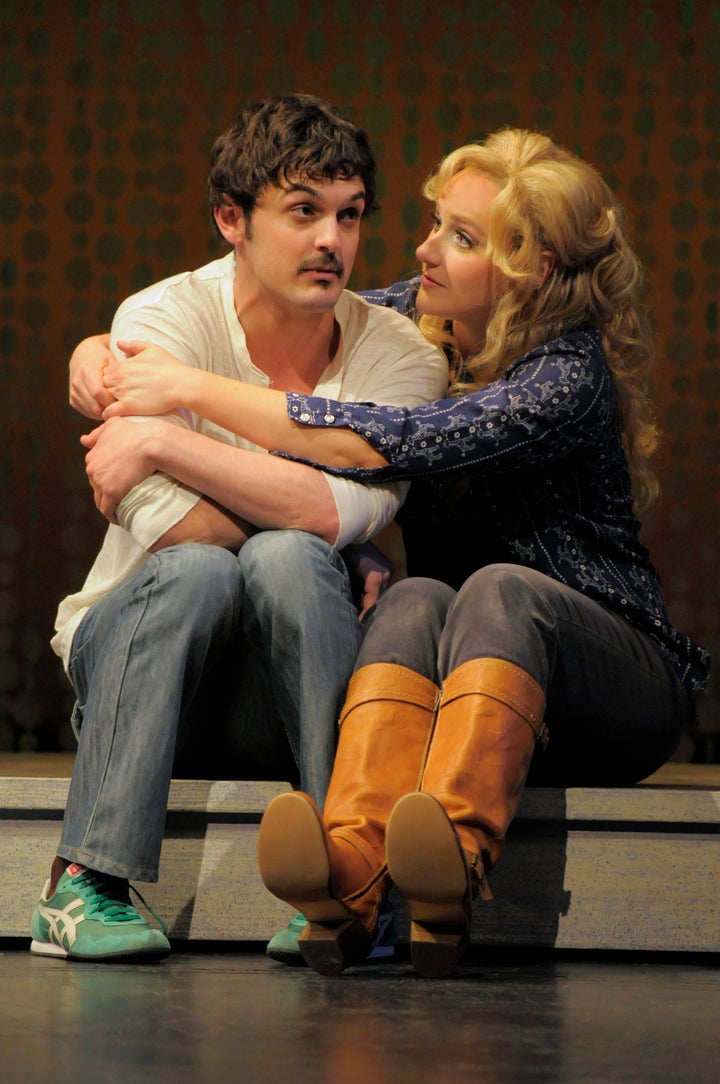 "It gave me this gay fraternity that I never had before, which I think is important for a young gay person," he told HuffPost. In some respects, Taylor had a unique challenge, given that Maupin had written the character of Michael as a stand-in for himself. Noting that the author "couldn't have been more warm and welcoming" during the development of the musical, Taylor soon found that the role "resonated so much. Michael is lost, but not in a spiritual sense. He's seeking the love and the support that his family can't provide for him, and I identify with that struggle and that journey."
Wolfe, 34, likened her "Tales of the City" experience to her work in the 2016 Broadway revival of "Falsettos," which starred Christian Borle and Andrew Rannells as an embattled gay couple during the HIV/AIDS crisis. Though "Tales of the City" was extended three times during its San Francisco run, a Broadway production never materialized. The fact that the show has never been produced outside of the Golden State, she said, has sparked a cult-like interest in the musical among theater fans. "People at the stage door of other shows that I've done will constantly say, 'Man! I wish I could see that,' or 'I have a secret recording,'" she said. "It was really, truly, a special story to tell, and that doesn't always happen in the theater."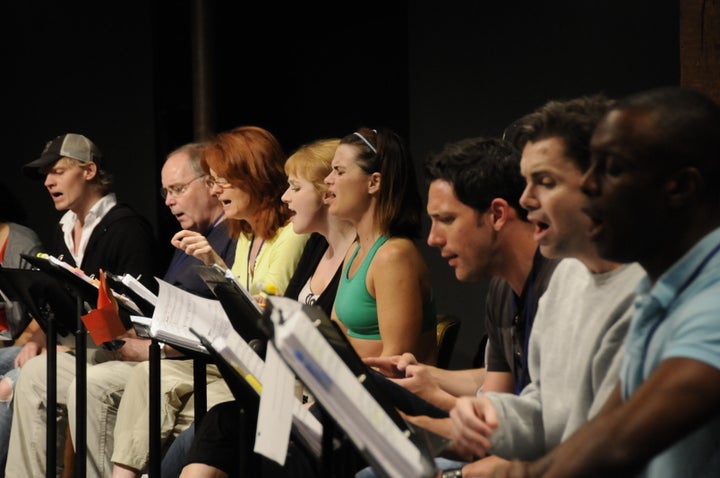 Whether or not "Tales of the City" will live on beyond the March 27 production in New York or elsewhere remains to be seen. Of course, the team is cognizant of the implications of staging an LGBTQ-inclusive piece at a time when many members of the queer community feel uncertain about the future. Hence, proceeds from the show will benefit The Trevor Project, the nation's leading suicide prevention organization for LGBTQ youth.
The concert's charitable aim, Garden said, will undoubtedly please the author. "A lot of these stories are about finding family – about finding the family you want to spend the rest of your life with, or the family that's right for you at that point in time," he said. "Maupin treated everyone's story equally. He presented people's lives as human lives, rather than any particular gender or sexuality. Anyone I know who loves this story feels like they own it."
"Tales of the City" plays the Music Box Theater in New York March 27. Head here for more information.  
Calling all HuffPost superfans!
Sign up for membership to become a founding member and help shape HuffPost's next chapter
BEFORE YOU GO