Bartenders and cocktail fans raised their glasses Saturday at the Tales of the Cocktail Spirited Awards to recognize Los Angeles' The Varnish as the Best American Cocktail Bar.
Founder and owner of The Varnish, Cedd Moses, took to the stage at the rowdy New Orleans awards ceremony and claimed the title a victory for the city of Los Angeles.
Moses, who is also responsible for downtown LA bars Las Perlas and the Golden Gopher, has been called Mr. Downtown because of his success in the up-and-coming urban center of LA.
Esther Tseng, who blogs about LA food and nightlife at estarla.com, attended the event and recounted to The Huffington Post some of the other memorable winners:
Best New Product: Cognac Pierre Ferrand 1840 Formula
Best New Cocktail/Bartending Book: PDT Cocktail Book
Best Cocktail Writing Non-Book: Liquor.com
Best Restaurant Bar: Slanted Door – San Francisco, CA
Best High Volume Cocktail Bar: Eastern Standard – Boston, MA
And for those of you at the Olympics, take note. London took the gold in all five of the "World's Best" categories:
World's Best Hotel Bar: Artesian at The Langham – London, UK
World's Best Cocktail Menu: Callooh Callay – London, UK
Worlds Best Drinks Selection: Salvatore's at The Playboy – London, UK
World's Best New Cocktail Bar: The Zetter Townhouse – London, UK
World's Best Cocktail Bar: The Connaught Bar – London, UK
Click through the 10 Best American Cocktail Bar nominees, ending in the four finalists: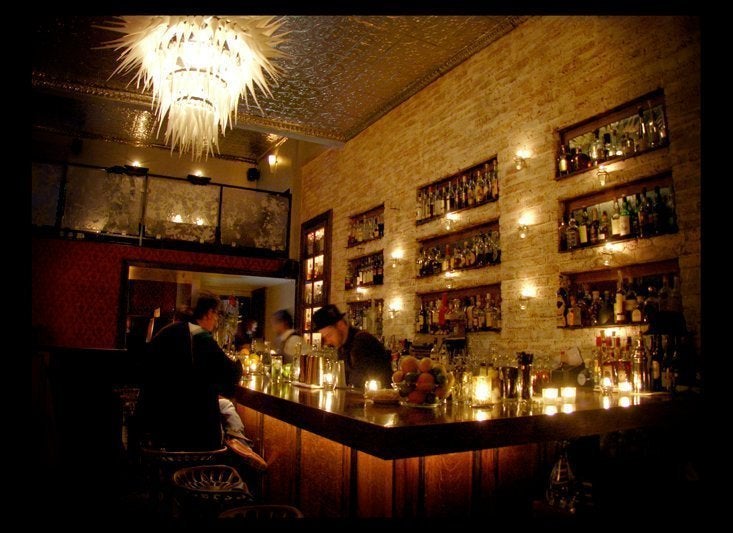 Tales of the Cocktail 2012 Best American Cocktail Bar Nominees
Popular in the Community