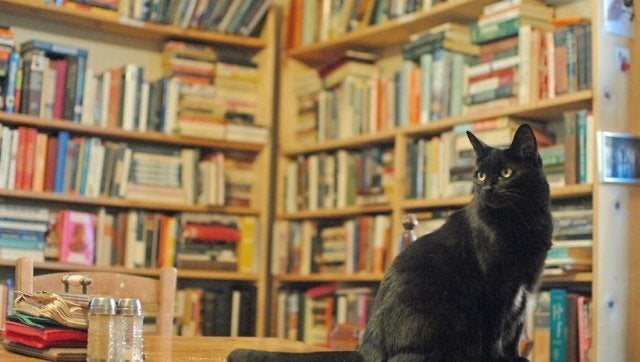 WASHINGTON -- How would you like to wait out election season taking care of a used bookstore -- and its attendant dogs and cats -- in a small town in southernwestern Virginia?
You've got until Friday to apply. And you've got competition.
"We've had over one hundred applications from all over the world," Beck told The Huffington Post on Wednesday. "Sweden, France, New Zealand..."
As far as the "practicalities" are concerned, they "are not offering wages, just full living expenses; we can't accommodate anyone's pets, because our dogs are territorial and Val-Kyttie is senile. Children are possible but they would have to sleep in the living room as we have only one guest room."

A prospective bookshop-sitter would be expected to work Tuesdays through Saturdays, 10 a.m. to 6 p.m., "and we'll introduce them to the support team in the community so they can get a pinch-hitter if an emergency arises," she noted. "We will be home a day here or there, but we're headed out October 5 and I suspect that trip would end the week before Thanksgiving. If this person wants to be home for Thanksgiving, that's not a problem. Ideally the person would come the last week of September and spend a week with us learning the ropes, then off we'd go and they'd be in charge."
Potential shop-sitters please send to jbeck69087@aol.com your experience with litter boxes, history with books, proof you are nice but not a pushover, and what you would do if you were suddenly called home for a job or emergency, plus any questions you have for us. Thanks!
Check out a video of the bookstore below:
Calling all HuffPost superfans!
Sign up for membership to become a founding member and help shape HuffPost's next chapter
BEFORE YOU GO