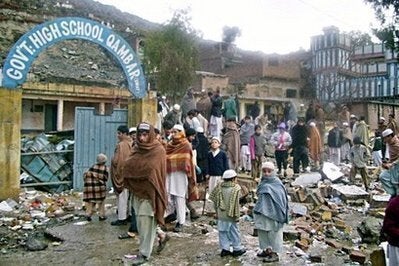 PESHAWAR, Jan 28 (IPS) - "My school was destroyed by (Pakistani) Taliban. I won't be able to go back to it," says Sumaira bibi, a grade 5 student from Matta in Swat district.
Scores of schools and other government buildings have been blown up over the past two years, in Swat, Bajaur and Mohmand, restive parts of Pakistan's North West Frontier Province (NWFP) and Federally Administered Tribal Areas (FATA) as the Taliban seek to impose a radical Islam and challenge the authority of the government.
In late 2007, Islamabad retaliated by launching military operations that have led to an exodus of displaced civilians.
Eleven-year-old Sumaira and her family now live in a tent in Kacha Garhi, an erstwhile camp for Afghan refugees in Peshawar, the NWFP capital city. She says schooling was free in Swat, and she used to study in a government primary school.
Last week, five more Swat schools were bombed - all at night during the daily curfew. These are: the boys high school in Tauheedabad, the girls high school and boys primary school in Banr, the high school in Engaro Dheri and the boys primary school in Mingora, the administrative headquarters of Swat district.
The Swat Taliban - outlawed groups like Tehrik-e-Nifaz-e-Shariat-e-Mohammadi and Tehrik-e-Taliban - have warned that girls will not be allowed to go to school after Jan. 15. Schools in the high mountain region are due to open on Mar. 22, after a long winter vacation.
On Jan. 25, the provincial government decided to post army and paramilitary troops outside schools in Mingora to provide security.
"We will make all arrangements to make sure that the students continue their education", Mian Iftikhar Hussain, information minister in the Awami National Party (ANP)-led provincial government, told IPS.
Like their Afghan counterparts, Taliban here have targetted schools, shops selling music and films, and stopped barbers from shaving beards.
"The militants have been throwing the girls' students to the Stone Age by burning and bombing their schools while the government has become a silent spectator," says Jalal Khan, principal of a Swat-based school.
Last year, Taliban destroyed 162 girls' schools in Swat, which until two years ago was a famous skiing destination. Roughly 88 boys' schools have been torched during this time.
Parents have been warned against sending their daughters to "un-Islamic" schools. On Jan. 20, Pakistan's National Assembly in Islamabad passed a resolution that condemned the "ban" imposed by militants on girls' education and destruction of schools in Swat.
Other affected districts in NWFP are Mardan, Lakki Marwat, Bannu, Kohat, Dera Ismail Khan and Peshawar where schools were attacked with the purpose of scaring away the girls from seeking education.
"This reminds one of the Afghan Taliban, who had banned women's education and doctors and nurses in Afghanistan," says Dr Ashraf Ali, an authority on the Taliban. He sees the roots of the problem in the government's inability to protect its schools.
Moreover, some 40 schools have been occupied by the army in Swat depriving roughly 10,000 students of their education for the past one-year.
Three months after they came to power in elections last February, the NWFP government had inked a peace agreement with the Swat Taliban on May 21. The Islamic fighters had given an assurance that they would not oppose girls' education.
But the deal was shortlived, and girl students are paying the price. The NWFP has the lowest female literacy in Pakistan.
Hundreds of female students in Mardan have switched to wearing the veil after threats from the Taliban. "The militants had threatened to cut the throat of any girl above seven years who was not veiled on the street," says Bakht Jehan, a schoolteacher.
In the semi-tribal area, Darra Adamkhel, NWFP, militants destroyed 10 government schools and two colleges since December.
"The militants' attacks on army and police are understandable but the burning of schools is beyond comprehension," says Shaukat Ali, district coordination officer (DCO), Swat.
Ten elected parliamentarians have stopped visiting Swat out of fear.
Nadir Shah, who runs a private girls' school, believes the Taliban are in charge of Swat.
"On Thursday (Jan. 22), they killed a teacher and hanged his body from an electricity pole in Mingora," he says. The teacher had refused to follow their dress code, he adds. The Taliban want all men to wear traditional clothes and grow their beards.
"The government's writ is fast slipping into militants' hands. The military launched an operation in November 2007 but the Taliban have gained strength since," observes Dr Said Alam Mahsud, provincial leader of the Pakhtunkhwa Milli Awami Party.
"We ask the Taliban to spare our schools," says Pari Shah, a resident of Swat now in Kacha Garhi camp.
A grade 3 student, she says she loved her school. "Now, I have not only lost my school but the company of all my classmates," she says sadly.
Related
Popular in the Community