ISLAMABAD, June 9 (Reuters) - Their backpacks stuffed with food and ammunition, a squad of highly trained Taliban fighters attacked Pakistan's biggest airport in what they clearly expected to be a protracted siege.
Seven fighters were shot dead by Pakistani forces after five hours of intense gunfire at Karachi's Jinnah International Airport. Three died after detonating their suicide-bomb belts.
The Pakistani Taliban said they carried out the attack in response to air strikes in their strongholds near the Afghan border and that their mission was to hijack a passenger plane.
"The main goal of this attack was to damage the government, including by hijacking planes and destroying state installations," said Shahidullah Shahid, a Taliban spokesman.
"This was just an example of what we are capable of and there is more to come. The government should be ready for even worse attacks."
At least 27 people, including 10 militants, were killed.
In a similar well-coordinated attack in 2011, militants besieged a naval base in Karachi to avenge the killing of al Qaeda leader Osama bin Laden in a secret U.S. special forces operation that year.
The latest assault started just before midnight on Sunday.
Wearing Airport Security Force uniforms and armed with automatic rifles and rocket-propelled grenades, the group shot its way into the airport after arriving at the cargo terminal in two mini-vans.
A senior police officer said that the militants then split into two groups, with one attacking a gate called Fokker to create a diversion and the other storming the cargo terminal.
Another senior police officer, Raja Umar Khattab, told Reuters that the attackers then broke into groups of two and pressed ahead with the assault.
"They operated in pairs. That's why their bodies were found lying in pairs," he said. "It seems there was some ill-planning on their part. They did fire two rockets but they didn't hit their targets."
He added: "They wasted 10 men, but couldn't inflict serious damage on the airport. They didn't wear suicide vests, but instead used suicide belts. This is the reason why their faces and upper bodies were not badly mutilated."

The plan was to make it to the nearby passenger terminal but their advance was disrupted by the unexpectedly strong resistance of security forces including paramilitary Rangers.
A protracted gunbattle followed as the militants took up positions around the cargo terminal. All passengers were quickly whisked away from the airport and flights were diverted as the gunbattle unfolded through the night.
"The militants were not able to achieve their target of hitting the airplanes as they were kept engaged by the security forces, as forces responded very quickly," said a security source.
He said the militants were highly trained and carried large backpacks filled with dried fruit and water, suggesting they were in for a long siege.
The official said all the attackers were wearing similar running shoes - a trademark feature for Taliban insurgents. Bearded, gun-toting militants wearing camouflage and simple trainers are a common fixture of Taliban propaganda videos.
"It would have been much more disastrous if the militants had reached the main terminal building and taken hostages. There were hundreds of passengers and staff members present at the main terminal at the time," the official said.
Two international flights, operated by Emirates and Thai Airways, were boarding passengers at the time of the attack.
Parts of the terminal were set ablaze but it was unclear if insurgents had intentionally set it on fire.
Heavy smoke billowed into the sky well into Monday when officials announced the siege was over. (Writing by Maria Golovnina; Editing by Robert Birsel)

Before You Go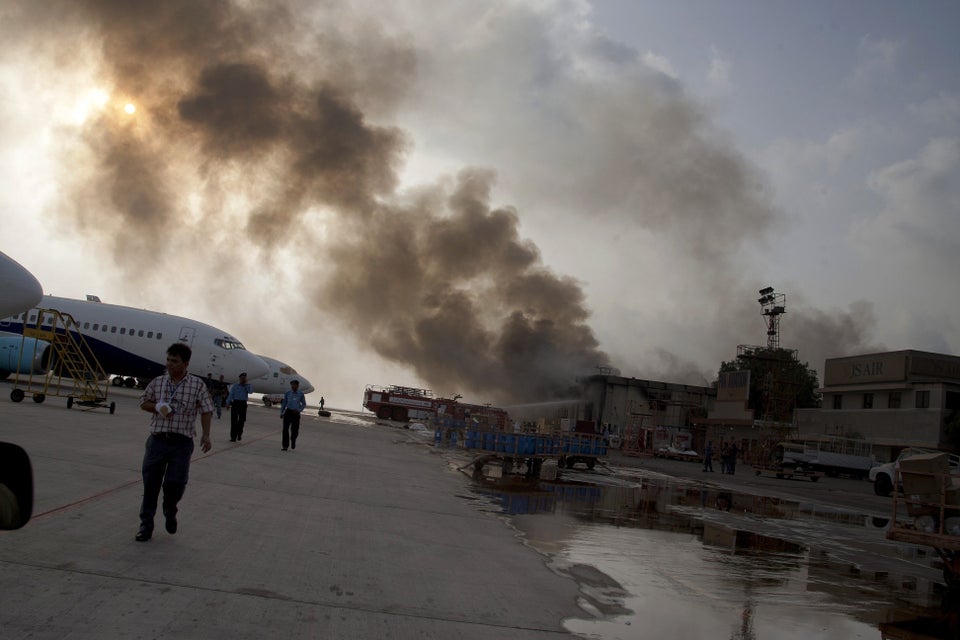 Karachi Airport Attack
Popular in the Community