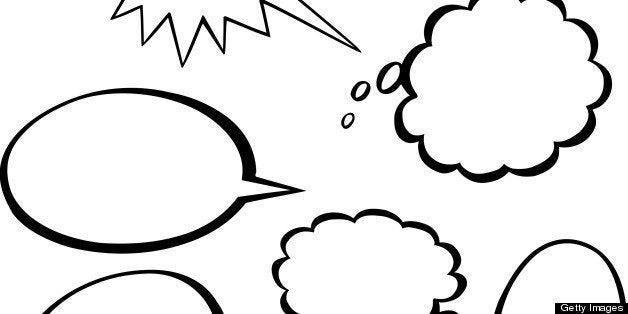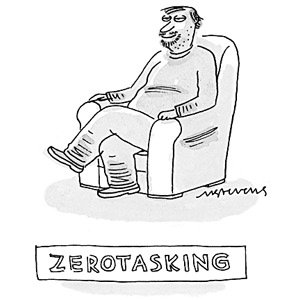 © Mick Stevens/The New Yorker Magazine/www.cartoonbank.com
Dominic Ciafardini is having something of a moment, and he has the late film critic Roger Ebert to thank. Upon Ebert's death last month, the New Yorker's cartoon editor Robert Mankoff noted that Ebert had entered that magazine's not-so-August caption contest 107 times. Sensing an opportunity, the New Yorker's PR department called Mankoff to see if these 107 entries constituted the record for most prolific enterer. And it was in search of a reply that Mankoff came up with Dominic, along with his 368 unsuccessful submissions.
That was a rather lot, Mankoff noted. And so to the envy of aspiring wits everywhere, Dominic's first appearance in the New Yorker became a profile entitled "Dauntless Dominic," featuring five of Mankoff's favorite entries. Snubbed by the caption contest and its attendant unannotated credit, but given a full-page of type by an editor -- did Dominic even care about winning the contest anymore? And what but lurking editorial aspirations could compel a man who until recently was busy running advertising for the International Herald Tribune in the Asia-Pacific region to enter with such religiosity? I called him to find out.
"I've been trying to go to the editorial side since the beginning of my career," Dominic told me. His lament is far from unique -- entree to even the lowliest media job is famously difficult, and aspiring journalists sometimes accept slick advertising positions for their proximity to the ink-stained editors, whom they hope to spring such incision and wit upon in the elevator that they're given monthly columns. But making the switch is nearly impossible once you're in, and Dominic choses to focus on the collaborative side of the divide. "I love the content at the IHT and the writers, and advertising is a way to celebrate that," he said.
Although an editor's byline rarely appears in a magazine, captions rank among the many bits of content they write in anonymity. So Dominic was really flexing his editorial muscle in more than one way with each of his weekly submissions -- which he is cavalier about. "Like people who do the New York Times crossword puzzle every week, it became a habit," he said. "I'd download the magazine on my iPad and turn to the caption contest." Displaying a tempo for wit faster than my own, he told me each entry took "all of twenty seconds -- which explains why I never win."
Mankoff's piece came as a surprise. "I stumbled on their piece about me," he said. "I'm friends with the New Yorker on Facebook, and noticed one day that their headline was 'Dominic.' To my horror, it was me. I didn't realize this was so unique. I thought there were hundreds of people like me."
And as for what dreams may come of his moment in the sun? "Every Monday, I will continue," he said, in what I heard for a surreal moment as bit of caption-ease. "But I'm afraid now they'll never pick me." I wondered if starting a blog with his entries might be a way to subvert the New Yorker's heretofore-unyielding censure, but Dominic demurred. He is, however, considering compiling another sort of compendium. "I use Facebook to chronicle happenings of my children," he told me. "I have hundreds of anecdotes with my kids, and a bit of a following. People have asked me to start a blog." And filmmaker Leah Wolchok is making a documentary about the New Yorker contest, and has been in touch with Ciafardini to discuss featuring him.
The Internet gives any savvy self-promoter the theoretical chance of being discovered, be it for cultural criticism or captioning cartoons or riding around the Meatpacking District on a bicycle in a fedora. But in our age of over-saturated and ever-glowing screens, it's easy enough for a brief flirtation with fame to fade into the ether. So it's good for Dominic that we first learned about him thanks to his tenacity. "I do pretty much the same thing all the time," he said. "I'm a creature of habit." Of course, he also has someone else to thank. Roger Ebert wrote for the Chicago Sun-Times his whole life, and last year, upped his number of reviews from around 200 to a staggering 306. It's your move, Dominic.
REAL LIFE. REAL NEWS. REAL VOICES.
Help us tell more of the stories that matter from voices that too often remain unheard.