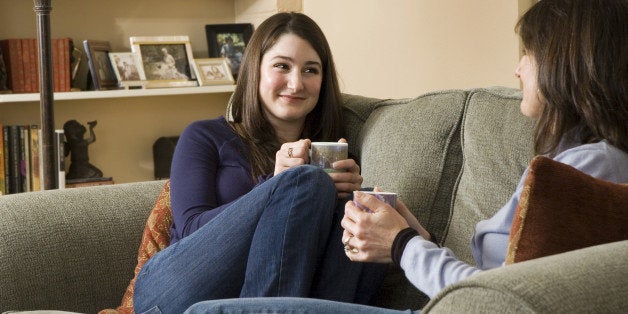 The time has finally come. After touring countless college campuses, spending hours writing your application essays and waiting anxiously for those acceptance letters, there's only one thing left to do: have "the money talk" with your 'rents. Although talking about how you're going to pay for college with your family may be awkward, it's an important part of the college process that too many high school students overlook. Luckily, we've talked to collegiettes and experts alike and broken it down for you step-by-step!
Paying for college is one of the biggest investments you'll make in your lifetime. As pre-collegiettes, it can be hard to navigate financial terms, paperwork and other important information when you haven't had to deal with it before. Even if you're planning on paying for college on your own, your parents can serve as a valuable resource to guide you through the financial process. However, you'll never know what advice or input they have to offer if you don't ask.
"When it came to college apps, my biggest mistake was not talking to my parents about money before applications were due," says Rebecca Shinners, a senior at Boston University. "I just assumed that because I'd worked so hard in high school, we'd be able to make it work. But when I was accepted to my dream school, my parents sat me down and told me I couldn't go [because it was too expensive]. I was hysterical."
Unfortunately, Rebecca's story is all too common. Many high school seniors get so caught up in the admissions process that they fail to consider the financial impact that going to college will have on themselves or their family.
"[Having the money talk with your parents is important] so that [you] don't waste time looking at colleges that have no shot of giving [you] the money you'll need," says Scott Weingold, the cofounder of College Planning Network. "Why waste time and create a lot of stress and frustration by looking at schools, falling in love and then finding out there's just no way it's ever going to happen due to financial constraints?"
Talking to your parents about your financial situation as early as possible can help prevent surprise or sadness later on.
Starting the conversation
Because talking about money isn't always a light conversation, it's important to bring it up at a time when your parents aren't distracted and you have their full attention.
"There's no 'easy' way [to start the conversation], but it has to be done and it should begin as early as [your] freshman or sophomore year at the latest," Weingold says. "Both student and parent(s) need to be on the same page early on in this process so that when the student begins looking at schools, they are only looking at schools that have a good shot at meeting their financial ability."
Whether they've mentioned the financial topic to you before or you've been handling the college application process on your own, ask your parents if they're willing to set aside some time to sort things out with you. A simple, "Can we talk about college?" at the dinner table may be enough to break the ice.
Once you have their attention, it's important to be prepared with a few key questions. If it's easier for you to remember questions by writing them out, jot them down on a Post-it and bring the note with you. Start with something broad, such as, "Have you thought about our financial situation in terms of college at all?" Getting an idea of how much preparing they've done can give you an idea of how much preparing you still need to do.
Your parents may tell you that they've set aside money in a college savings fund. If so, it's perfectly okay to ask how much they've saved. You can compare this amount to the cost of attendance listed for each school on the College Board website, and then get an idea of what schools are in your range financially. However, don't be daunted by the giant price tag of your dream school—there are plenty of financial aid and scholarship options to pursue!
You might be unsure about whether or not your parents have started a college savings fund. If so, your next question may sound something like, "Have you thought about how I am going to pay for college?" This is an important question to ask because it can result in a variety of answers. Maybe they're saved enough to pay for all of your college costs, or maybe they've saved for a portion and are planning on having you cover the rest. Or you may be financially independent and planning on paying for college yourself. In any case, you'll want to ask them about taking out loans as well. It's important to focus on schools that are in your range financially, "whether through cost or through a historically high financial-aid-awarding process," Weingold says.
Regardless of your financial situation, it's important to make sure everyone involved is on the same page. Once you know who is paying for college and you have an idea of how much each person involve will contribute, you can move forward with important financial aid documents.
REAL LIFE. REAL NEWS. REAL VOICES.
Help us tell more of the stories that matter from voices that too often remain unheard.
BEFORE YOU GO
PHOTO GALLERY
Colleges With The Most School Spirit