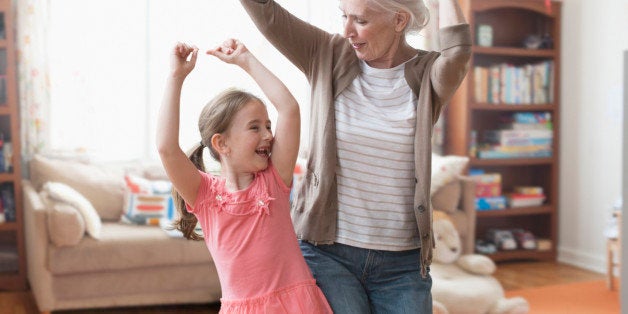 My relationship with my Grandmother Betty (Grambetty) has always been a selfish one. I share endlessly about my worries, accomplishments and major missteps, siphon rich streams of advice from her, send her photos of my little family but rarely ask for images from her life and generally fill her with my own "stuff", scarcely asking about her experiences.
She recently visited my home, and arrived on the same day I heard about the Huff Post Talk to Me project- total "Ah-ha! I'm a jerk" moment.
"Why haven't I done this with my Grandmother before?"
The short video we made, which covered barely a paragraph of her life, prompted an on-going dialogue during her visit, allowing me to finally swim with her through bits of her life- past, present and future. At 87 she still has awe-worthy dreams for her future, like continuing to foster the growth of the businesses on a block she bought and revived in a small town, and learning how to drum.
A primary epiphany that blossomed for me during this experience is that it's often easier to absorb life's messages when they're delivered through another's stories, and perceptions of their stories. For me, it's too easy for important messages to be shrouded in the haze of defensiveness when someone is delivering feedback about my specific life.
But, I can easily find versions of my own conundrums, errors and triumphs in stories shared by another. This buffer creates the space for me to play around with their ideas and insights, soaking in what I need and offering them the respect to share and explore their experiences and ideas without judgment.
I'll still happily share "too much information" with anyone who will listen (or read) but I've finally settled into the sweet spot of relishing the words of others, and the wisdom layered under all those consonants and vowels.
Related