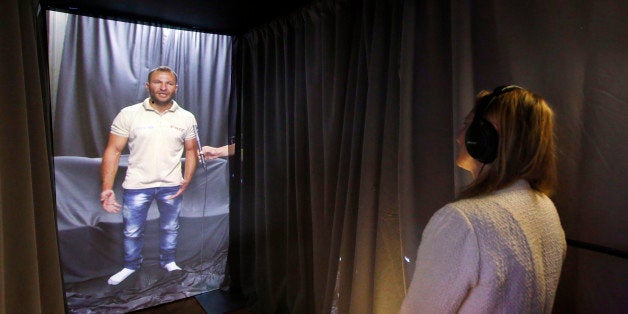 At the United Nations General Assembly last month, a new constituency had a voice: young Syrian refugees, living in the Za'atari Camp in Jordan. More than a voice, in fact -- faces, and bodies too. They appeared live, via a full body, immersive communication system, in a tent outside U.N. headquarters.

Our global art collective, Shared_Studios, installed this Portal with UNICEF Jordan. Since December 2014, we have installed Portals around the world at schools, galleries, museums, on street corners... anywhere people congregate and connect. We have Portals in Mexico City, Mexico; El Progreso, Honduras; Havana, Cuba; Herat, Afghanistan; Tehran, Iran; and NYC, San Francisco and Nashville.

Via a gold shipping container, or in the case of the security-heavy U.N., a tent, Portals introduce people who would never meet. They enable them to talk as if they are in the same room, as if they are, in the words of past participants, "breathing the same air." Over the past year, Portals have done this in a dozen sites around the world: an American Air Force pilot who'd never set foot on the ground in Afghanistan connected with a Herati local; a Cuban American woman reengaged with someone from the street she grew up in; musicians in Mexico City and San Francisco performed live together; and international diplomats such as U.S. Ambassador to the United Nations, Samantha Power, met face-to-face with Syrian refugees.

Since Portals launched in December 2014, more than 6,000 people have carried on 20-minute one-on-one conversations with strangers abroad. Thousands more have entered as groups, attended live shows or events, and collaborated on special projects. San Francisco has connected to Herat and Mexico City. Herat and Mexico City have connected to one another. Mexico City has connected to Tehran, and so on.
The Portals project started with a question: when was the last time you talked with a stranger, simply to understand his or her life? For us, it had been a long while, especially online. We are accustomed to going online to share moments with friends and family, to find a date, to get a job. But if someone Skyped or emailed us out of the blue, we'd assume it was spam, a scam or worse.
But talking to strangers wasn't always so weird. We're old enough to remember a time when we actually talked to strangers on the bus to pass the time. Now we have our iPhones, so we are entertained, plugged into our networks, and so tend to opt out of spontaneous, accidental encounters. When we take the bus listening to music, watching Netflix, or texting friends, we're definitely not talking to the stranger next to us.
But this is such an incredible moment, where we could use that iPhone just as easily to Skype Afghanistan as to call mom. This communication may not feel special, but it is. There are opportunities we are only starting to imagine. Portals is one, and it is intimate, personal, and direct. The results have been surprising, inspiring. When the project launched in December 2014, connecting Tehran with New York, people were invited to enter and speak with a stranger in the other country. The prompt was "what would make today a good day for you?"

We expected the encounters to be neat, exciting, cool. But they were much more than that. Participants came out giddy, weeping, feeling as though they passed through some unique moment in time and space. And new types of encounters emerged. Afghan women were alone with unrelated men for the first time. An Iranian-American dancer performed for his family in Iran for the first time. Cuban artists performed for an audience in Washington, D.C. Young children in Honduras engaged teachers in New York City.
Conversations in Portals are private. But sometimes both participants agree to let us record snippets to share. And often we have special events that we do record. On this Channel we're going to post some of the most interesting moments such as live musical performances from Tehran to D.C., dance collaborations between Afghanistan and Mexico City, conversations between people who would never otherwise meet. So please tune in, join us at a Portal soon, or even help place one in your community. We can get one to you, wherever you are. And we want you to join us in this global, shared adventure.
REAL LIFE. REAL NEWS. REAL VOICES.
Help us tell more of the stories that matter from voices that too often remain unheard.