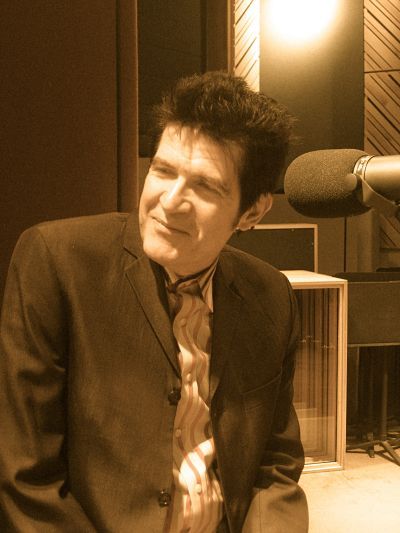 "When we started out, I was thinking of Todd Rundgren's Something/Anything. On a number of the songs there are just a minimal amount of people playing and on some tracks I have a full band. It's taking a big chance to a certain degree because there aren't many people doing records like this anymore...and a few people warned me 'don't do it! They'd caution me that it's suicide in today's market because people won't listen to something that's over 35 minutes. And that was from musicians I trust!" Edward Rogers
As musicians grapple with the (few) pros and (mostly) cons of streaming, along with life in a post-record industry world wherein millions songs and albums can be heard for free by way of numerous digital platforms, Edward Rogers goes about his artistic business with an air of confidence I find most reassuring. Sure, the planet is going to shite, nonetheless this downtown Manhattan dwelling transplanted Birmingham, England bard has rock 'n' roll to make, and he's not going to let the small stuff get in the way.
By way of his five critically acclaimed solo albums and as a member of the Bedsit Poets and Vagabond Hearts, in addition to his numerous collaborations of note; indie rock fans can always count on Edward for intelligent, heartfelt wordplay, lasting melodies, and shows at venues large and intimate with the best players in town. His latest collection Glass Marbles, is, to my ears, a giant leap forward with regard to production to which he readily credits his workhorse producer and longtime collaborator in the studio and on-stage, Don Piper.
"Don had to go through fifty of my songs to figure out which ones were the best," Ed recalls with a measure of amusement. "A lot more attention went into the production and the imagination of special effects. I'd go back to certain parts of the songs and tell Don 'I want this more psychedelic!' Don really wanted show what he could do on this album and he really succeeded."
Recorded at various studios for reasons of aesthetics and economics, Ed's chance meeting with an old friend affords Glass Marbles its cinematic resonance. "I ran into Greg Calbi, a fantastic engineer, who I had not seen in years. First thing he says to me is 'the next record you make, I want to master it!"
When Rogers revealed that the two albums in particular that he was listening to with regard to sound quality were waxed by Todd Rundgren and Tame Impala, Calbi (a managing partner and senior mastering engineer at Sterling Sound whose resume includes John Lennon, David Bowie, and Bruce Springsteen to city a very, very select few) responded: "Ed, I did both of them, so I think I can get exactly what you want!" Mission accomplished boasts Rogers. "Greg's method is to sit with you, go through each song, and see what you were thinking when you wrote it, then he would make suggestions on fidelity."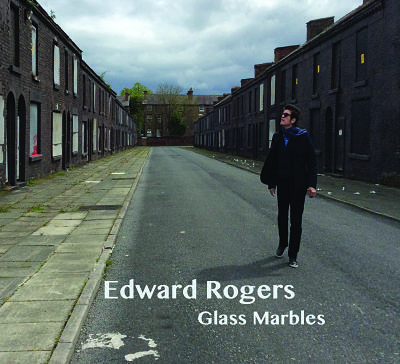 Rogers also expanded his core band of Piper, drummer Dennis Diken (The Smithereens), bassist Sal Maida (Roxy Music, Cracker, Sparks), and guitarist James Mastro (Ian Hunter, The Bongos) to include his Vagabond Heart mate J-F Vergel, along with drummer Konrad Meissner, keyboardist Joe McGinty (Losers Lounge, Psychedelic Furs), Ivan Julian (Richard Hell & the Voidoids, The Clash, Matthew Sweet) , John Ford (The Strawbs) Pete Kennedy, and saxophonist Geoff Blythe (Dexy's Midnight Runners, The Pretenders, Elvis Costello), among others.
Akin to the UK rock legends he is oft compared to, Edward aimed to capture the magic of the moment. Mission accomplished once again. "Everything was three takes maximum, all the players did their homework and came into the studio without rehearsals." Ed further explains, "and I really had to step up to it because certain songs that I thought were arranged took on a different feel with the various players. Sometimes I was in the booth between takes, changing lyrics and phrases as so forth. There was even one song we recorded in Joe McGinty's studio "Stars In Your Eyes" where I rewrote the lyrics as we were going along."
With the luxury of having sidemen (and side-women) who are also songwriters, producers, performers and band-leaders in their own right, Rogers and Piper were able to draw from a deep well of experience to bring Glass Marbles to fruition. The exchange of ideas, the musicians' input, and the sense of sonic adventure are readily evident in the grooves and band interplay. The players, especially bassist Sal Maida, flexed their respective rhythmic and harmonic muscle in the service of the song and the recording.
And as with all of Rogers' records, he's not afraid to wear his influences on his fashion designer sleeves. "On 'World of Mystery' I wanted to see if I could write an Ian Hunter song. Or more like Bob Dylan by way of Ian much like that first Mott the Hoople album." The idea to have Gaz Thomas add harmonica was inspired from a Rockwood Musical Hall performance by Mark Preston & the Traveling Men which Edward attended in early 2015 wherein Gaz and Geoff Blythe riffed in all their ragged glory. "Turned out that Gaz had to go out and buy a harp in the key of the song! We did it first take - I like the fact that he's not perfect on it. But Gaz got the 'perfect' feel, like Dylan, Donavan, and John Lennon -which is far more important in my world."
"For I'm Your Everyday Man' I wanted to compose a Big Star song, and the next thing I knew Konrad added fantastic vibes to it. Brilliant idea!" The track "Denmark Street Forgotten" was fueled by a conversation with John Ford regarding the former Strawbs man's 1960s session days in London. Edward channeled early REM for the cut "Looking for Stone Angels," to which Rogers calls to my attention: "who the heck goes back to early REM anymore!? With those beautiful guitars..."
Listeners of a certain age and/or artistic disposition will readily recognize that Glass Marbles stands as a spirited reaffirmation of the album as an aural art-form, and not simply a souvenir of a live performance. With surrealistic interludes, tempo and key changes, and sudden mood shifts Rogers and his simpatico collaborators take the listener on a journey that only the album experience can afford.
"To me albums are really relevant. My experience of listening to a record is not on the run. I'll sit at home with the speakers turned up. And I am hearing and concentrating on what is going on. Today, music can be obtained so readily, so it's easy to lose the perspective or interest because there is so much of it. Whereas if you take a little bit of time; the enjoyment and appreciation of the album is far greater."
On that note, Edward Rogers informs me that he is composing songs for another album. To be continued...
Album design by Amanda Thorpe. Album photograph by Melani Rogers. Photo of Edward Rogers by Amanda Thorpe.
Glass Marbles by Edward Rogers is out now on Zip Records, and available on:
iTunes (http://apple.co/1Lj2STH)
Amazon (http://amzn.to/1MerMii)
Other Music in New York City
Rough Trade NYC in Brooklyn
For more information, visit www.ziprecords.com, www.edwardrogersmusic.com.
Edward Rogers and The Biba Crowd will be live at The Record Collector, Bordentown, N.J. on April 8, 2016, 7:30 PM
Edward Rogers will be on tour with Colin Blunstone of the The Zombies in England in April 2016.
Friday, 22 April, The Brook, Southampton, UK
Saturday 23 April, Fletching Trading Boundaries, East Sussex, UK
Sunday, 24 April, The Borderline, London, UK
REAL LIFE. REAL NEWS. REAL VOICES.
Help us tell more of the stories that matter from voices that too often remain unheard.