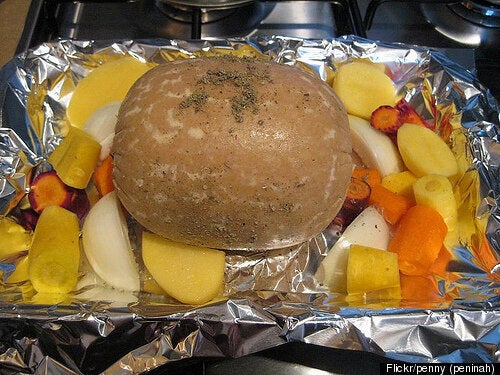 It's the holiday season, folks. And while for some reason I feel like I should be embarrassed by this fact (as in "real people don't do Christmas"), I love the holidays. Like many, I find the commercialism distasteful, but I also find it easy to resist, which frees me to focus on the many parts of the season that I cherish: the music, the anticipation of snow, decorating the barn with greens and berries that grow plentifully on our property, and planning Catskill Animal Sanctuary's annual holiday party, a way to honor those who give their time so generously to the cause we all believe in.
This is also a time of year that invites personal reflection, and I enjoy the discipline of sitting down each December, asking, "So how'd you do this year, girl?", and journaling both about how I've grown as a person and where I'm still stuck. In this way, writing is both therapeutic and instructive. But bigger, more philosophical questions present themselves, too, and these are the ones I'd like to share with you, in hopes that we can have an honest, frank, enlightening conversation.
Why is it that we view animals as inferior as opposed to merely different from us?
How is it possible that despite the fact we adore our pets, and would never intentionally harm a living thing, but we continue to participate in the suffering of animals through our dietary choices?
What would it take for you to change your diet?
Convenience. Habit. Everyone in my family eats animals. I wouldn't know what else to cook. I believe I need animal protein. I'm having this conversation a lot these days as I do readings from my book Animal Camp: Lessons in Love and Hope From Rescued Farm Animals. One woman said, "Asking me to change my diet is like asking me to change my children." I know what people's objections are. But I think there's a national conversation that desperately needs to occur, and I'd love to begin it with HuffPost readers.
The animals you eat lead lives of misery and suffering from birth to death.
Agribusiness, which grows 99% of the animals we consume, is the single biggest contributor to global warming and is wreaking planetary havoc;
The consumption of meat and dairy products is either the largest or one of the primary contributors to many forms of cancer, heart disease, stroke, type 2 diabetes, high cholesterol, high blood pressure, obesity, and more, then why are you still eating animals?
If kindness is a value to which you ascribe, my guess is that you do your very best to apply it both unconditionally and universally. You probably don't say, "I'm gonna be nice to my dog but kick my neighbor's dog in the face when I see him", and you probably don't say, "I'm gonna be nice on Tuesday and an asshole on Wednesday." Rather, I truly believe that most folks aspire to be kind in all circumstances to all beings, unless the situation demands a different response. How can I help you understand that every time you eat a burger or a slice of pizza you're making an exception to that value you hold so dearly -- and how can I do it without sounding sanctimonious, angry, impatient or judgmental, when what I want to be is encouraging. When what I want to be is truthful.
So, yep. December has always been a time for reflection. I invite all you non-vegans out there to reflect with me. Meantime, warm wishes from all creatures great and small for a joyous and peaceful holiday season, and if any of what I've said has resonated, here are some websites that will hold your virtual hand as you journey toward a diet that honors not only the animals, but you... yes, you, kind person.
The Kind Life with Alicia Silverstone: The Kind Life is a hub to get valuable information and find resources to help make every aspect of your life as kind as possible; not just the food you eat (although that's fun too).
Compassionate Cooks: Compassionate Cooks gives people the tools and resources they need to prevent disease, optimize their health, and create new habits that benefit the Earth and all its inhabitants.
Crazy Sexy Life: Created by best-selling author Kris Carr, CSL provides readers with a daily dose of inspiration and education on how to live every day like you mean it.
VegNews: A magazine dedicated to vegetarian and veganism, providing the latest vegetarian news, interviews, travel features, food & health, celebrity buzz, delicious recipes, new veg products, and more.
Vegsource: Vegetarian and vegan recipes, discussion boards, articles, information from medical doctors, experts and nutritionists, and a community of vegans.
Happy Cow: Promotes vegetarianism as a compassionate, healthy, and environmentally sustainable way of living.
Popular in the Community