Cupcake Wars judge Florian Bellanger started baking because he "really had a bad sweet tooth" and his "mom never baked and wasn't dessert-oriented at all." It happened one day when the 11 year old Parisian, who had been using his pocket change to buy pastries every chance he got, was at the market with his mother, "I saw a beautiful strawberry tarte on the cover of a book" reminisced Bellanger, "I just had to eat it, so I begged my mom to buy the book for me!"
His mother had looked skeptically at her son. 'Really honey?' she had asked. 'That's a baking recipe book. You really want to have that?' Bellanger replied "YES!" with the enthusiasm of an eleven year old dessert addict tempted by the prospect of baking whatever he's craving, and the book was his. "I started with the simple crêpe recipe and when I got it perfect I moved on, within six months I baked the entire book!"
When Florian's middle school education was drawing to a close and he had to think of a career, it was his mother who asked him if he'd thought of being a pastry chef. Bellanger laughed, "You know, I never even realized it could be a career!" At age 15, he was accepted into both the pastry and savory programs at the prestigious L'Ecole de Paris des Métiers de la Table. Bellanger chose pastry, enrolling in two years of intensive training, alternating two weeks in a classroom with two weeks working in a real pastry kitchen. "It really changes your life, at fifteen you have to wake up at 5:00 in the morning, you work weekends, and when your friends are on vacation from school, you're working in the bakery, so you have no vacation."
Bellanger enrolled in a further year of study in a new program specializing in chocolate and ice cream. From there, he was turning eighteen and decided to enroll in the military. "Back then they still had conscription, so I decided to just go and get rid of this obligation quickly." As it turned out, it wasn't such a bad thing, Bellanger was sent to French Guiana in South America to work in the military as a pastry chef. "It was cool! I got so lucky!"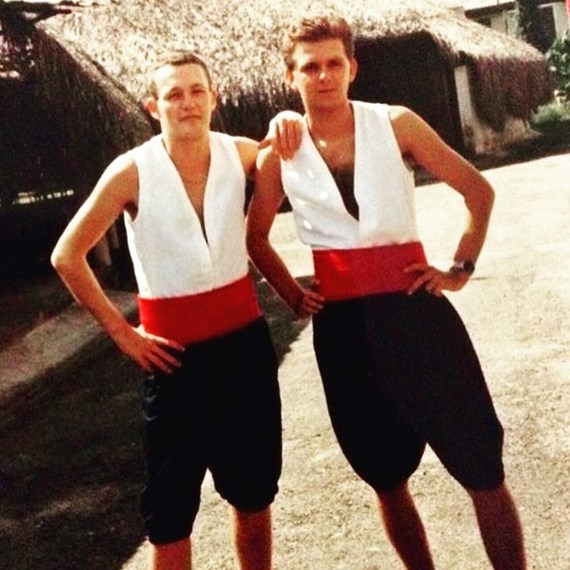 1987, Florian Bellanger (right) with friend and co-conscript Yann Bellec, doing military service in French Guyana as a pastry chef for the French Military Officers Club (Image courtesy Florian Bellanger)
When Bellanger returned to Paris at 19, he recalled, "I saw an ad looking for someone who knew chocolate, so I called the number - there was no name of the business - and when someone answered they said 'La Maison du Chocolat' and I froze. I thought, 'Oh merde, it's Maison du Chocolat!" Thanks to taking the additional year-long intensive chocolate training, he landed the gig at the world renowned chocolatier.
Having gained extensive experience after three years at Maison du Chocolat, Bellanger decided it was time to expand his career beyond chocolate, and he looked to Fauchon, where Pierre Hermé reigned over the kitchens. "They weren't paying much, but back then Fauchon was the best pastry training anyone could get, anywhere."
Trouble was, just about every pastry cook from France to USA to Japan wanted to get a foot in the door at Place de la Madeleine, but Bellanger had a connection. "I got a face to face with Pierre, which was not easy to get! I remember he asked me, 'Do you have the recipes from Maison du Chocolat?' and I replied 'Yes chef! I have the whole recipe book!'" Bellanger laughed, "Then he hired me!" Though he made little money and had even less free time, Bellanger loved working under Pierre Hermé at Fauchon, "We were really on the cutting edge, Fauchon in the '90s was unlike any other place, and PH was - and still is - unlike any other chef."
At Fauchon, Bellanger developed his own reputation as a multi-talented pastry cook, and PH came to him with a dream opportunity. "I remember he said to me, 'Florian you're ready to be a chef now, so, we're opening in Qatar and I want you to go and head it up. You've been with me so long, you've got to go and get out there now.'"
After three years in Qatar, Florian needed a change. "The country was just a pain to live in at the time, not like it is today." So he and his new wife headed back to Paris where they stayed with his mother, who was rather surprised her son would leave his job at Fauchon and return to Paris without a new position.
Undaunted and ever optimistic, Florian reached out to his friend Pierre Hermé, who had just returned from New York City, and a dining experience at a restaurant called Le Bernardin. As it happened, chef Eric Ripert was looking for a pastry chef, so PH connected the two. "I called Eric," recounted Florian, "and he said that he was actually coming to Paris the next week. So we met and we made a deal, and six weeks after returning to Paris with no idea where I would be next, I was in New York!"
At just 28, Bellanger joined New York's prestigious Le Bernardin as Executive Pastry Chef, where he remained for five years. His high-profile position presented him the opportunity to develop a stellar reputation among his peers, gaining him entry into a small circle of big names chefs and celebrities.

Circa 2000, left to right: Jean-Georges Vongerichten, Jean-Louis Palladin, Eric Rippert, Alain Ducasse, and Florian Bellanger (Image courtesy Florian Bellanger)
Then in 2001, Fauchon came calling, telling Bellanger they were opening in New York City, and asking the former head of Fauchon Qatar to again take up the top toque, Bellanger agreed. What followed was a whirlwind of creativity and cutting-edge craft as Bellanger applied his wealth of knowledge, talent and taste for fun to the blossoming New York pastry scene, earning him industry accolades, and media appearances that brought out his jovial nature on camera.
In 2006, Florian Bellanger embarked on his own business, and co-founded MadMac with Ludovic Augendre. Building a business was "a huge new challenge" for Bellanger, and he approached it with his trademark high energy and high hopes. Along the way, something unexpected happened.
"A production company in Hollywood reached out to me on Facebook. Back then I wasn't online much, so I didn't see the message for days! The person said the company was Super Delicious and they wanted to talk to me about a cupcake TV show. Honestly, I thought, Super Delicious? A cupcake show?? Is this a joke?!"
Clearly, it wasn't, and, "After weeks of screen tests on Skype," continued Bellanger, "where I had to do things like react to eating something disgusting, I got the call. The woman I'd been working with at Super Delicious asked me, 'Are you ready to be a star?' And I was like, 'Really? Are you serious?!' She said 'Yeah! The Food Network wants you! You got it!' I thought to myself, "Holy shit!"
Much like his unexpected and abrupt departure for New York, and Qatar and French Guyana before that, within weeks Florian found himself in Los Angeles taping the first episode of Cupcake Wars. But, not before making a few things clear with the producers. "I told them, don't make me lose my credibility. There's no way I'll ever talk nonsense, real bakers will watch the show, and they'll know. And I won't go after people, I'll go after the food. I'll be tough, that's for sure, but when I give technical criticism, it will be true and it won't be personal. Cara, one of the producers, told me I could say anything that's on my mind. I trusted her, so I said yes!"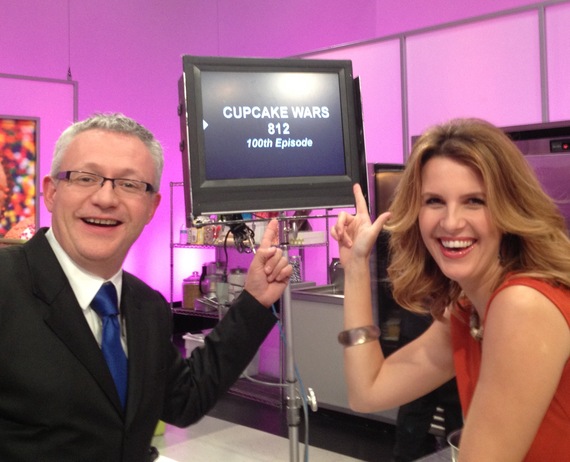 On the set of Cupcake Wars with Bellanger's original co-judge Candace Nelson, founder of Sprinkles Cupcakes, for the 100th Episode (Image courtesy Florian Bellanger)
Though his original co-judge was Candace Nelson, founder of game-changing Sprinkles Cupcakes, who Bellanger referred to as "the queen of cupcakes," Florian is the only cast member to survive to this day. The show debuted in December 2009 and ran nine seasons until it was cancelled in December 2013. However, Food Network had a change of heart (and management), and asked production company Super Delicious to film new episodes with a twist, hence the birth of Celebrity Cupcake Wars this year.
Bellanger believes the cancellation was because network execs thought the cupcake was going out of fashion. But he told me he felt "The cupcake is not on its way out. The cupcake has always been a part of American pastry and it always will be even if it's not trendy. Today's higher level of cupcake isn't the crappy supermarket cupcake of twenty years ago. If you're still making those, then yeah, you're done. But those aren't the cupcakes we see on Cupcake Wars."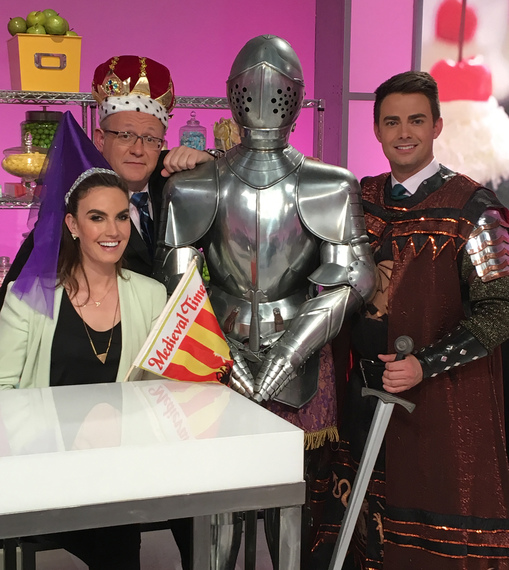 Florian on the set of Celebrity Cupcake Wars with host Jonathan Bennett (far left) and co-judge Elizabeth Chambers (Image courtesy Florian Bellanger)
Besides having no love for "crappy supermarket cupcakes," I asked Bellanger what was the crappiest cupcake he ever ate on Cupcake Wars. The answer immediately came to his mind, it was a cupcake he ate on the San Diego Zoo episode, and he recounted the story to me amid peals of laughter.
"On the list of ingredients was fried crickets, and two of the bakers chose to use them. The first baker just put a very crispy fried cricket on the cupcake as a garnish. Candace really didn't want to eat it, but I told her it was ok, it was so fried it tasted of nothing! The next one though, was not like that, it was hardly cooked at all! The baker put these barely fried crickets into brittle candy that garnished the cupcake, and when I bit into it, the fat and juicy cricket burst in my mouth! You know that smell like when you step on a cockroach? It was like that, but in my mouth!"
Bellanger made a beeline for the bathroom to spit the thing out and completely rinse his mouth under running water. "And imagine," he added, "we shoot the show in the morning, so it already can be tough just eating all these cupcakes before lunch, and then this, a mouth full of cricket juice!"
Florian Bellanger never expected to be on TV eating crickets atop competitive cupcakes, but he approaches his career with such a sense of adventure and spontaneity that it's no surprise he landed in front of the camera when the opportunity came calling. His visible enthusiasm for all things sweet, his sincere respect for the people who work hard to create the desserts we love, his honesty and integrity, all make him one of the most genuine judges on television, and one of the most entertaining.
Related