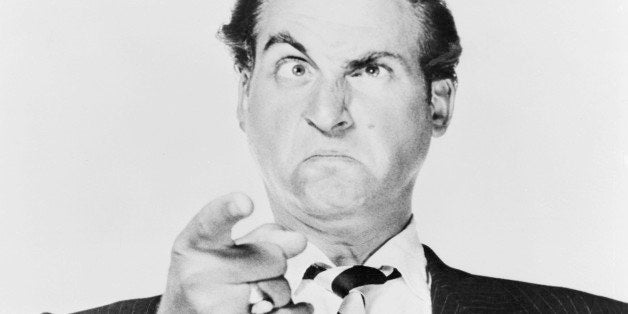 Sid Caesar, the legendary performer who long kept America laughing, died on Wednesday at 91. Few people are so associated with early television, a medium he nurtured as it nurtured him. On The Admiral Broadway Revue, Your Show of Shows, and Caesar's Hour, he interpreted and inhabited comedy written by such masters as Larry Gelbart, Carl Reiner, Woody Allen, Mel Tolkin and Neil Simon.
On the occasion of his memoir Caesar's Hours, written with Eddy Friedfeld several years ago, I spent much of a morning with Caesar at his Beverly Hills home talking about those early days. Sitting in the kitchen, drinking tea, the inimitable comedian spoke of both Caesar and comedy, both then and now.
Here are some previously unpublished questions and answers from a rare interview with Caesar as he looked back at his life well-lived.
When was the first time you remember making people laugh?
I was going to play my saxophone onstage. I went out thre, set up my music stand and all of a sudden, from nowhere, this spotlight came up on me. It was never there for rehearsals, and I couldn't see the music. So I took the music stand and moved over a couple of feet, and the guy with the spotlight followed me over. I went back. Then I tried to fake him out, and every time I made a move, he went with me. People were laughing at me, but I didn't do it on purpose. It just happened. And that started me.
Plain luck is that you were in the right place with the right people at the right time. Then the rest is up to you. Laughs are not insured.
What was television like when you started with The Admiral Broadway Revue in 1949?
It was brand new. Everybody would watch the test pattern. You didn't have to get in the car, drive and go to the movies. You're sitting in your house. You press a button and you can be entertained. It was a miracle. Kings would have given a fortune for this. Kings? Emperors. An emperor wasn't entertained as well.
Is it true that the Admiral show ended because it was too successful?
Yes. We were supposed to do a season of 39 shows. Instead we did 19 shows, got great reviews, everybody was talking about the show, and we were cancelled. Ross Siragusa, the president of Admiral, told me they were between a rock and a hard place. They used to sell maybe 500 TV sets a week and when the program came on, they got orders for 5,000 a day. He said, "The most we could turn out was maybe 100 sets a day, and that's going full tilt. We had to put our money in a new facility and if we keep on with the show, we're going to get more orders. We can't be spread that thin." So they cancelled the show.
You were back on TV just eight months later with Your Show of Shows. What was it like coming up with 90 minutes of brand-new sketches, movie parodies and more, live, every single week?
It was part Shangri-La, part terror. The teleprompter hadn't been invented yet. You had to memorize the words because cards distract, and you'd make no connection with the person you were acting with. We would do four rehearsals and the show, all in one day, and at 9:00, hell or high water, you were on. Live. For an hour and a half. Thirty-nine weeks a year. And we did it for almost five years.
It certainly helped that you were turning out comedy written by some of the best people in the business.
Our writers' room reminded me of the time in Paris when the Impressionists came in. They'd meet and talk over and criticize each other's work. Picasso would be there. Monet and Manet. Renoir and Seurat. These writers were also great artists. And I used to contribute a little, too. I didn't sit upstairs in my office and wait for somebody to slip the script under my door. I used to sit in the writing room when they were egging each other on. You can imagine the competition.
Are there people on television in recent years that made you laugh?
They don't make me go, "ha, ha," but some of it is funny. I think Robin Williams and Billy Crystal are fantastic. George Carlin is a funny guy. Richard Pryor. But I watch mostly the History and Discover channels.
When anybody I know retires, I give them this advice: You have to remember every day is Sunday. Get yourself a routine. If you don't do that, you won't know what the hell to do with yourself. But you get more out of life because you see all the narrow escapes you had and didn't even know it.
Barbara Isenberg has long written about the arts for the Los Angeles Times and Time Magazine. Her new book, Tradition!: The Highly Improbable, Ultimately Triumphant Broadway-to-Hollywood Story of Fiddler on the Roof, The World's Most Beloved Musical, will be published by St. Martin's Press in September to celebrate the 50th anniversary of the iconic musical's Broadway debut.
Related
Popular in the Community