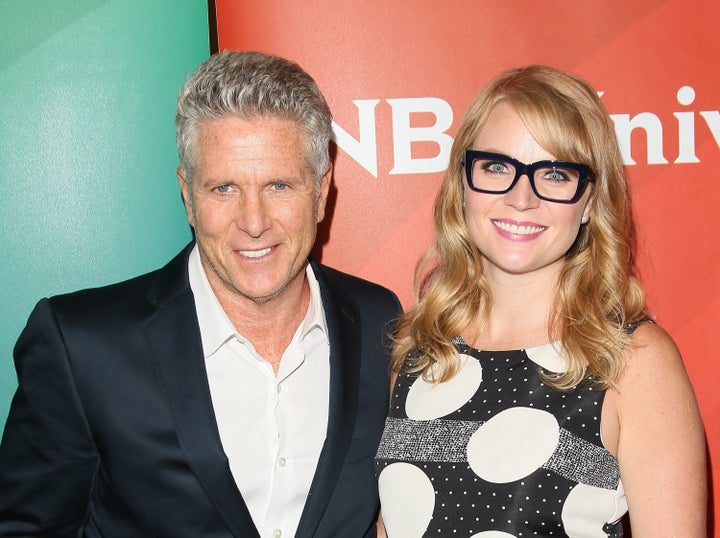 "Donny" is a new comedy following real life ad-man, TV personality, and single father Donny Deutsch. Deutsch plays himself as the moronic host of a "Dr. Phil"-style daytime talk show under the direction of his executive producer/adult nanny, Pam (played by Emily Tarver). The show has a unique structure. It's loosely scripted, and as a result, reads half reality show, half single camera comedy. I had the pleasure of talking to Emily Tarver about the real Donny, her character in the show, and what it's like getting her first big time recurring role. 
This is so cool! We used to hang out at UCB and now we have cool jobs!
Yeah, we're not poor improvisers working for free!
Is this your first recurring role in a TV show?
Yes, this is my first recurring role that actually turned out to be a recurring role. I've booked other recurring roles that didn't turn out to be recurring. So this is nice!
Tell me about the show and your character. You're Donny's executive producer?
Yes, I play the EP of the show within the show. She's also the person in Donny's life who keeps him in line and cleans up all the messes that he makes. The show is like "Seinfeld," where the topic of the show within the show is normally the topic or the theme of the episode.
What has been your favorite topic?
Without giving anything away, he does one where the topic of the show within the show is about men of a later age coming out of the closet after being in a heterosexual marriage. Donny tries to be supportive of that and, in being supportive, he kind of announces that he is gay. That isn't what he's saying but while he's trying to be brave for these people, he sounds like he's coming out. So I have to clean up that mess. Not that it's a PR nightmare; it's just that he isn't gay.
What's your character trying to do on the show? Is Pam trying to get out of the show or this is her big shot as a producer?
Donny sees something in her and tells her that she is to come with him wherever he goes. And, over time, she grew into this position of alpha female and his producer of things. In real life, Donny surrounds himself with very strong women who put him in his place. And so I'm the shining symbol of that. I don't put up with his shit and he doesn't impress me. But she enjoys the challenge and she enjoys smacking his hand when he does something so Donny.
The show has a different type of look to it. Parts of it feel like a reality show. Others feel like "The Office."
I definitely think that was done on purpose. A lot of people don't know Donny or what he is about. People are like: is he an actor? A host? So the show's trying to represent a lot of different genres. And because he's playing himself, that reality feeling you get is because you can't pin him down. It might be confusing for some people, but I think it's cool to watch a show and go, "What is this?" Because the only answer is: Oh! It's something new! 
It does read very new because when you watch it, Donny doesn't feel like an actor. He feels like the real thing and everybody else is acting around him. Was it weird acting with a guy playing himself?
Yeah! And I don't want to toot Donny's horn too much, but he's just a genius and he's so good at everything he tries. I think a big part of it is his extreme confidence. When we filmed the pilot presentation, he was giving me notes on my acting. And I was like, "Ahhh, OK." And he was right about a lot of stuff. Being on set with him, he'll have notes for actors and production and story and he'll he right a lot of the time.
I also noticed that this season of TV is centered around older, distinguished antiheroes, like "The Grinder" or "Grandfathered." "Donny" seems like a different take on it. Do you think this is a wave?
I think people are quick to categorize things because that's how our brains work. These shows are so different and so good. And I don't think "Donny" can be put into that category based on the lead because he's surrounded by so many women. And Donny himself is such a feminist. He wants to tell women's stories and have female perspectives on his life at all times. And the show reflects that. Donny doesn't even have a male best friend.
How is doing press? Is this your first time doing big time junkets and stuff?
Yeah, we went to LA. It was just Donny and me. It was really fun.
Well, you sit on stage in front of a bunch of long tables with people from different blogs on their laptops. And they have a bunch of questions. Then you go to a little room with 12 cameras. And a person has a bunch of questions. Luckily, Donny is used to it. I'm there as Emily, but also as Pam. Emily and Pam are very similar in terms of how they treat Donny. And our interaction is very organic. It's actually been that way since my callback for the show. I had to do it with Donny while everybody on the show watched.
Are you and Donny on a texting basis?
I actually don't have his number. And I haven't asked for it, because I don't want him to think that I want it. I want him to ask me for my number. And then he can be impressed that I have a 212 number.
Well, that's a Season 2 thing.
That's odd. He seems like a guy who would need to be in constant communication with the people working close with him.
Well, I think he's scared of me. I think he thinks I'm way cooler than him. I bet he thinks if he texted me it would bother me. I'll never tell him that I think he's cool. He can read it in your article.
Emily Tarver stars as Pam in USA's "Donny" premiering Tuesday, Nov. 10th at 10:30 p.m. ET.
PHOTO GALLERY
The 7 Shows You Should Binge-Watch Right Now
Calling all HuffPost superfans!
Sign up for membership to become a founding member and help shape HuffPost's next chapter