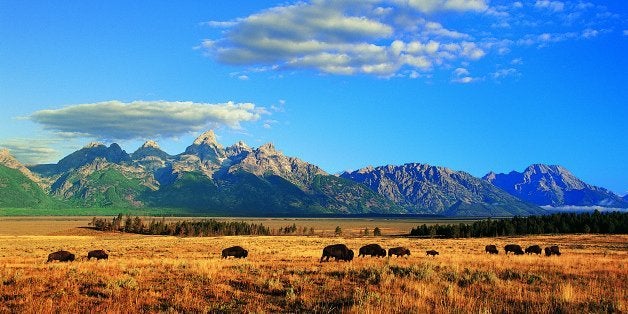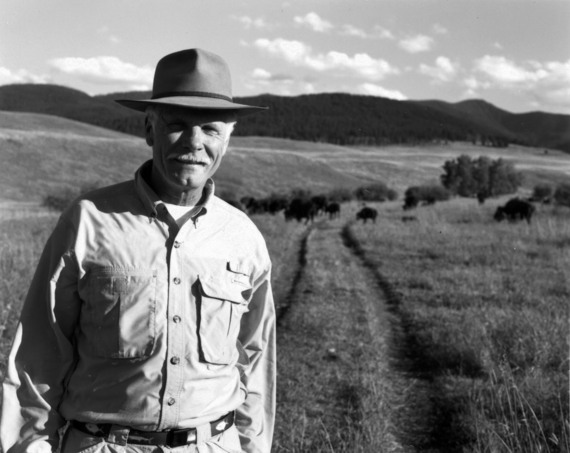 Ted Turner is one of my personal heroes, going back to his 1977 win of the America's Cup in Newport, Rhode Island, at the helm of the boat Courageous. Back then I never would have guessed that I would someday be talking conservation with Ted at his Flying D Ranch in Montana.
Of course that America's Cup is just a minor aside in Ted's extraordinary list of accomplishments, from transforming cable television to developing the Goodwill Games to ease Cold War tensions to his historic $1 billion gift to the United Nations Foundation.
These days much of Ted's big thinking is focused on the environment. Since the 1990s the Turner Foundation, Inc. has given almost $372 million to protect and restore the natural world. The second largest individual landholder in North America, Ted established the Turner Endangered Species Fund in 1997 to protect endangered species with a focus on the role of private lands in biodiversity conservation.
Mark Tercek: Why did you decide to bring bison back to North America's plains?
Ted Turner: Bison are magnificent creatures, and I've been interested in them for as long as I can remember. They're iconic American animals, which were dangerously close to extinction. It broke my heart to see this species slipping away.
So, I stepped in and did what I could - today, there are more than 500,000 bison roaming North America. Bison's becoming more and more popular in the restaurant industry not only because consumers enjoy the taste, but it's a much leaner option than beef.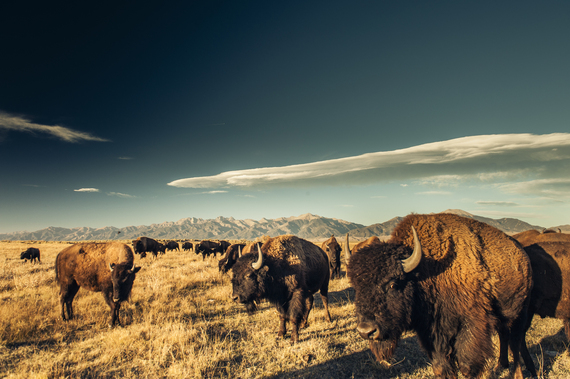 Mark Tercek: Your ranching business aims to make money, protect the environment and bring back native species. How can these goals coexist?
Ted Turner: The majority of my ranch land is devoted to sustaining grassland for our bison herd, and the remaining portion is protected wildlife habitat. What many don't realize is that raising bison as a commodity helps ensure its sustainability, instead of decreasing its numbers. So, sustainability and monetary gain are very intertwined. It's a carefully crafted operation that requires give and take.
Mark Tercek: What conservation projects on your ranches are you most proud of?
Ted Turner: Knowing that I've played a role in helping an endangered or imperiled species gives me a great sense of pride; however, I would say I'm most proud of what I've been able to do to save the American bison. Seeing those animals roam freely across my lands with almost no sense of containment calms me and reminds me of the magnitude of what we've done for this fascinating species.
Mark Tercek: EARTH: A New Wild follows the reintroduction of prairie dogs and wolves to the Great Plains--efforts that you have championed. This can be a touchy topic among ranchers. How do you respond to critics?
Ted Turner: There is enough room for us all to exist together in harmony. Both wolves and prairie dogs are incredible species that play important roles in our ecosystem, and deserve to be not only appreciated, but protected as well.
Mark Tercek: Do you have hope for the world's grasslands?
Ted Turner: Bison introduction onto my ranches has done wonders for the grassland, damaged by cattle. But as with any projects, I always feel as though I could do more. Hopefully, leading by example, it puts others on notice to take action as well. We're capable of it, so it is possible. That gives me hope.
Mark Tercek: Think about the world your grandchildren will live in as adults. Are you optimistic?
Ted Turner: I am optimistic because the alternative would be to give up, and that's not something I'm willing to do. We can make this world a better place, but the question is "will we?" I'm continuing to do my part and encouraging others to do what they can. Ultimately, the choice is ours.
Images: Ted Turner, © Turner Enterprises, Inc.; Bison grazing on the Zapata Ranch in Colorado, © Nick Hall.
Popular in the Community