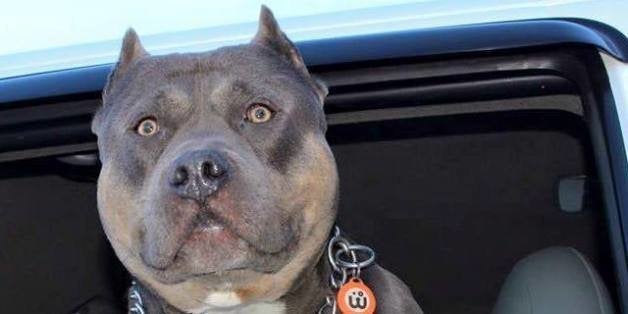 Czr's human mom, Cathy Dmitroca, asked him about the increasingly unpopular laws that ban or otherwise restrict the owning of blocky-headed dogs like himself.
"My idea was that I was going to get him saying 'no' to bans and him looking blankly at the word 'aggressive,' since he was a good boy with no concept of what that meant," Dmitroca says.
We think Czr makes a darn powerful case against the laws.
Posted by Team CZR on Tuesday, March 17, 2015
Although Dmitroca, Czr and his adopted sister, a more camera-shy pit named Via, live in a part of Canada that does not restrict pits, some nearby cities do. She hopes Czr's new video will help others see that pit bulls are just like any other dog -- except, perhaps, in the way they are sometimes perceived.
"There's so much I wish the general public could take out of seeing Czr," Dmitroca says. "How illogical it is that a general face shape can be used to not only identify dogs that are supposed to be inherently aggressive, but to ban and euthanize them based off facial features is nothing less than genocide."
Does Czr understand that extremely grim concept? Well, realistically, that might be a little beyond even this very intelligent boy.
"In all honestly the only thing Czr is probably opposed to is myself being out of his sight," says Dmitroca. "Bless his heart, I am sure he has no concept of hatred."
Check out this video for answers to some common questions about how in the world Czr knows how to talk:
And get in touch at arin.greenwood@huffingtonpost.com if you have an animal story to share!

Popular in the Community