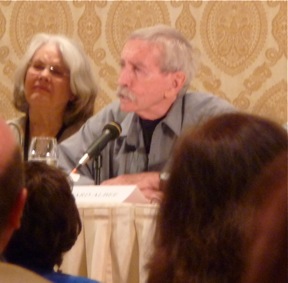 Tennessee Williams New Orleans Literary Festival speakers touched on everything from Jesse James to the Tea Party Patriots. This proved legendary playwrite Edward Albee (pictured with Lois Smith of Williams' "Orpheus Descending") correct when he told an audience that for the most part writers don't talk about writing. "We sit around and talk about sex, money and politics." Here are moments from my first day at the festival divided into those categories:
Historical author and daughter of the late Congressman Hale Boggs, Cokie Roberts referenced the country's current deep partisan divide, but noted that Tea Party vitriol can't touch early politicos who started rumors about the pimping out of First Lady Dolly Madison and her sister. And that was from James Madison's political opponent. Roberts did note that a deeply partisan regionalism is prevalent, in the country, compared to the years her father served as a Representative. This week federal prosecutors issued new charges for three men, including the son of an acting US Attorney, who attempted to bug Senator Mary Landrieu's New Orleans office. The three have been hailed at Tea Party Patriot conventions as heroes. Roberts described a far different climate President Gerald Ford told her about in an interview. The President would go to lunch with her father, Congressman Hale Boggs, and ask him, "What are we going to argue about?" The two would heatedly debate during lunch, departing the taxi as best friends again.
The political climate was also described in author David Eggers's question and answer session. He and his wife's alternate ending to their screenplay "Away We Go" was conceived of during President George W. Bush's years in the White House. Their protagonist couple was to have ended up in Canada or possibly Costa Rica, as a country with no standing army. But that ending was changed and the couple found a home in America at the end of the movie, as "Obama was ascending." Eggers' best selling book about post Katrina New Orleans, "Zeitoun," is the harrowing tale of a Syrian man unjustly imprisoned after the levee failure. Following Eggers' panel, the Historic New Orleans Collection courtyard was filled with aspiring writers seeking his advice - appropriate since his McSweeny's publishing house started out as a literary journal that published only works rejected by other magazines. In fact, Eggers has just published a book by a first time novelist who is 90 years old, giving hope to the literary long shots.
Roberts described First Lady Betty Ford as having a stronger influence on American life than any recent president with her groundbreaking work in drug and alcohol addiction treatment at the Betty Ford Center and in raising awareness of breast cancer in a time before screenings were widely encouraged. Still in touch with Ford, Roberts says she is frail but "mentally great, and up to the minute in the world of addiction."
Williams' years of alcohol and drugs use were described in the I Remember Tennessee Panel, but Albee noted that at the time of their early friendship "everyone was drunk." He added that "You're supposed to drink a certain amount in your lifetime," but some squeeze it into 15 years. Williams was increasingly self medicated through his later years as his plays waned in critical popularity. "They seemed happy to be able to knock him down," Albee said of the critics who panned Williams for repetitiveness, then savaged "Camino Real" because it was a departure. "There's very little relationship between excellence and popularity in American arts," Albee concluded. He described a successful work as, "Damaging to the people it should damage, helpful to the people it should help, and able to change a few minds."
Albee's description of a successful work is certainly true of Michael Lewis' body of work which covers a wide range of topics. The New Orleans native, author of The Blind Side, told the audience that he met actress Sandra Bullock's husband Jesse James on the film's set "and instantly thought he was bad news." Bullock, Oscar winning star of The Blind Side, is estranged from James after reports of his multiple affairs came out. In "Liars Poker" and his new book, "The Big Short: Inside the Doomsday Machine," Lewis illuminates the subprime mortgage lending implosion by following lenders who bet against the market. Between that and Jesse James, Lewis clearly has an eye for impending disaster.
The Category of Sex, with a bonus Category of Death, continued in my NewOrleans.com post.

Related
Popular in the Community