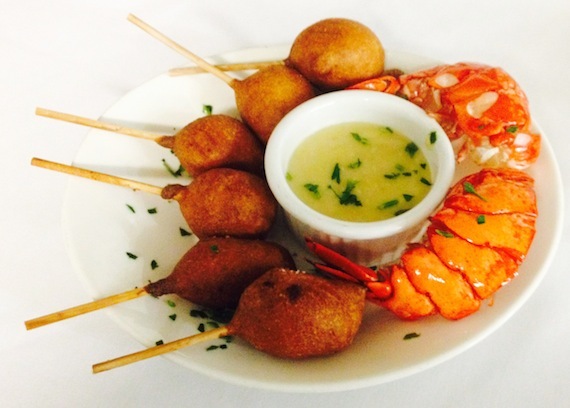 As transplanted New Yorkers living in Southern California, we never thought we'd find happy hour food in Manhattan Beach to rival that of our favorite hang-outs in Manhattan.
Yet, last weekend, during a stay at the luxury boutique hotel, Shade, we found ourselves sitting in the Christopher Lowell-designed chairs in Zinc, sharing some of the best small plates we've ever had.
Surprised and delighted, we called over Chef Chris Garasic to talk tapas.
Lois Alter Mark: Your tapas menu is extraordinary. Why did you decide to focus on those?
Chris Garasic: Since we are a boutique hotel lounge, we decided that the tapas menu would be a great fit. Shade is a modern, sleek and sexy hotel with low and casual lounge seating so small, shareable plates work really well for our clientele.
LAM: What do tapas mean to you? Why do you think they've become so hot?
CG: To me, tapas, are unique, creative flavors packed in shareable small plates. Tapas are so popular because you can share them with others, and they create a very social and casual dining experience. Also, diners can choose from an array of different items to try, instead of the typical salad-entrée-dessert style of dining. You also don't get as full and usually leave very satisfied after eating at a tapas-style restaurant.
LAM: I'm still dreaming about those Lobster and Brie Corndogs (top photo), which are amazing and a brilliant idea! How did you come up with those?
CG: The Lobster & Brie Corndogs derive from a collaboration of ideas between the owner, Mike Zislis, and me. I wanted to do a somewhat traditional twist to a corndog, while Mike wanted to have lobster on the menu. So I ran with Mike's idea, and created the Lobster & Brie Corndog with Triple Crème Brie Fondue. It is now one of our top sellers, and people always rave about them.
LAM: Tell us about the buffalo chicken lollipops! You've made tapas so fun yet so sophisticated.
CG: These are fun little bites. We use the mid-joint of the wing and remove one of the bones, and then French the other remaining bone, which basically means we push the meat down to the bottom of the bone to resemble a lollipop. We marinate these wings in buttermilk and lightly dredge them in our secret flour mix and fry. We then toss them in our own Buffalo Sauce, made in-house, and serve over a carrot celery slaw that has been tossed with a Point Reyes Blue Cheese dressing.
LAM: My husband, who is a vegetarian, loved your quinoa sliders, above. How hard is it to make delicious vegetarian tapas?
CG: Our guests love those sliders; we serve a larger version on our Brunch Menu. Vegetarian tapas are fun to make, and definitely make our local Manhattan Beach patrons very happy. I enjoy cooking vegetarian and vegan options because it gives me a chance to be creative and think outside the box while making a delicious, health-conscious dish.
LAM: You've somehow turned grilled cheese into an art. Why is grilled cheese such comfort food to people? How do you choose the combinations you use?
CG: I think grilled cheese is considered a comfort food to many people because it reminds them of when they were growing up. We chose our combinations by creating upscale versions of what we were used to as kids, and packing them with flavor. Our Cider Poached Pear and Brie Grilled Cheese is a big hit, followed by our Prosciutto Burrata Grilled Cheese, and lastly our Smoked Bacon Jalapeño Popper Grilled Cheese. Each of them pairs really well with a great glass of wine or one of our locally brewed beers.
LAM: Which are the most popular items on the menu?
CG: That's a tough one to narrow down. I'd have to say our assortment of grilled cheeses, Truffle Kobe Sliders, Ahi Poke Tacos, Aegean Black Cod Ceviche Tower, Signature Crisp Calamari, Signature Pizzas, our Zinc Chopped Salad, Kalbi Short Rib Tacos, Blue Honduran Tilapia Tacos and our Lobster Corn Dogs--just to name a few.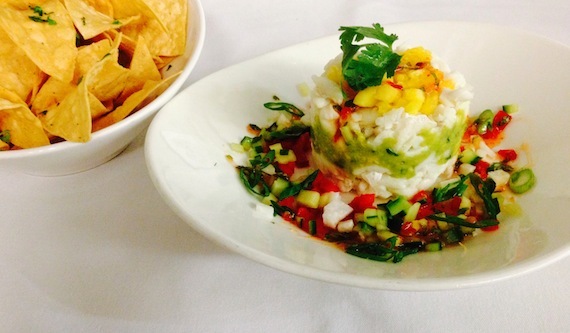 LAM: Which are your own personal favorites?
CG: My personal favorites would have to be our Ceviche, above, the Calamari, Cabo Fish Tacos, Quinoa Sliders or Truffle Sliders, Brie & Pear Grilled Cheese, and our Smoke House Pizza -- which is our meat-lover's pizza made with my grandmother's famous meat sauce. All are good! It just depends on your mood and how much time you have to eat.
LAM: I know you're a big farm-to-table proponent. How do you incorporate that philosophy into your tapas?
CG: We always use the freshest local ingredients we can find. This takes having great relationships with your purveyors, as they will lead you in the right direction. Using products that are in season and at their best always helps spruce up your dishes.
LAM: You worked at a Mexican restaurant before. How does that background influence your tapas? What's the difference in the way you approach dishes in the two different venues?
CG: I worked at an upscale Mexican restaurant before coming to Shade, and the experience significantly influenced my menu, since Mexican food is my favorite cuisine to both cook and eat. I have a few Latin-inspired items on the menu now, which are some of our best sellers. Our Ceviche, Goat Cheese Chicken Quesadilla and our Fish Tacos sell through the roof. Our guests love the fresh, handmade tortillas we make in-house. There is not really a different approach; it's all about how you present the dish.
LAM: Can you give us a preview of what you're thinking about for future menu items? If you need a taster, I'm happy to volunteer.
CG: Well, I can't divulge future menu items that we are working on. You'll just have to come back!