Sometimes, perspective can be very grounding. Each day on radio I listen to the stories of people as they call in to comment about the news of the day on my syndicated radio show. Each day, while doing research on my iPad, I log on to so many news sources, like the Huffington Post, and read series about how people are, or are not, making it through this Bush Era Depression. I've read with great interest story after story at the HuffPost, and seen myself reflected in so many; each time wishing I could help in some way but realizing behind the scenes I'm not in any better shape.
Recently, my friend the editor and publisher of the Long Beach/Orange County Blade (a local GLBT publication) David Ethridge did a profile on me for their website. I write for the Blade, and many had asked what was up with my radio career, TV prospects and such. So, he wrote the profile.
After reading it, I was, well, exhausted. It chronicles my trip, my journey, through the media industry; an industry that has slashed and burned everything not tied down just like every other industry since the fall in 2008. It talks of my mortgage modification nightmare, my fear of losing home and studio, and how my journey on radio has chronicled America's in some way, right down to the desperate need for creativity and reinvention to keep going.
So in the spirit of vanity and sheer narcissism, I'll share the story here. My story, the story of how I'm making it in front of, and behind, the scenes in the world today. Maybe some will be inspired to continue to reach for their goals. Maybe others will understand that it's tough all over, and that being a Liberal talk show host is hard enough when well funded, let alone on your own. But you go on, just like in the lives of each of you reading this. You go on.
I, like many, like the country, am not sure if I will, in fact, survive this in my current incarnation. But one thing stepping back and reading this made me so very certain of; we are all in this together.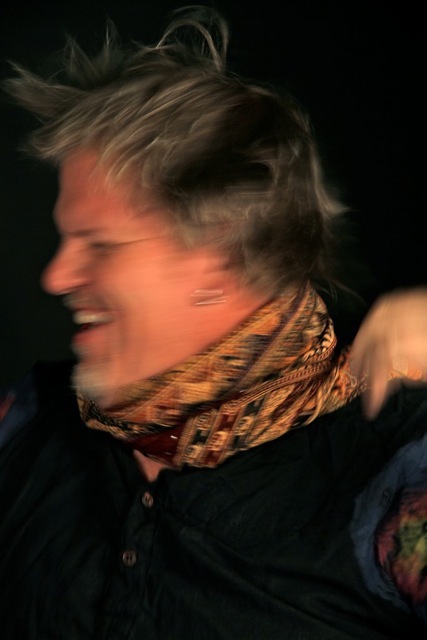 The Blur that is Karel
By David S. Ethridge
special to the OC Blade and HuffingtonPost.com
Karel is a one man army, as anyone that spends the day with him can attest. He switches roles from phone call to phone call, email to email: Karel the host, entertainer, stand up comic, TV panelist, actor, recording artist, engineer, call screener; Raymond the producer, publicist, manager; Charles Karel Bouley the HuffingtonPost columnist, OC/LB Blade writer; Charles Raymond Bouley the underemployed homeowner; and as he pulls off each task with aplomb he combines to make the fireball that is Charles Raymond Karel Bouley II.
"It's been a hard couple of years for the country, and I'm no exception," he starts, sitting down in his studio at his home, Park Howard (as he likes to call it). "Don't get me wrong, I'm so blessed to be able to just do what I do ever day, profitable or not, and still do it from here, my home. Like so many, just keeping that has occupied so much of my time over the last 18 months or so," he reflects.
It was about 18 months ago now, that Karel found himself like so many, unemployed, after six years at KGO AM 810 San Francisco. There, Karel was the only openly gay talk host working in the Bay Area on a major station; but he's used to that, since he started as part of the first openly gay duo to have a drive time show on another powerhouse, KFI AM 640 Los Angeles, with his late husband and partner, Andrew Howard.
Karel, who was just really recovering from the death of his partner and loss of the KFI job (in 2001 and 2002 respectively) had just settled in at KGO. He was working a regular shift plus filling in for another host M-F and was the "heir apparent" to the spot left vacant after being there for six years. Then the crash.
"I went from $100k plus a year to unemployment, $450 every two weeks. I had two months of savings and no severance package, they didn't pay out my contract or anything. Just, goodbye. It was November 2008. A new President, but a falling economy. Like everyone else, I was scared," he recalls.
After a few months of looking for a new job at a station Karel decided if there was to be a Karel Show, he was going to have to simply create it.
"There are, were, are not any jobs in media out there right now. Two weeks after I got fired Clear Channel let go thousands of people. Everybody was downsizing. It was the worst time to be unemployed in media, and yet, there I was.," he states.
"Don Parker at Energy 92.7 called and said he would put me on 9pm to 12am Monday through Friday. It was a San Francisco dance station, with a heavily gay demographic. I was a talk show host, with a heavily female demographic. Engineer friends from all over helped me put together a working studio and in March 2009, five months after being fired, the Karel Show debuted.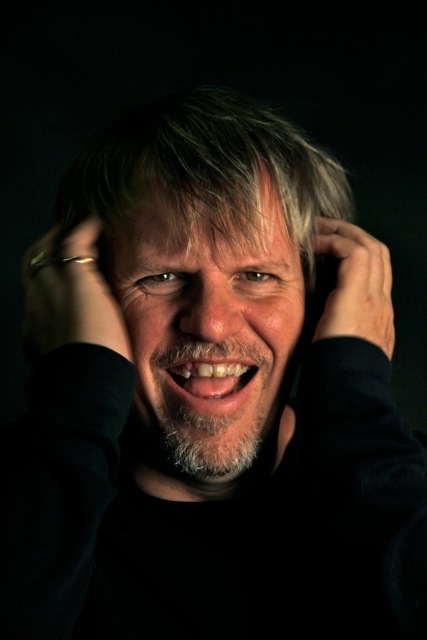 "Hal Ginsberg at KRXA 540 Monterey was and is a big supporter. He heard I was coming back and wanted the show. So Energy 92.7 connected to him each night as well, and in March I went from off the air to on the air in two markets from my TuffStudio (a TuffShed converted in to a studio). On my own. No producer, just me and a great engineer Marc Acton."
Energy 92.7 kept the show going for four months, but ratings were hard to come by at that time slot, with little promotion and on a station that normally plays Dance music at night with a signal that covers the city of San Francisco, which empties out at night.
"One day Don calls me and tells me they're pulling the plug. The station's getting sold in a few months, and they're stopping now, since they were paying for the ISDN call. I was getting my Aprilia Mana serviced, so there I was at the counter, thinking, oh God, here I go again," he reflects.
Energy 92.7 agreed to keep Marc Acton as engineer and connecting to KRXA Monterey for 30 days. Over that time, Karel began to scramble.
"I was still looking for jobs, and none were appearing. I was also looking for agents, managers, people that could help. So was (and is) everyone else, so all my experience on TV, on radio, it didn't really matter. For my two seasons on TV, someone else had five or 10, for my 10 years on major radio, someone else had 20...I was at a crossroads."
So Karel worked with Ginsberg at KRXA to keep the show going beyond the 30 days. To limit expenses, they would use VoIP, yes, basically, Skype, to deliver the show. Some segments would be pretaped and loaded up as MP3s. Karel became syndicator, engineer, producer. And then there were calls.
"I have not touched a board, or a call screening computer in my entire career. Remember we started at KFI, we had a staff of seven, producer, engineer, call screeners. I got on the phone and looked for affordable solutions. Because I had not had a check except unemployment this whole time. I would look for work by day, and do the show at night. If I happened to sell an ad, I'd report the income and get cut that week from unemployment. I was living what America was (and is) living. And like America, I was reinventing."
And what a reinvention. Karel went from talk show host, to, well, one man band.
Karel got a trial version of PhoneBox Solo from Broadcast Bionics, a VoIP screening software package for smaller radio stations, so he could start screening calls himself since there would be no engineer. He borrowed a PC (he's a Mac man all the way) from radio computer guru Jeff Levy and he got an 888 phone number through OfficeMax (888-960-KAREL). With the phones settled, the next issue was how to connect.
Hal Ginsberg at KRXA installed a dedicated Linux server and they used X-Lite software to connect to KRXA over a MacBook Pro, just like a normal VoIP phone call. As for an engineer, well, each day he sat (and still sits) and edits music down to :30 second pieces for bumper music, then automates a playlist with all of his music and rejoiners using SoundByte on a MacBook Air, virtually automating the entire engineering of the show. Friend Joey V from Energy 92.7 did rejoiners for him (the "you're listening to" or "don't go away" taglines) He began using the PC via LogMeIn for his call screening on his Mac Quad Tower, which also broadcasts the show via Ustream (audio and video) and hosts the live listener chat. He screens calls during breaks on the PhoneBox software using an invisible VoIP sipgate number to which the 888 number forwards. He gets guests that he has booked under the guise of Raymond Francis (his confirmation name) on another Skype line patched in through the Mac Tower. He watches the time using BigClock on the same iBook that his late partner Andrew Howard used in studio at KFI.
Oh ya, and he does a show, too.
And during that show, he records every segment and as soon as he is done with each posts them at an FTP site so afterwards a podcast at iTunes and his own website is posted. Of course, there is his website, which over the last 18 months has had over one million visitors, a site he populates, maintains and updates in iWeb.
"It's a lot, truly. Outside of all of that , I have to be an ad sales person, which I'm not. But I have to generate revenue. I have one asset, me, my show, and I have to exploit it. But it's not easy."
Other industry veterans wanted to help. Stacey Cohen, a long time industry veteran, host, talent, affiliate representative, began calling stations. KUDO Anchorage, yes, Anchorage, came on board right away.
"Kathy Phillips called me and said they'd love the show, she's the PD there," Karel recalls. "I thought, oh my god! They can see Sarah Palin from their house! I loved the idea."
Again, technology saved the day. KUDO records the stream from KRXA and if there's ever a problem, they go to the FTP site and get the segments posted each hour. Now, thanks to KRXA we just went to a SHOUTCast delivery to KRXA thanks to the masters at KWD (a web hosting/streaming media company) in Virginia.
"So after Energy went away, I reinvented as a totally self contained show on KRXA and KUDO. Friends like Cynthia Graff at Lindora Weight Loss, Farm Fresh Flowers, Newpane.com, all advertisers with me on KGO, came to support. It wasn't much money, but it helped. I tried calling people in Monterey and Anchorage myself, but it's so hard. I have such a new respect for good ad sales people in radio."
So Karel kept doing 9pm to 12am for two stations after Energy went away as a one man syndicator, host, entire package. In October of 2009 KRXA made Karel the afternoon show, from 4pm to 6pm, and KUDO moved the show to 7pm to 9pm. Then, in January of 2010 another phone call that would change directions came in.
"So, the show's going, and I'm falling deeper and deeper in debt to keep it going because it's a bartered deal. I get spots in exchange for the show, but spots I can't sell because that's not what I do. So, I'm calling every station I can think of every week to ask them to clear it (take it) or hire me or... John Scott from Green960 San Francisco had been talking to me since the day KGO fired me. Well, as luck would have it, in January of 2010 radio being what it is, there was a shakeup. Don Parker from Energy 92.7 was out of job once it got sold and the format changed. Clear Channel made him head of their cluster in San Francisco, including Green960. So, John Scott, the PD was a supporter and now the General Manager, Don Parker, was there, and a supporter," he went on. "So John Scott called me and said, 'you ready to dance?' Of course I was, and they made me afternoon drive, 3pm to 6pm starting in January 2010."
One would think that would be a huge winfall and things would begin looking up. But it had new challenges.
"The stations treat me like a major syndicated show," Karel states. "That means a barter deal, no payments from them. And they wanted to hook up ISDN. So that meant that Green960 would hook up ISDN at 3pm, and then I would hook up to KRXA at 4pm via VoIP and KUDO would still record the stream. I felt like I had two tin cans and a string, but at least the show was spreading."
Karel was doing all the negotiating himself, since finding an agent is something he still has not done in either radio, TV or film. Oh, they all met with him, the biggest and best, and according to him, "they all just love me and wish me well and only the best. And if there's anything they can do, just let them know, but they just can't take on new clients at this time. Rejection has never been so polite," he laughs.
Once Green960 took the show, everything changed again for Karel. He was back in his stride, drive time, a spot he had inhabited years ago in Los Angeles. There were more phone calls to screen (and higher 800* bills!) and greater technical challenges. And again, outside of an engineer in San Francisco to connect to the show, Karel was on is own. The Green960 gig didn't come with any producers, interns, call screeners, it was major market radio again with a one man band.
"I thought it would get easier with Green adding in, having three stations," Karel recalls. "And while the exposure was and is much more and it is a better calling card when trying to sell an ad the only thing that changed was the pressure and demand to perform, to get ratings. And that's been tough, I have to admit, because the station doesn't really do much in terms of outside promotion because of budget and my show is unique. So I have to fish in their pond of listeners, and some of those fish may not like my lure. I need to get to the KGO listeners to let them know I'm here, so I'm doing some online things to try and get them to notice. I'm following all of KGO's followers on twitter so maybe they'll get a word of mouth going. It's a little subversive, but hey, it's an online world in which we live!"
2010 saw the demise of Air America, something that worked in Karel's favor.
"Since I was insanely, somehow, staying on the air I was someone with an existing show that could fill a slot left vacant. KYNS San Luis Obispo and KJRB Spokane began taking the show, but at different time spots. So they get the segments that I upload during the show and play them. In San Luis, my 5pm is really my 3pm so sometimes I get calls about topics a few hours back. It's funny."
Karel is hoping a syndicator will take all of this, his five stations, and put it together. But like agents, they have been illusive.
"I've had many talk to me, offer me things, and then things change in radio, a person gets fired, one station has a ratings decrease, whatever and then the deals are put on hold. Again, they all say keep going, you're great, you're doing the right thing, and we'll talk. But there's always some other number. When you have 10 stations, when you have 15..."
So, that's what he plans to do, if he can find a way to pay for it.
"I'm going to switch to Barix technology until I can afford to be on Satellite, or until a syndicator finally gets a clue. It's delivery over the internet, and if I get a dedicated IP address I can deliver the show to up to 20 stations on FIOS...jeez, listen to myself. When did I become this person? But I have to keep going. Each time I want to give up, someone saves the day. Lindora comes through with a sponsorship. Newpane takes out a two month campaign. It's enough to get through the month. It's enough to help me try and get my loans modified, to try and not be a 99-weeker on unemployment. I mean, what else do I do?"
Karel augments radio with sold out dates at The Rrazz Room in San Francisco's Hotel Nikko; a one man comedy show that's part Robin Williams, part, well, Karel He writes for the HuffingtonPost and his columns often garner national attention. He continues to write for the GLBT press including being an editor-at-large for the LB/OC Blade.
"Five markets including San Francisco, a column at the HuffPost, all the other stuff, you'd think I could afford a producer, an engineer, hell, my first and second mortgage. But in today's world, it's all hands on deck and mine are the only ones I can afford, since I work for free!" he laughs.
"In an ideal world I find an ad rep that can sell the 90 spots per week that I own on the five stations. In an ideal world I get someone that puts me on satellite and then gets more and more stations to take the show, instead of me calling them from a master list trying to not sound like some host calling saying 'please take my show.' In an ideal world I get a publicist that gets me back on the CNNs and MSNBCs to raise my profile. In this ideal world I have an agent that sends me on auditions, that helps me sell the pilot ideas I have to Logo or here! or another network, one that gets my next book published. But so many have learned, we don't live in an ideal world, we make do, so that's what I'm going to do. One station, two stations, five, 10, 100; major markets smaller markets, radio towers powered by blow dryers. This is what I do and sometimes you just have to make it happen yourself."
And so he does. Each day he gets up, reaches for his iPad and collects stories and leads before ever leaving the bed. Once up it's on the phone booking guests during his dog walk (three dogs, Alley, Angel and Atilla). Then it's back at Park Howard to do more show prep, deal with trying to sell ads, get affiliates, promote the show and himself, book dates and somehow stay sane enough to deliver the show. Of course there's the phone calls and emails to work on revenue streams, website updates, pitch calls for TV and film projects (http://www.thefoodgroup.tv is one), and, "don't forget dealing with the banks like everyone else to try and keep it all from sliding away! They really don't want to help the people it seems. I have zero access to capital to expand my show because of my credit history now, even though I could employ four people..it's all such a game, a racket."
"I think this has helped my show in so many ways," Karel concludes. "I'm not just talking about the tough times, I'm living them. I'm on the phone with banks for modifications and see the absurdity. I'm dealing with credit card companies. I'm having to reinvent and do more for myself, things I never thought I'd do, like so many. I'm optimistic and panic stricken all the time, like most. It makes for more honest radio in these times. Maybe, it's all a good thing."
Karel is aware at any time stations lcould drop the show. Already KUDO Anchorage has had to put it on hold until the show is on Satellite because they no longer have the manpower to upload the MP3s in to their automation due to station cutbacks.
"I've had one station, KRXA or KGO or KFI and I've had five. I've had none. But, if you keep going, soon no matter how many, you can get one, or two, or five again. You just have to keep going."
And that, it appears, is what Karel is best at, keeping going. He's a strong willed, independent voice that refuses to be silenced. He uses technology, friends and sheer will to keep his show on air.
"The Karel Show is a huge asset to our station," says Hal Ginsberg at KRXA 540. "Advertisers want in his show, when I do events I see new listeners because of him," Ginsberg commented on a recent call.
Other stations that carry the show share the same view.
"Karel's show is a huge show in the making, he's not like anything else," says Mike Anthony, VP of Programming for Mapleton Communications. "And he's not a show you gauge by PPM (people meters), you see it, you hear it, people come to him for the passion, for the bottom line. Both KYNS and KJRB have reported only good things to me about our carrying the show," he added.
"He's an inspiration," says David G. Hall, one of the leading programmers and consultants in the industry. It was Hall that first put Karel on air at KFI.
"When Karel is focused and on, he's unbeatable in any market," says Ricci Filliar, PD at Green960 (who replaced John Scott shortly after Karel's show started at the station). "There is no host working with more passion, more talent, or who is more entertaining. We are committed to the show's success, as he has been a force in San Francisco talk radio for almost a decade now."
So what's next for Karel?
"Whatever it is, I know I'll have to make it happen, but don't we all. But for now, it's 2:55 and I've got a show to do!"
And with that, the "fastest three hours" of radio begins and all the chaos and struggle disappears, and one would be hard pressed to even know it existed behind the scenes. Behind the microphone or on stage seems to be the one place that Karel is calm, that he is in complete and total control. And, as he says, "it's the part that makes it all worthwhile."
And while many have counted this entertainment industry veteran out, he has proven each time that it really is about showing up 98% of the time.
"I figure, if I can last, finally, they'll come around. Listeners do, now, if I can just get the stations. Because for me, it's about the listeners. I'm so honored to have a following now, people who go out of their way to listen, on iHeart radio, on their computers all over the world, on terrestrial stations. I love that they invite me in to their world for three hours each day, and it's my goal to warrant that invitation each and every time."
Popular in the Community