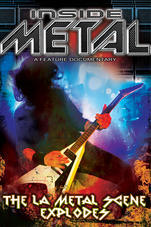 First off, you two have been at this for, what, 4 years now? Are you wiped out?
BN: Has it been four years? Wow! The Inside Metal series has definitely been a draining process and looking back on it I think we may have taken on more than we could handle. This being the first documentary I worked on I initially went gung-ho on setting up interviews, I believe over 80 interviews total (for the Inside LA Metal series) and I guess I didn't quite comprehend at the time how grueling it is to go through over 50 hours of footage and then have to edit it down! I'm sure Carl can reiterate even more so as he worked on rough edits and sequencing of all the quotes for the movies. But we're very proud of the work, and I think (hope!) the Metal community feels like we've honored them as we set out to.
What was the thinking behind the overall concept of Inside Metal? And why does it take two films to cover such a relatively short period of time?
BN: Carl and I were determined to document the most comprehensive and revealing history about the '70s and '80s Los Angeles hard rock and metal scene. And having Joe Floyd, the guitarist/founder of the prominent '80s LA metal band Warrior, as a co-producer and Warren Croyle (executive producer at MetalRock Films) behind this project was really great as we were all on the same page and all of us were part of that classic era of the '80s metal scene whether as a producer, musician, journalist, retailer, fan, etc. We all lived it, understood it, and had a mutual love for it. It was such a huge and intimate part of our youth and we were all very passionate about the music so we really wanted to document it as authentically as possible. And after editing down all the interviews we realized we just couldn't properly do that with one film, so Warren suggested we make it into a 2-volume DVD, with each released separately. So then came the first Inside Metal Movie title, Pioneers of LA Hard Rock & Metal, and this current title, LA Metal Scene Explodes.
You two are obviously children of the '80s LA Metal scene. Talk a bit about what it meant to you personally.
BN: As I said, it was such a big part of our lives. I was fortunate enough to grow up in Orange County, an hour south of Los Angeles, and I got turned onto the LA and OC club scene in the very early '80s. And living in Orange County back then, we had great rock clubs like The Woodstock, Radio City, the Golden Bear and Concert Factory that would host not only the local OC bands but several of the top LA bands and national acts at the time. So when I was 16 years old and unable to make it out to LA, I could always see tons of great bands in my own backyard. I witnessed the early formations of Motley Crue, W.A.S.P., Snow, Ratt, Armored Saint as well as the local OC bands like Dante Fox (later becoming Great White), A La Carte, August Redmoon, Max Havoc, Leatherwolf... and I saw the very first show of Metallica at Radio City and some of the earliest shows from Megadeth and even Slayer -- when they were a cover band! And being a huge metal fan, especially of the NWOBHM (New Wave of British Heavy Metal), and so many of my friends and pen pals in the UK and Europe yearned for these early demos, custom singles and live club recordings of these bands I felt as if I was a part of this unique underground metal community trading cassette tapes of these bands in exchange for my favorite NWOBHM bands and consequently starting my own metal fanzine in early 1982 called The Headbanger, where I was able to hang out and interview many of these bands. Being a part of that community meant the world to me.
How does the Inside Metal Doc series differ from other efforts at chronicling the era?
BN: Well, as I mentioned, we really tried to capture the true essence and vibe of the LA metal scene from that era and we really wanted the artists to elaborate on their musical history without any preconceived notions or agendas. Most rockumentaries or biographies documenting that era, like the VH-1 Behind the Music series, are heavily based on the drama and tragedies within the band or its members. Very few of these documentaries focus on the music or the hardships these bands went through playing the clubs and backyard parties for years before they got signed. They tend to base their interviews on the crazy sex, drugs & rock 'n' roll lifestyle and fixed tragedies like the death of a band mate or the like. And that's all great, and obviously more entertaining for the mainstream viewer than to hear detailed stories about the musical history of the band. And we do touch on a lot of the decadence and debauchery of that era but so many people think that was the core of what the LA hard rock and metal scene was about. Perhaps it became more about that in the latter '80s and early '90s, which is why we end the timeline in 1986, but the fact is that was only a small fraction of what the early/mid LA '80s metal scene was about and that scene perhaps generated some of the most talented musicians and greatest rock bands in history. The impact guitarists like Eddie Van Halen, Randy Rhoads, George Lynch and Yngwie Malmsteen had on the youth of America was phenomenal. Not to mention the musical impact that bands like Metallica (who really got their start in LA), Motley Crue, Slayer, Steeler, Keel, Megadeth, Guns & Roses, Quiet Riot and W.A.S.P. had on the world can't be ignored. Yet most other music documentaries about the LA 80s rock/metal scene merely focus on the depravity of these bands. Which isn't too surprising in this day and age of where media is based more on entertainment value than historical value. And it's the historical value that the INSIDE METAL series focuses on.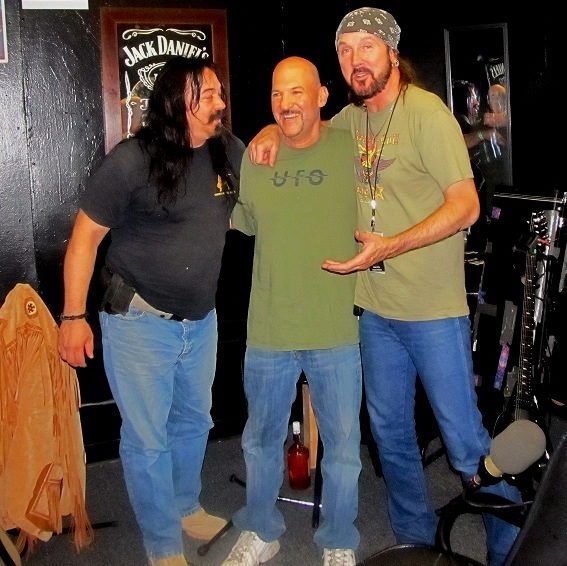 Director Bob Nalbandian with Rik Fox & Ron Keel of Steeler fame

Share some thoughts on the cultural and social impact the '80s LA hard rock and metal scene had on the American youth.
CA: This is music that no other generation could ever experience, maybe with Beatlemania or Elvis, to a certain degree. It had it all, including all the concerts you could go to, all the albums you could buy and all the music videos by your favorite metal artists that you could consume in one sitting. With MTV's Headbanger's Ball or seeing a world premiere video by Van Halen or Motley Crue being debuted on MTV, it opened up a world that many on a mass scale would now catch a glimpse of their favorite band and rock star. Mike Inez from Alice In Chains summed up nicely in INSIDE METAL: The Metal Scene Explodes, what it really meant to be a fan during this time in the 80s with a very similar impression. That's what it was like going up with this scene around us.
BN: The LA hard rock and metal scene definitely became a cultural movement that made such a huge impact in America that it literally caused a huge social and political uproar. In this title, LA METAL SCENE EXPLODES, we go into detail on how the '80s LA Metal scene was one of the main factors of the PMRC, which people may recall was a very serious movement back then, although today it's laughable. But that cause a huge amount of political controversy as it was Tipper Gore and other senators wives that were behind that political movement, and the forefront of artists that they attempted to crucify were LA metal bands such as W.A.S.P., Slayer, Motley Crue, Megadeth, Bitch and others. And then you also had mainstream talk show hosts like Geraldo claiming that "this is the music of Satan, and if you listen to heavy metal you will end up a Devil Worshipper!" And as ludicrous as that sounds today, this guy is considered one of the top news journalists! So the cultural and social impact it had back then was enormous.
What made the LA scene stand out from the other cultural scenes in the '80s - like NY, SF, UK, Europe, etc.?
CA: With Hollywood as a back drop meant being discovered and attaining stardom was much more likely than growing up playing in bands in the scene in Europe or London, for instance which tended to have more of the working class audiences there to support it. If you were from these other regions of the world, it made it harder to get the record companies to sign you, let alone pay attention to you. In LA though, all the record labels were here. Van Halen, Motley Crue and Quiet Riot had that success early on working for them. Record labels saw those record sales and they also saw a lot of other bands who weren't signed yet playing on the club circuit that were ripe for the picking with lots and lots of suburban kids who were ready to rock and ready to pay. So many bands made the pilgrimage to L.A. seeking that success, Steeler (who later became Keel), Poison, members of Guns N Roses; the list goes on and on of musicians and bands coming here. We mustn't forget fashion and attitude either; whether it was the spiked bracelets, bad zebra stripped spandex pants or Aquanet styled long hair, LA had it all - the good, the bad and the ugly.
BN: I think the LA bands, more so than any other scene, combined heavy metal music with catchy melodies and a very glamorous and captivating image with an over-the-top stage show. Yet these bands still had a strong degree of musical substance and for the most part, a strong regard for masterful musicianship. And I think that combination is something that made the LA scene really stand out. Although NWOBHM introduced internationally platinum-selling bands like Def Leppard and Iron Maiden, that movement was based more on a street level mentality with a working class image as most those bands came from poor, rather industrial environments which probably didn't seem nearly as glamorous or appealing as if you were a band living in Los Angeles where the sun is always shining and live seems more uplifting. In fact, we are expanding the INSIDE METAL series outside Los Angeles.
Share some of the highlights of the film, crazy stories, interesting interviews etc. Give me your best anecdotes (that you can talk about).
CA: My first Hollywood club show was January 1983 at the Troubadour which at the time was the Mecca of music clubs for Heavy Metal. One of my first memories from that night was seeing a tall and menacing Blackie Lawless of W.A.S.P. (who I didn't even know who he was at the time) go upstairs at the Troubadour to watch Black N Blue play that night and wondering to myself what kind of debauchery was happening upstairs as members of the audience were not allowed to go up there. Another memory was February 1983 seeing Ronnie James Dio with the Dio band sit in the VIP section at the Troubadour watching Sarge (which 2 members of Sarge came into Rough Cutt, another great band that was eventually singed to Dio's management Niji and to Warner Bros. Records). At that time, Dio's Holy Diver was being recorded and we just saw him as the former lead singer of Black Sabbath, but it was still a big deal for us to witness that encounter. After that, I was hooked going every weekend I could.
Another great time was the tail end of the 80s when the CD was coming on strong and the music industry experienced another growth period with the release of this new technology. There was lots of money flying around with the bands from L.A. Sunset Strip era there were album release parties held on a weekly basis at many of the exclusive clubs around town like the China Club on Argyle and the Hollywood Athletic Club. The major labels hosting these parties would always flip the bill. Open bar, lots of food and I'm sure lots of drugs, which I never took part in, but you could tell it was there and plentiful.
BN: The LA METAL SCENE EXPLODES concentrates on the years from 1981 through 1986. To pinpoint certain highlights of the movie is hard from my standpoint as all the interviews had pretty memorable moments. Some of the more interesting interviews for me was with Ratt's Stephen Pearcy, Don Dokken, Monte Pittman (of Madonna), Mike Inez (Alice In Chains/Ozzy), David Ellefson (Megadeth) John Bush (Armored Saint) and Lars Ulrich who was very open and had an remarkable memory about the origins of Metallica.
Lighting round: Most memorable moment on The Strip? Favorite band from the era and why? Favorite venue from the era and why? Best song from that particular moment in time?
CA: The Troubadour was my favorite club. When the legendary Starwood closed down in 1981 down the street from the Troubadour, it left a void of where the heavier bands were to play. In 1982, 1983, the Troubadour was the place. Armored Saint, Black N Blue, W.A.S.P., Bitch, Ratt, Great White and many more all played at the Troubadour during this magnificent and heady time.
My favorite era was right before Quiet Riot's Metal Health' came out and before the US Festival kicked off in May 1983. On the L.A. music scene, there was this beautiful thing called Heavy Metal that was untapped here; it was only for the chosen few who were lucky and in the know enough that were able to experience it. Any weekend night, you could see a great line-up like Armored Saint, Black N Blue and Ratt on one bill at the Roxy Theater in Hollywood a year before they were all signed to the major labels and they were well seasoned playing at a pro level. They were highly competitive with one another, always upping their game musically, with the show and they were all heavy as hell before the major labels and MTV soften them up.
My Top 5 Tunes from this particular era:
Great White - Street Killer
Black N Blue - Hold On To 18
Armored Saint - March of the Saint
Rough Cutt - The Queen of Seduction
Ratt - Sweet Cheater
BN: Most memorable moment on the Strip: Probably my first Whisky show in 1982 witnessing Saxon on their "Denim & Leather" tour with Metallica opening (the band's second show ever). Another memorable moment (not necessarily on the Strip) was for the Decline of Western Civilization II: The Metal Years after party at Miles Copeland's estate in Hollywood. All the metal stars were out in force that night!
Favorite band from that Era: That would have to be Armored Saint. The first time I saw them at the Woodstock club in Anaheim in 1982 I was totally blown away! They stood out from most LA bands as they had this very British metal sound and approach to their music and stage show and came across like a young, American version of Iron Maiden. And after that show I became very close friends with the band and still till this day. Also would include OC band August Redmoon who were one of the first local bands I saw and became very close friends with. I should include A La Carte as well as they were my first introduction to the local music scene when I saw them at the Golden Bear in early 1981.
Have we seen the last of the Inside LA Metal series? What's on the horizon for you guys?
BN: Not at all. As mentioned, this title, LA METAL SCENE EXPLODES, is the second title of the series and comes in 2 volumes (Part 1 and Part 2 DVD sold separately). We are currently editing the third title which will be titled The Rise of LA Thrash Metal and completing interviews for the Inside Bay Area Metal title. So that's what's on the immediate horizon but right now we're promoting LA METAL SCENE EXPLODES (Pt 1 & 2) which is available through Amazon.com and Amazon Prime, iTunes, Google Play and most indie record and book stores. Also will soon be available on PPV and several other digital and subscription outlets.
Joanne Manelli contributed to this article
Photos courtesy of Bob Nalbandian & Carl Alvarez
Support HuffPost
The Stakes Have Never Been Higher
Related
Popular in the Community