Sam: So talking about this standalone stand-up show that you've got coming up, what was the motivation to pursue your own stand-up special? Was it a long term goal or the stars aligning just right?
Keedar: I think it was a combination of it all. I mean, what stand-up comedian wouldn't want to have his own special to put out there for the world? I'm at a place now in which I've been through some life changing experiences, I've been through having twins, divorce, living life, and I have my interpretation of it all. I want to share it. If we're going to be genuine and honest, there's an opportunity for comics now to receive theatrical work out of being funny. I take the craft seriously, I studied two years on broadway at Circle in the Square Theatre. And as many opportunities as I can get to just share, whether it's on stage, on TV, film, or through stand-up, then that's what I want to do. And I've been fortunate and blessed to have this opportunity to shoot my special.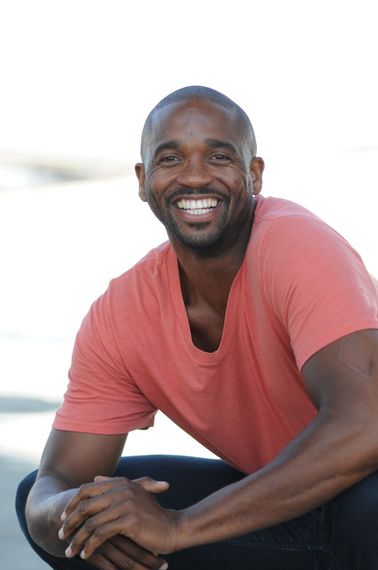 Sam: As you said, every comedian wants their shot at a headliner or big special. What was the road like to reach this point in your comedy career?
Keedar: So when I was in New York, I started stand-up there and I did two years in New York. But I am fortunate, my brother Finesse Mitchell and I were in New York at the same time. He knew I was an actor, but he never heard me say I wanted to do stand-up. One day I was like "Yo, I wanna do stand-up". And he came, saw me, supported me, and then he just started taking me on the road with him. So I was actually a road comic opening up for Finesse for years. So I learned a lot by just seeing the road with Finesse.
Sam: That's a great way to jump right into it, considering most people start at open mics in bars and the like.
Keedar: Now, I do a ton of open mics. You know, you get five minutes here, seven minutes there, "oh if you can bring five people out, I'll get you ten minutes". I still do those shows because I want that real, raw experience. It's what is needed for this special. To get into those clubs, and not do it for laughs. I've been on TV, and I've been the popular guy. I can go into clubs and people know who I am, and people sometimes give courtesy laughs. And I don't want that. I want what's real.
Sam: So what can you tell me about your new special? What do you think potential viewers of your special should be excited for?
Keedar: I don't hear a lot of people talk about having twins. You hear people talk about the ex-wife, and those perspectives, but this is my perspective of it all. I live in LA and my kids live in Atlanta, so I fly back to see them once a month. I think it's a fresh perspective on old topics. It's what I have, and it's my spin on it all. The title "Hear Me Out" gives me the opportunity to say "Hear me out, I know you've heard it, but hear me out and listen to my perspective".
Sam: So have some people gotten to see any of this material before or is it all brand new?
Keedar: I would say fifteen minutes of it are my classics from my time on the road, and it has never been filmed. So fifteen minutes of the material are my favorite jokes that I've done. But then there's about 50 minutes of brand new, fresh material. It has been tested at places like Comedy Store and Improv, but this is new and about to be fun!
Sam: You do a lot of transitioning between comedic acting and serious drama. How do you change mindsets from drama, to comedy, to stand-up, as a performer?
Keedar: This is gonna sound really nerdy of me, cause I'm a nerd. There's kind of no difference. Because at the end of the day, you have to tell the truth. And that's with acting, period, and that's with being on the stage. Whatever that truth is for you, that's the truth. The words on the page and the timing are what makes it different, because that's technique. So the technique for comedy and drama is different, but the truth is always the same.
Calling all HuffPost superfans!
Sign up for membership to become a founding member and help shape HuffPost's next chapter