If you're over 50, chances are you've thought about moving your parents into a senior living community. If you're under 30 or a minority, however, you may actually be less likely to consider this option for your parents. Those were among the findings of a recent survey commissioned by Caring.com, in which respondents were asked whether they'd ever consider senior living either for their parents or for themselves.
Turns out, your race and age may have a bigger effect than you think on your perceptions of senior living communities- also widely known as retirement homes, independent living or assisted living.
The survey found that while 64% of Caucasian respondents would consider moving a parent into a senior living facility, just 37% of African American and Hispanic respondents would consider it. (Note: the number of respondents who identified themselves as Asian or Pacific Islanders was too low to be statistically significant).
That may be because in some cultures, moving a parent into senior living is still taboo - there's often nagging stigma around moving Mom into a "home."
Part of that feeling may also stem from a lack of exposure to senior living homes - a recent CDC report revealed that a whopping 91% of assisted living residents are Caucasian. So it follows that if you've never gone to visit a loved one in one of these communities, or don't have friends or family members who have either, you'll be more likely to hold onto an outdated idea of senior living communities as drab, depressing places where people go to die.
But Caring's survey results also show that attitudes toward senior living may be shifting, since a higher number of both African American and Hispanic respondents (46 percent and 49 percent, respectively) said they would consider moving into a senior living community themselves one day. Meanwhile, 63 percent of Caucasian respondents said they would consider it for themselves.
Perhaps less surprisingly, age is another big indicator of people's willingness to consider senior living for themselves or a parent. More than half of respondents overall said they would consider moving a parent or parent-in-law into senior living. Of these respondents, millennial respondents were the least likely to respond in favor of senior living.
When asked whether they would consider moving a parent into senior living one day, this was the breakdown of "yes" responses:
• 61% of 30 to 49-year-olds
• 55% of respondents 65 and older
• 54% of 50 to 64-year-olds
• 44% of 18 to 29-year-olds
That millennials are least likely to move a parent into senior living isn't too surprising - they're just starting out in the world. They think they're invincible, most of their parents are still in their 40s, 50s and 60s - and the idea of senior living still seems too far off for many to seriously consider. But, that day will come, whether they can picture it or not.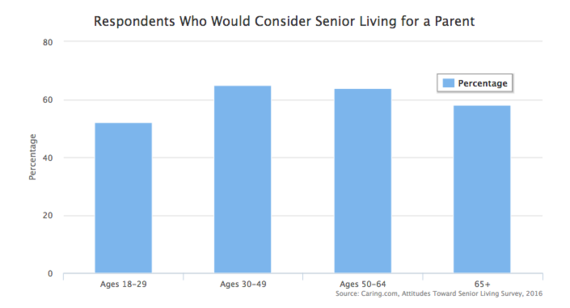 And as parents of millennials, we need to educate our kids about senior living options. However far off it may seem, it's not too early to talk to them about your senior care wishes. After moving my own mother into assisted living following her dementia diagnosis, my husband and I sat down with our own kids to talk to them about our own future wishes. We've made it crystal clear to them that we want to move into assisted living when the time comes rather than having them giving up their own lives to care for us.
That choice isn't for everyone. But whatever your long-term care wishes are or how you plan to finance that care, it's crucial to discuss it with your millennial kids before dementia or any other aging-related illnesses strike. Though not the easiest conversation to have, broaching the subject now means your kids won't be left to agonize over the decision when senior care is needed.
Here's a list of questions to get you started. Anyone who loves anyone should have the answers to these questions.