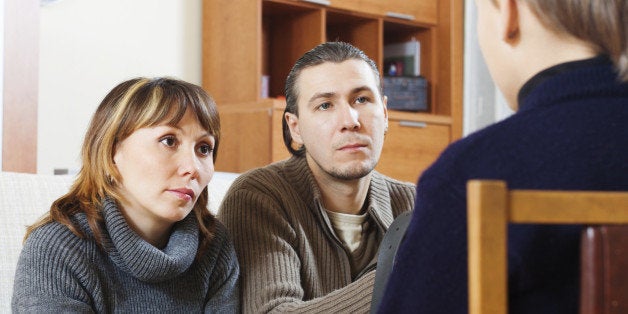 Parents should get ready to have a big talk with their kids. I don't mean sex, drugs, or even their college education, but something more easily looked over and forgotten -- credit cards. Last year, Discover Financial ran a survey of 2,000 millennial that found 80% consider themselves financially responsible. Despite this, only 1 in 4 knew their approximate credit score. It's little surprise, then, that CNBC recently reported on a survey that found 68% of Americans make at least one major credit fumble before turning 30.
In the thousands of lessons parents hope to impart on their children, proper use of credit cards is often forgotten. However, given the growing average credit card debt in America, which now stands at $15,779 for indebted households, it's a talk that should garner greater attention. Here are the 4 important points everyone should hit when talking to their child about credit cards.
Credit cards are not a tool to increase buying power. One of the biggest traps an individual can fall into is confusing their credit limit with their spending budget. Minimum payments give us the impression that we can put off paying off a charge for months at a time. At what cost? Some arbitrary thing called an APR. This is what leads consumers down the path of buying things they cannot afford, trapping themselves in a cycle of debt. Make sure your child understands that the only purchases that should be put onto a credit card are ones they can pay off completely at the end of the month.
Credit cards aren't the devil. After considering the danger posed by the above, it will be easy for a child to think credit cards are nothing but trouble and should be avoided. In fact, research suggests millennial are generally mistrustful of credit cards and banks. However, there is a correct way to use credit cards -- one that can be beneficial to the user. Parents should emphasize this point. Using a credit card will be one of the first ways your child will build their credit history -- a thing that will be useful one day when they try to take out a mortgage or apply for a loan. Turning them away from ever using credit cards may come back to bite them later in life.
Credit cards can save money. One of the more positive trends in recent years has been the increased emphasis banks put on credit card rewards. The growing competition has generally benefited consumers. By shopping with reward credit cards, individuals can save as anywhere between 2% to 5% on their purchases -- something that quickly adds up. When you factor in bonuses and special perks, the saving potential can be shocking. Some companies, like the one I work for, put out interactive tools that help provide compare credit cards and provide a transparent understanding of their value.
The law is on their side. Something few individuals are aware of, and especially millennials, is that systems are in place to prevent banks and credit card issuers from taking advantage of them. In 2011 the Consumer Financial Protection Bureau (CFPB) was formed to be an advocate for individuals in the U.S. dealing with credit and loans. If you or your child fall victim to deceptive advertising practices or any other underhanded technique by a bank, a complaint can be easily submitted online with the CFPB. They will work with you and the issuer to resolve any issues, and investigate the matter.